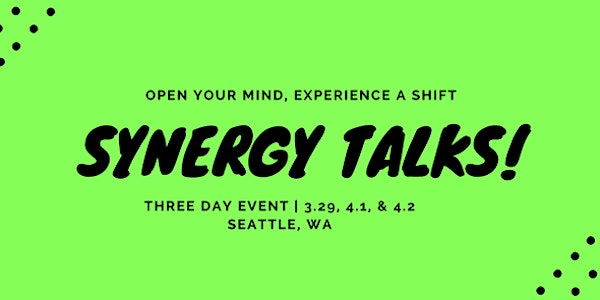 Synergy Talks!
When and where
Location
650 South Orcas Street Suite R203 Seattle, WA 98108
Refund Policy
Contact the organizer to request a refund.
Description
Open your mind and experience a shift with Synergy Talks!
Come delight your neurons with a series of stimulating and thought provoking talks.
Each talk is designed to educate you, leave you with a powerful question to ponder or provide you with specific actions you can take to improve the quality of your life.
This is a two day event on Saturday, April 1 and Sunday, April 2.
Speakers include Seattle's leading yogis, coaches, entrepeneurs, and thought leaders.
***Single tickets for sale as well as all access passes.***
Saturday, April 1 - Synergy Talks! Event Flow:
1:30pm: Doors Open

1:30pm – 1:45pm: Arrival Window

1:45pm – 1:55pm: Opening Meditation

1:55pm – 2:05pm: Origins of Synergy

2:05pm – 2:20pm: The Eyes of a Hero with Jake Grossman

2:20pm – 2:30pm: The Eyes of a Hero Q&A

2:30pm – 2:45pm: Living in the Gap with El Quick

2:45pm – 2:55pm: Living in the Gap Q&A

2:55pm – 3:10pm: How Hope Can Hurt Us with Lekea Itero

3:10pm – 3:20pm: How Hope Can Hurt Us Q&A

3:20pm – 3:35pm: The Power of Plants with Bahare Rowland

3:35pm – 3:45pm: The Power of Plants FAQ

3:45pm – 4:00pm: How Conflict Can Be A Good Thing with Lauren Hruska

4:00pm – 4:10pm: How Conflict Can Be A Good Thing Q&A

4:10pm – 4:20pm: Closing Announcements

4:20pm – 4:30pm: Closing Visualization

4:30pm – 5:30pm: Post Event Connection Session
Saturday, April 1 - Synergy Talks! Talk Description:
About The Eyes of a Hero with Jake Grossman:
What is the meaning of life?
If the question sounds cliché, it's probably because humanity has been grappling with it for millennia.
This talk blends ancient wisdom and modern science to shed some light on our own individual heroic journeys.
About Living in the Gap with El Quick:
You will be invited to design and dig from within to take a stand of how you will go from living in the gap. To closing the gap of where you once dreamed of living your life and making those dreams a walking reality. So you are no longer living in the gap, you have now demanded transformation from the gap. To be able to live as you were always meant to be.

About How Hope Can Hurt Us with Lekea Itero:
Hope can sometimes give us an illusion that we are doing something with our lives, but that can manifest as passive resignation. Another way of putting our lives on hold.
Together we'll explore how hope can hurt us and how we can transform our hopes into actions.
About The Power of Plants with Bahare Rowland:
Do humans really need animal products to thrive?
Come learn about the incredible benefits of a plant based lifestyle.
About How Conflict Can Be A Good Thing with Lauren Hruska:
Conflict sucks, am I right?
It feelings terrible when your feelings get hurt. Let me guess…most of the time you avoid conflict don't you?
Suffering in silence instead of speaking up?
But what if I told you that conflict can actually be a good thing?
Together we'll explore how to make conflict benefit your relationships instead of hurt them.
Sunday, April 2 - Synergy Talks! Event Flow:
1:30pm: Doors Open

1:30pm – 1:45pm: Arrival Window

1:45pm – 1:55pm: Opening Meditation

1:55pm – 2:05pm: Origins of Synergy

2:05pm – 2:20pm: It's Never Too Late with Alma Lara

2:20pm – 2:30pm: It's Never Too Late Q&A

2:30pm – 2:45pm: Tapping Into Turn-On with Alli Kinnear

2:45pm – 2:55pm: Tapping Into Turn-On Q&A

2:55pm – 3:10pm: Creating Flow with Denise Frakes

3:10pm – 3:20pm: Creating Flow Q&A

3:20pm – 3:35pm: Via Negativa: The Art of Subtraction with Timo Way

3:35pm – 3:45pm: Via Negativa: The Art of Subtraction Q&A

3:45pm - 4:00pm: What To Do When Shit Happens with Lauren Hruska

4:00pm - 4:10pm: What To Do When Shit Happens Q&A

4:10pm - 4:20pm: Closing Announcements

4:20pm - 4:30pm: Closing Visualization

4:30pm - 5:30pm: Post Event Connection Session
Sunday, April 2 - Synergy Talks! Talk Description:
About It's Never Too Late with Alma Lara
What do you want?
What do you love to do?
What are you passionate about?
It's easy to lose touch with these questions as we get older, to let the stress of daily life beat the dreamer out of you. But guess what? It's never too late for your dreams.
Explore how you can reconnect and rekindle your forgotten dreams.
About Tapping Into Turn-On with Alli Kinnear

Living an embodied life is one thing, but tapping into our turn-on is another! We may dream big, but our lives are out-of-sync with that dream.
Identifying the drains, creating a Self-Care First Aid Kit and following your inner GPS to what turns you on can lead you toward radiance in your life.

About Creating Flow with Denise Frakes:
Experience the power of shifting your emotions through movement through this interactive talk.
"There are times when your joy produces a smile. There are also times when a smile causes relaxation, calm and joy. I do not wait until there is joy in me to smile; joy will come later."
-Thich Nhat Hahn
Discover three moves that can shift your emotions and hormones.
About Via Negativa: The Art of Subtraction with Timo Way:
Via negativa - a way of describing something by saying what it is not. It is a heuristic that when deployed into life leads to massive upside. I also refer to it as the art of subtraction. Others might call it minimalism, but it's more than just less stuff.
It is subtraction that allows us to eliminate the ways in which our ego keeps claiming to be the center: "I want more adventure. I want to travel more. I need more money. I want to have more fun. I need another drink."
The biggest and most rewarding decisions I have made were made with the least amount of information. Whether that meant quitting a great job, reducing my life to a backpack and traveling to New Zealand , or eliminating dairy from my life to get a healthier body. It's always turned out that subtracting stuff, dependencies and activities has resulted in a maximized life.
We will explore what via negativa is, how deciding with less, leads to a more fulfilling life, the blocks between us and more, and tips for putting it into practice.

About What To Do When Shit Happens Lauren Hruska:
What do you do when shit hits the fan?
In life there's an almost guaranteed amount of stress and strife. When life gets you down, how do you pick yourself back up?
Join me for a discussion on how to deal with any series of unfortunate events – great or small.
Remember: It's always darkest before dawn.
What To Bring:
Just your beautiful self and a notebook if you'd like to take notes.
Parking:
There is a parking lot at the venue that offers free parking. The venue is an office space located in a business park. The venue is located on the second floor.
About the Speakers:
Lauren Hruska
Lauren Hruska is a millennial whisperer, certified transformational life coach and human connection expert. Lauren is also the founder and director of personal growth and development group Synergy, women's networking and empowerment group Mastermind, and business entrepreneur group Synergy Elite. Lauren specializes in working with millennials who feel stuck or unhappy in the corporate world. While she focuses on millennials, she works with people of all ages and backgrounds.
Through her coaching, groups, workshops and events Lauren's mission is to leave you with the following:
Clarity on who you are, what you want and where you are going and the steps to get there.

A connection to your inner guidance system.

A renewed enthusiasm for life.

Inspired transformation.

Positive momentum in your life and the lives of those around you.
Lauren also has an obsession with electronic music, Teal Swan, and americanos. She is a self proclaimed personal growth fanatic and is a student of life. Nothing lights her up more than seeing others discover their inherent worth and special gifts and talents.
Find her online: www.laurenhruska.com.
Facebook: @themillennialwhisperer
Instagram: @laurenchruska
Snapchat: @zeedmbarbie
Inna Mitev
Inna is a health and wellness coach that helps people achieve their goals through a holistic approach that addresses food, fitness and the mind. She strives to inspire, educate and empower people to take charge of their health and happiness by being more intentional with their actions and thoughts day to day. It's about creating a healthy lifestyle that's sustainable, effective and fun.

You can find her food and fitness tips on IG/FB/Snap @cleanleaninna and follow her blog at cleanleanlifestyles.com

Live intentionally, live passionately.

Antonella Zabaglio and Jordan Goff
Antonella and Jordan live and love yoga as a life path, eager to share it with their community and the world. They can be found leading yoga classes, workshops, retreats, teacher trainings, and festivals in the PNW and abroad.
Antonella spends most of her free time upside down as a self professed "inversion junkie". A mother of two mini yogis, she has a playful and nurturing teaching style laced with creativity and connection. Antonella's classes are intelligently designed yet spontaneous, while always delivered with attention to detail and alignment. Her passion for this practice is contagious and will help bring yours to a whole new level! Yoga Alliance 200 ERYT & 500RYT certified in Vinyasa, Universal yoga, Yin/THA, and ACROVINYASA™.
Jordan has ambitious goals for making yoga accessible and available to everyone. He attended Santa Clara University, majoring in Business Management and minoring in both Philosophy and Ethics, all three of which he strives to incorporate into his world of yoga, where integrity and yogic philosophy lies central to the business. Music is essential to his world, where he doubles as a nightlife DJ, so expect a soundtrack in each of his classes. Jordan brings a youthful energy, a love for human connection, and a one of a kind smile that has led many to consider him "an old soul." Yoga Alliance RYT 200 and ACROVINYASA™ certified.
Connect with them online: http://www.eudaimoniayoga.com/.
Jake Grossman
Environmental activist, philosophy nerd, ocarina enthusiast, and student of life, Jake Grossman is fascinated by human beings and the stories we tell ourselves. After working as a Personal Trainer and EMT, Jake found his calling in his Life Coaching and Hypnotherapy Practice, where he helps people look within to tap into their own innate wisdom and healing.
Jake loves exploring archaic religions and mythological traditions for truths that resonate, but above all, believes in creating our own meaning in this beautiful mystery called life.
Find him online: https://www.reflectingpoolhypnotherapy.com/
Facebook: https://www.facebook.com/reflectingpoolhypnotherapy/?hc_ref=SEARCH.
El Quick
The start of my human existence ways beautiful and magical. Until once upon a time I turned into a self destructive and substance abusing nightmare. As my subconscious never stopped dreaming and my will for greatness kept my heart alive. I will share with you the tools that took me from homelessness and addiction. To now standing before you, helping others reach their true potential. ​
Lekea Itero
Originally from Uganda, I came to the United States at 19 years old. I graduated from the University of California – Davis with a Bachelor's Degree in Microbiology. In 2007 I moved to the Pacific Northwest where I worked as a clinical lab scientist at the University of Washington Medical Center.
Due to my fascination with human behavior and love of people I chose to pursue life coaching. Currently, I am a certified transformational life coach whose focus is helping you overcome procrastination and start living today. I have an extensive background in addiction counseling, experience in Cognitive Behavioral Theory Application and Motivational Interviewing. If you want to stop procrastinating and have a paradigm shift in the way you look at your life, then I would love to have a conversation with you.
Find her online: evolving.life.
Bahare Rowland
Bahare is passionate about vegan plant based living and lifestyle. She has been plant based for over six years and counting. As a vegan mentor and animal activist, Bahare has raised money for various animal welfare non-profit organizations such as: PAWS and Sea Shepherd.
Her other passion is plant based healthy living – mentoring people on how to slowly transition from an all American diet to thriving plant based diet and lifestyle. She loves teaching others about the incredible effects on a plant based lifestyle and how it can contribute to healing the mind, body, and soul.
Alma Lara
Alma Lara was born in Mexico and moved to USA 20 years ago with her husband Carlos. They have three beautiful kids. In 2011 she moved with her family to Washington from Michigan and her personal and professional life was transformed after receiving their son's diagnosis of Autism the same year.
Sharing her journey and her compelling story with others families at work with friends and wherever she had the chance to do it, gave her the opportunity to inspire other with her example of strength and hope, awaken her true calling in life.
Alma realized that she wanted to help families that were going through what she experienced with her son and decided to become a Life Coach and got her Certification in 2015.
Her learning experience as a Life Coach gave her the tools to help others as she was able to transform her own struggles with Autism into incredible opportunities of growth and through this process she was able to unlock her dusty memories and dreams misplaced over time.
She recently resigned as an HR Coordinator at The Fairmont Olympic Hotel and follow her calling and passion to be an inspirational speaker, transformational coach and author.
She also committed part of her time to work as a Family Resource Coordinator at FEAT (Families for effective Autism Treatment) where she is now helping families in this emotional, physical and financial challenging transition; supporting them, sharing great resources and critical important information.
It became Alma's purpose to create the best version of herself and transform her life forever, she believes sharing her journey could help others to do the same.
Find her online: almalara.com.
Alli Kinnear
For over 22 years, I have worked with women at the crossroads of negotiating their most entrenched vulnerabilities with their demanding roles as mothers, daughters, employees and leaders. My career has been grounded in understanding human development, early childhood and the social-emotional dynamics that support positive relationships, deep connections and authenticity.
I have a BA in Child Development from Humboldt State University, an MA in Human Development from Pacific Oaks College and am a Life Coach from Seattle Life Coach Training.

Denise Frakes
Denise is a certified transformational life coach that specializes in shifting habits, getting unstuck, simplifying, and nourishing spirit and health back into your life. Denise is also a simplifying and clutter clearing coach who specializes in clearing your clutter, it's one of her all time favorite practices to a brighter you! She focuses on letting go of what depletes, muddles and diminishes you or your company and discovers and cultivates what lights you up, uplifts you and fulfills you.
She is also a healthy home, green cleaning and residue free home consultant and educator. Denise does presentations for local organizations on creating a residue free home and business, the art of a healthy home, cleaning the residue free way, making friends with your chores and lighten up...clear your clutter.
Find her online: http://www.beresiduefree.com/.
Timo Way
I help entrepreneurs and businesses tell their story through written, visual, and vocal content. To some clients I am a consultant, to others I am a producer, and to all I am a friend. I also roast coffee in my kitchen, so if you work with me you will be drinking artisan coffee.
Find him online: timoway.com.
Special Note From Lauren:
I had a vision of Synergy back in the summer of 2014. I was working I job I hated and wondering why everyone around me (including myself) had forgotten about their dreams and was just so damn unhappy.
All of sudden I saw an image of a group of people gathered together to discuss their goals and dreams. It would be a personal growth and development group. A community, a tribe, a family that supported and uplifted one another. I realized the three common ingredients to achieving a goal:
A deadline.

Accountability.

The support of others.
What if I could create something that could foster those ingredients? That's precisely when Synergy was born. I thought no one would be interested in joining a group like that so I kept my idea to myself for many months until I launched the group in January 2015.
When Synergy first launched it was only supposed to be about setting individual goals in a group setting, but my brother, Brent Hruska (also a life coach, ha!) encouraged me to deliver a recent blog post as a speech to kick off the group.
So I did. I delivered a speech with the message of the importance of believing in yourself as absolutely paramount to achieving anything. From that month on and every month after I gave a talk based on a prominent theme in my life. So, after giving more than 15 talks the past two and a quarter years I figured I could share some of them with the public, and thus Synergy Talks! was born.
Thank you for saying "yes," to opening your mind and experiencing a shift.
About Synergy:
Synergy is a collection of goal setting individuals.
Through the positive and encouraging community fostered by Synergy, group members are inspired to achieve their goals, no matter how big or small.
Synergy functions as a support system, a motivating network, and a loving family.
What is Synergy's purpose?
1. To ignite within us a renewed enthusiasm for life.
2. To experience inspired transformation.
3. To foster positive momentum in our lives and the lives of others.
The five tenants of Synergy
1. We only speak positively toward and about others.
2. We support each other.
3. We uplift each other.
4. We inspire each other.
5. We believe in one another and most importantly ourselves.
Cheers,
Lauren Hruska