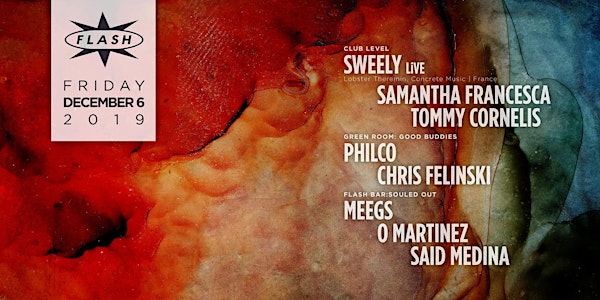 Sweely (LiVE)
Friday, December 6th • Green Room 9PM • Club 10PM.
When and where
Location
Flash 645 Florida Ave NW Washington, DC 20001
About this event
Friday, December 6th • Bar 8PM • Green Room 9PM • Club 10PM.
Advance Tickets on sale NOW.
French-American Sweely touches down for a mind-bending Live, hardware house set. Bearing with an eclectic musical style and the ability to play a variety of instruments, Sweely is known for cultivating a special dancefloor energy. His creativity has landed him releases on renowned labels such as La Chinerie, Distant Hawaii , Swap White, Lobster Theremin and Concrete Music and residency at recently-closed Concrete in Paris. Releasing a hot new track 'Take One', under Brawther's label Negentropy, Sweely has quickly elevated to a must-see act of the moment.
Club Level:
Sweely (LiVE) (Lobster Theremin, Concrete Music | France)
residentadvisor.net/dj/sweely
soundcloud.com/sweelymusic
Samantha Francesca (Sticky Fingers Collective | DC)
soundcloud.com/samanthafrancescadc
https://www.residentadvisor.net/dj/samanthafrancesca
Tommy Cornelis (The NeedlExchange | DC)
residentadvisor.net/dj/tommycornelis
soundcloud.com/tommycornelis
Green Room: Good Buddies
Philco
residentadvisor.net/dj/philco
https://soundcloud.com/iamphilco
Chris Felinski
residentadvisor.net/dj/chrisfelinski
soundcloud.com/chrisfelinski
Flash Bar: Cider House Mules
Meegs
soundcloud.com/djmeegs
O Martinez
soundcloud.com/omar-martinez-190
Said Medina (DC)
SWEELY:
French-American, skate nerd with heart beating on the street, Sweely began digging, from his earliest days, into a broad range of musical styles including Grunge, Rap, Hip hop, Jazz and Electro. From the start, Sweely was exploring every musical instrument which popped into his hands, including percussions, guitars and keyboards, but the soul connection with the didgeridoo, his acoustical instrument of choice. One of the most creative and eclectic French producers of the new generation, effortlessly navigating between house, minimal and electro, as demonstrated by his releases on La Chinerie, Distant Hawaii, SWAP WHITE LTD and lately Lobster Theremin (2 Ep's are to be released on the label) His energetic lives recently given the residency of the infamous CONCRETE club in Paris, you will find him dancing behind his TR-8 and MPC, crafting rolling and captivating music to transmit his energy and further unify the crowd towards an elegant and groovy mood.