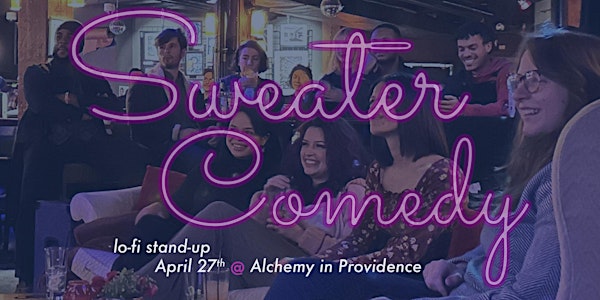 Sweater Comedy
Lo-fi comedy at Alchemy in Providence. Grab a drink, snuggle up and laugh your cozy ass off at New England's funniest stand-up comics.
Date and time
Thursday, April 27 · 7 - 9pm EDT
Location
Alchemy 171 Chestnut Street Providence, RI 02903
About this event
EVENT DETAILS
TICKETS
Early Bird Tickets can be purchased here on Eventbrite until 11:59pm on March 12th. All tickets are General Admission, and seating will be first come, first serve. There is no limit on early bird tickets.
General Tickets will start at 12:00am on March 13th and end by 11:59pm on April 22nd. All tickets are General Admission, and seating will be first come, first serve. There is no limit on general tickets.
Week-Of Tickets will start at 12:00am April 23rd and and run until the show starts on April 27th at 7:00pm. All tickets are General Admission, and seating will be first come, first serve. There is no limit on week-of tickets.
This event is very likely to sell out, so get your tickets early!
TIME:
Doors open at 6:00pm. Show starts at 7:00pm. You can expect the show to end by around 8:30pm, but feel free to stick around and hang out with us!
We highly recommend showing up early. You do not want to walk into a comedy show late. It is annoying for the rest of the audience, it's annoying for the comics, and it will definitely be embarrassing for you. Plus, you might miss out on the sweet-yummy cookies! **sad face emoji**
THE COMICS:
Every show, Sweater Comedy features some of the greatest comics in the New England area, often focusing on local Providence talent.
The April 27th show will feature Angela Sawyer, Trent Wells, Brandon Battick, Mark-Anthony Lewis and Tony Manfredi.
COCKTAIL MENU:
Argyle Cardigan: vodka + cranberry + blue Curaçao
A funky blend for those of you a little too hip to try anything else.
Irish Boatbuilder: Guinness + Prosecco
I know it sounds weird, but it's actually smooth and delicious! Buy it in pairs, and share with a friend.
Weasley Jumper: chai tea + whiskey + brandy + honey
A hot toddy as cozy as a sweater knit for you by Mrs Weasley.
Shaggy Dog: gin + elderflower liqueur + lemon
An old school, Ivy-style cocktail for the preppy crowd.
Mr Rogers (nonalcoholic): 1 peach + 4 ginger beer + 3 cranberry
Teetotaler and a man of strict routine, Mr Rogers weighed exactly 143 pounds for most of his adult life, because "it takes one letter to say I and four letters to say love and three letters to say you." Inn't that nice?
MochaAnthony (nonalcoholic): milk + chocolate syrup + coffee syrup
Rhode Island's own version of an Arnold Palmer: the MochaAnthony. Originally concocted by Jill the Waitress in 2016.
FREASH BAKED COOKIES:
Yes, there will be freash* baked cookies at the show! They will be free to all who attend, and first come, first serve. No, they will not be weed cookies.
Last show, we made sweater-shaped shortbread cookies and blue and purple Kood-Aid cookies, but if you have any requests for other cookies, reach out on Instagram or leave a comment at check-out.
CANCELLATION PROTOCOL:
In the unlikely event that Sweater Comedy cannot be held on April 27th and needs to be rescheduled, tickets will not be refunded but instead will be valid for any future show. That said, we don't plan on cancelling!
For updates and more information, follow on Instagram!
Frequently asked questions
Do I need to wear a sweater?
What's the parking situation?
About the organizer
Lo-fi stand-up comedy. Get cozy.