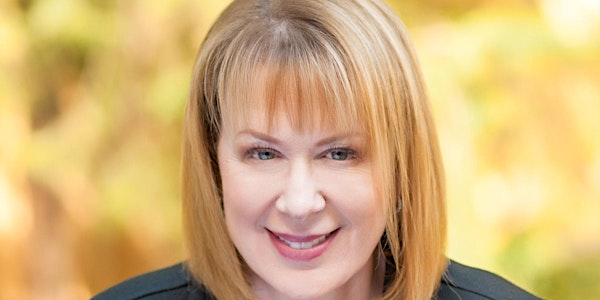 Susan Mallery In-Conversation with Katherine Center VIRTUAL Event
Don't miss this virtual event with New York Times bestselling author Susan Mallery!
Refund Policy
Contact the organizer to request a refund.
About this event
COVID-19 may have upended our lives, but Fiction Addiction is still your guide to finding books worth your time to read them.
We are thrilled to bring you a virtual event with New York Times bestselling author Susan Mallery in conversation with Katherine Center on Tuesday, February 9th at 7pm Eastern.
Each ticket includes access to a live online book talk as well as a SIGNED copy of The Vineyard at Painted Moon. You will be able to access the event through Eventbrite after your ticket purchase.
Additionally, each ticket holder will be entered in a raffle to win exclusive prizes! The raffle winner will receive Sugarfina Rosé All Day wine gummies and a glow-in-the-dark moon handmade art glass wine stopper.
Tickets can be purchased through Monday, 2/8/21 at 8am. Refunds can be requested up until the ticket cutoff.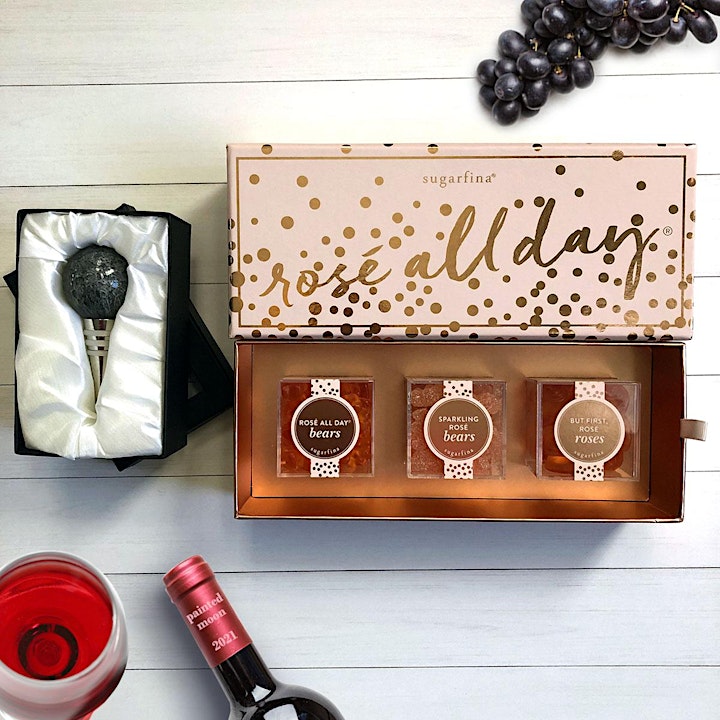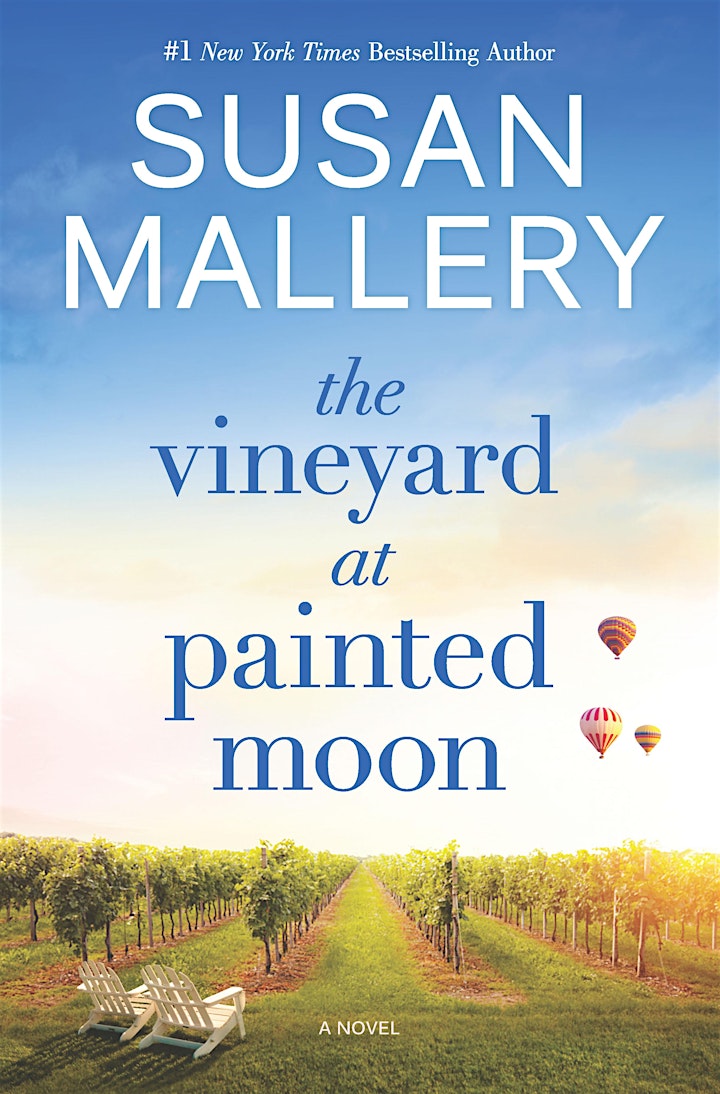 Already a worldwide success in mass market and trade paperback formats, #1 New York Times bestselling author Susan Mallery's brand new hardcover is a powerful editorial shift for her. In The Vineyard at Painted Moon, Mallery tells the emotional and heartfelt story of a woman who must rebuild her life after a painful divorce strips of her of the only family she's ever really known and the job that has given her life meaning in order to finally follow her dreams.
MacKenzie Dienes's life isn't perfect, but it's as close as she could ever hope to get. Her marriage to Rhys, her best friend's brother, is more friendship than true love. But passion is highly overrated, right? And she loves her job as the winemaker at Bel Apres, her in-laws' vineyard. So what if it's a family business and, even after decades of marriage and incredible professional success, she's still barred from the family business meetings? It's all enough…until one last night spent together leads to an incredibly honest—and painful—conversation. Rhys suggests that they divorce. They haven't had a marriage in a long time and, while he wants her to keep her job at Bel Apres, he doesn't think they should be married any longer. Shocked, MacKenzie reels at the prospect of losing the only family she's ever really known…even though she knows deep in her heart that Rhys is right.
But when MacKenzie discovers she's pregnant, walking away to begin a new life isn't so easy. She never could have anticipated the changes it would bring to the relationships she cherishes most: her relationship with Barbara, her mother-in-law and partner at Bel Apres, Stephanie, her sister-in-law and best friend, and Bel Apres, the company she's worked so hard to put on the map.
MacKenzie has always dreamed of creating a vineyard of her own, a chance to leave a legacy for her unborn child. So when the opportunity arises, she jumps at it and builds the Vineyard at Painted Moon. But following her dreams will come at a high price—one that MacKenzie isn't so sure she's willing to pay…
About the Author: SUSAN MALLERY is the #1 New York Times bestselling author of novels about the relationships that define women's lives—family, friendship and romance. Library Journal says, "Mallery is the master of blending emotionally believable characters in realistic situations," and readers seem to agree—forty million copies of her books have been sold worldwide. Her warm, humorous stories make the world a happier place to live.
Susan grew up in California and now lives in Seattle with her husband. She's passionate about animal welfare, especially that of the two Ragdoll cats and adorable poodle who think of her as Mom.
About Katherine Center: Katherine Center's newest novel is WHAT YOU WISH FOR. She's the New York Times bestselling author of eight novels, including How to Walk Away and Things You Save in a Fire. Her novel The Lost Husband is now a movie starring Josh Duhamel that hit #1 on Netflix. She writes laugh-and-cry books about how life knocks us down—and how we get back up. BookPage calls her "the reigning queen of comfort reads." Katherine has been compared to both Jane Austen and Nora Ephron, and the Dallas Morning News calls her stories, "satisfying in the most soul-nourishing way." Her books have made countless Best-Of lists, including Real Simple's Best Books of 2020, Amazon's Top 100 Books of 2019, Goodreads' Best Books of the Year, the Indie Next Great Reads List, and many more. Katherine lives in her hometown of Houston, Texas, with her husband, two kids, and their fluffy-but-fierce dog.
Access to the Event
The talk will be hosted at https://www.crowdcast.io/. You can watch through your browser and are not required to download any software (though mobile apps are also available). Access will be provided through Eventbrite after your ticket purchase.
Shipping
Signed books will be available after the event. We will email local customers when the book is available for pickup (we offer contactless curbside pickup if you don't wish to come into the store). If you are not local or simply prefer your book to be shipped, please purchase the Book for Shipping ticket. Books to be mailed will ship after the event.
*We will do our best to mail your books promptly, but this depends on how the COVID-19 crisis continues to unfold.
Refund Policy:
You may request a full refund prior to the event.
If you miss the live event, you have up to 48 hours to watch the replay (at the same link) before it's taken down.
If your book doesn't arrive within 2 weeks of the event, please contact us at info@fiction-addiction.com.