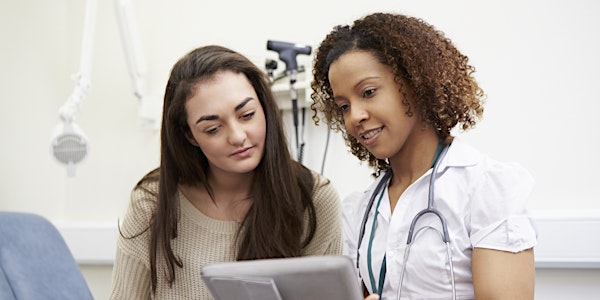 Supporting Access and Equity in Primary Care Through Payment
Scaling Innovation in California: Supporting Access and Equity in Primary Care Through Payment
About this event
Blue Shield of California and Milbank Memorial Fund Access, Equity, and Innovation event
Please click the link below to join the webinar:
https://us02web.zoom.us/j/82368353412
Join us for an upcoming event on December 7th, discussing how Californians can work together to realize a future vision for primary care that addresses the issues of unequal access and disparities in health outcomes.
The COVID-19 pandemic exposed the long-standing flaws in how primary care is prioritized, funded, and organized in the US. The pandemic exacerbated existing disparities: Over 60% of COVID-19 cases and nearly 50% of deaths in the US have occurred among people of color.
In particular, the mortality rate in the US Black population is more than twice that in the White population – largely due to issues like inequitable access to care and institutionalized racism in health care. As a result, the same disadvantaged and underserved communities suffered most, illuminating the harm in maintaining the status quo.
The recent National Academies of Sciences, Engineering and Medicine (NASEM) report on "Implementing High-Quality Primary Care" emphasized that primary care is unique among health services for its contribution to health and equity, making it an essential common good for society. Not only is a stronger primary care system required in the U.S. to take care of America's health care needs over the majority of a person's lifetime, but investment in primary care has the power to improve health equity more than any other part of our health care system .
Immediate and concerted action is needed by payers serving the same communities to collaborate on how they pay for primary care to improve health equity and address disparities in care.
Access Webinar: https://us02web.zoom.us/j/82368353412
Speakers include:
Asaf Bitton, Executive Director, Ariadne Labs
Christopher Koller, President, Milbank Memorial Fund
Sunita Mutha, Director, Healthforce Center at UCSF
Stella Safo, Founder and Executive Director, Just Equity for Health
Shruti Kothari, Industry Initiatives, Blue Shield of California (moderator)
This event will be an in-depth conversation about:
1. A vision for primary care as a common good that addresses the issues of unequal access and disparities in outcomes amplified by COVID-19
2. Why multi-payer collaboration is necessary to strengthen primary care and address the pervasive issues of inequity and lack of access to care
3. The role of technology and digital health in reaching traditionally hard-to-reach communities and achieving patient-centered care
4. The immediate next steps payers, providers and policy makers in California should take to align on a model for primary care that will achieve equitable access and better outcomes for all
About the speakers
Dr. Asaf Bitton, M.D., M.P.H., is the executive director of Ariadne Labs, a health systems innovation center at Brigham and Women's Hospital and the Harvard T.H. Chan School of Public Health. He is a national and global expert on primary care policy, financing, and delivery. He is currently a senior advisor for primary care policy at the Center for Medicare and Medicaid Innovation. In this role since 2012, he has helped design and test three major comprehensive primary care payment and delivery initiatives, representing the largest tests of combined primary care payment and clinical practice transformation work in the United States. He previously served as director of Ariadne Labs' Primary Health Care Program, leading primary care measurement and improvement work in over a dozen countries along with previous work directing regional primary care practice learning collaboratives in Massachusetts. He is a core founder and leader of the Primary Health Care Performance Initiative, a partnership that includes over 20 countries and the World Bank, the World Health Organization, UNICEF, and Bill & Melinda Gates Foundation dedicated to improving the global provision of primary health care. Dr. Bitton practices primary care at Brigham and Women's South Huntington clinic, a team-based community primary care practice in Boston that he helped found in 2011. He is an associate professor of medicine and health care policy at both Harvard Medical School and the Harvard T.H. Chan School of Public Health. He currently serves on the National Advisory Council for Healthcare Research at the Agency for Healthcare Research and Quality in the U.S., and is an elected member of the International Academy of Quality and Safety.
Christopher Koller is president of the Milbank Memorial Fund, a more than 100-year-old operating foundation that improves population health by connecting leaders with the best information and experience. The Fund fosters state health policy leadership focuses on critical population health issues and publishes evidence-based content and The Milbank Quarterly, a peer-reviewed journal of population health and health policy. Before joining the Fund, Mr. Koller served the State of Rhode Island as the country's first health insurance commissioner, from 2005 and 2013. The Office of the Health Insurance Commissioner was nationally recognized for its rate review process and its efforts to use insurance regulation to promote payment reform, primary care revitalization, and delivery system transformation. Previously, Mr. Koller was the CEO of Neighborhood Health Plan of Rhode Island. He has a bachelor's degree from Dartmouth College and master's degrees in religion and public/private management from Yale University. He was a member of the National Academy of Medicine's (NAM) Health Care Services Board and has served on three NAM committees and in numerous national and state health policy advisory capacities. Mr. Koller is a Professor of the Practice in the Department of Health Services, Policy and Practice in the School of Public Health at Brown University.
Dr. Sunita Mutha directs Healthforce Center and is professor of medicine and primary care physician at the University of California, San Francisco. She leads Healthforce's efforts to generate knowledge about the health care workforce that assist providers, policymakers, and funders in addressing critical health care challenges. Healthforce Center works to define issues and influence health policy with rigorous analysis and actionable, unbiased information as well as implementing programs that build leadership capacity to improve health care.
Dr. Mutha brings two decades of experience working to make health care more responsive and equitable. She has expertise in cultural competence trainings and working to improve care with an emphasis on the intersection between quality improvement and health disparities. She has served on national committees guiding the development of hospital standards for culturally competent patient-centered care. Her leadership experiences include past service on board of directors for Brown and Toland Medical Group, a comprehensive, multi-specialty independent practice association in the San Francisco Bay Area and current role on the board of directors of Insure the Uninsured Project (ITUP). ITUP is an independent, nonprofit, health policy institute that has been a central voice in the California health care and health reform.
Dr. Stella Safo is a board-certified HIV primary care physician, public health advocate, and the founder of Just Equity for Health, a health care improvement company that uses advocacy, education, and care model design to ensure equitable care delivery across all sectors of medicine.
Dr. Safo has experience in clinical transformation and health care redesign at Mount Sinai Health System and Premier Inc, where she respectively serves as an Assistant Professor and Strategic Advisor. In addition to her commitment to population health and care model design, Dr. Safo is dedicated to equity within health care. She is a founding member of several organizations dedicated to gender and racial equity and to civic engagement in medicine, including Equity Now at Mount Sinai, Civic Health Alliance and the Coalition to Advance Antiracism in Medicine. In 2020, Dr. Safo was named one of Modern Healthcare's top minority clinicians to watch and she is a current New York Academy of Medicine Fellow.
Dr. Safo received her medical degree from Harvard Medical School and a public health masters with a focus on global health at the Harvard School of Public Health, where she served as a Zuckerman fellow with the Harvard Center for Public Leadership. She completed a residency in Primary Care and Social Medicine at Montefiore Medical Center in the Bronx, New York, followed by an HIV fellowship from the HIV Medicine Association. She currently serves as the Social Medicine Curriculum Director and Adjunct Assistant Professor of Medicine at Montefiore Medical Center. In addition to consulting in projects around equitable care model design and to a commitment to social justice work, Dr. Safo also provides clinical care to patients in New York. Her work has been featured in various academic and popular media, including CNN and MSNBC.
Shruti Kothari is a healthcare transformation advocate, passionate about creating meaningful health care experiences for patients, families, and providers. She leads Industry Initiatives for Blue Shield of California, focusing on industry alignment, collaboration, and mission-centered advocacy and policy movement that drives the change needed to scale BSC's Innovation and transformation agenda.
Prior to BSC, Shruti led Strategic Engagement for Kaiser Permanente's venture capital fund, integrating early-stage startups into the Kaiser Permanente ecosystem. She also worked as an early stage startup operator for Honor, healthcare system quality improvement leader for Kaiser Permanente, and a health educator and community mobilizer for the American Cancer Society.
Shruti is on the board for Family Caregiver Alliance, as well as an Advisor for the End Well Foundation. She is the founder of Women of Community which engages in advocacy efforts to increase representation of Women of Color in healthcare leadership. You can follow Women of Community on Instagram and LinkedIn.