Description
Now in it's 12th year, SummerScreen brings crowds to Williamsburg's McCarren Park each Wednesday in July + August to enjoy a lineup of cult classic movies, live music, and food & drink from local vendors.

Wake up, we've been watching you. Come closer. Come to the 20th anniversary celebration of Donnie Darko, July 12th at McCarren Park.
To Bring:
-Blankets, pillows, etc
-Your dog (please)
-Your favorite movie snacks
-Your commitment to Sparkle Motion

NOT to Bring:
-Alcohol (We will have beer and wine available though!)
-Chairs, umbrellas, other stuff that could block people's views
-Radios, boomboxes, etc.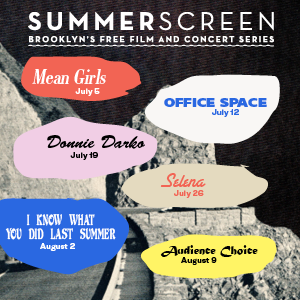 As always, SummerScreen is free to the public and at the corner of North 12th St. and Bedford Ave. Gates open at 6pm, band plays at 7:15, and the film starts at sundown.

7/26: Selena
8/2: I Know What You Did Last Summer
8/9: Audience Choice

Audience pick is on August 9th so don't forget to cast your vote for the movie you want to see here: https://fans.vote/ACogJKeYOhc

And remember kids, every living creature on earth dies alone.