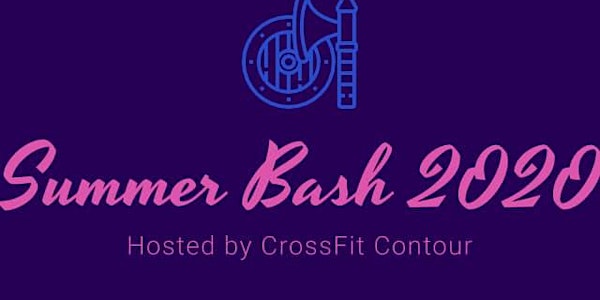 Summer Bash 2020
Summer Bash 2020 Details!
When and where
Location
300 Sunrise Center Dr 300 Sunrise Center Dr Zanesville, OH 43701
Refund Policy
Contact the organizer to request a refund.
Eventbrite's fee is nonrefundable.
About this event
Summer Bash 2020 is upon US! This year the competition enters its 4th year. We intend to deliver the same great experience as every year! This year we are delivering our largest prize purses yet! We will be sending CASH prizes home with the podium finishers in EVERY Division!
Rx: 1st-$800, 2nd- $600, 3rd- $400
Scaled: 1st-$600, 2nd- $400, 3rd- $200 
Join us for our 4th year Hosting this great event! The first part of Summer Bash this year will include a Shotgun style workout (3 workouts) then 2 independent events.
Moving into the 6th workout will require you and your teammate to prove your fitness and be in the top half of the field. (Top 12 teams from each division move on).
Moving into the 7th workout will demand an even better performance (top half from event 6) this will also be the final event for scaled. (Top 6 teams)
The final event will have the top 3 RX teams square off head to head.
Events 1-3 Cannonball style
AMRAP 10
Nicole
Max Pull ups
400m run
Switch partners after each round
Score:Reps- Total Pull ups between both partners
Rest 2:00
Grass between the fingers
RX:50ft Partner A FIREMEN Carry
50ft Handstand Walk (5 Ft increments)
50ft Partner B FIREMEN Carry
50ft HSW back (5ft Increments)
CAP: 10:00
Scaled:Same workout however they will do a Overhead Walking lunge 35/20 in place of the HSW (1-Dumbbell)Score: Time complete or total reps
Rest 2:00
Capacity
AMRAP 8:00
30 Burpee Box Overs (Facing the box) 24/20 (step or jump)
30 DB Snatch (one DB head to the ground) 50/35
*One partner working a time. Switch as needed*
**Scaled Weights 35/20 same heights, step ups allowed for RX and scaled
Score:Total reps completed
Event 4
"The pace is go"
Clean ladder
Clean the ascending barbell ladder as quickly as possible.
Rx Men: 135/185/225/245/265/275
Rx Women: 95/135/155/175/195/205
Scaled Men: 95/115/135/155/185/205
Scaled Women: 65/75/95/105/135/145
Score:
Total time for both athletes
Tie break: Combined heaviest cleans
CAP 01:30
Other workouts will be posted as we get closer to the event. Check the event page on Facebook and instagram!