SUEDE Returns to Rehoboth July 31st! You've literally waited over 3 years for this -- but she is BACK and BETTER than ever!
About this event
CAMP Rehoboth is thrilled to be bringing the sultry and sweet voice of SUEDE to the Beach for this benefit fundraiser and we THANK SUEDE for her generosity in so many ways!!
And Epworth United Methodist is a great venue, where every seat allows you to feel close to the performer.
Sure, she has been a Headliner, directly alongside Melissa Etheridge and Sarah McLachlan. And Joan Rivers hand picked SUEDE as her opening Act. But let's get real - SHE NEEDS NO OTHER STAR because of her smooth as suede vocals and musical prowess is unsurpassed! It is one of the reasons she has been a favorite headliner with Olivia Cruises for 30 years!
If you are not familiar with SUEDE, imagine a cross between Bette Midler, Adele, and Diana Krall, and you'll be approaching an idea of Suede's powerful , fun presence, musical talents, and well honed skills. Suede plays piano, guitar and trumpet, but voice is her first instrument. A professional song stylist among the likes of Tony Bennett and company – she's a classic singer's singer who performs Pop/Jazz/Blues.
This event helps raise funds for CAMP Rehoboth so that we can continue the free health and wellness services, the arts programs and advocacy we provide to make Rehoboth and the surrounding areas continue as the most welcoming, equitable and inclusive place to live and play. We appreciate your involvement and support.
Join the SUEDE-Wave in the Rehoboth Beach - July 31, 2021 at Epworth United Methodist Church at 19285 Holland Glade Road!
Tickets must be purchased in-Advance.
A very limited number may be available at the Door, but please check the CAMP REHOBOTH Facebook and Webpage to confirm performance is not sold out.
PLEASE NOTE - In the event you request a refund before the close of the non-refundable sale date, Eventbrite will take out a processing and credit card fee that goes directly to Eventbrite to process your refund. CAMP Rehoboth does not get any percentage of this fee.

** CAMP Rehoboth is a 501(c)(3) nonprofit community service organization dedicated to creating a more positive environment in Rehoboth Beach and its related communities. We seek to promote cooperation and understanding among all people, as we work to build a safer and more inclusive community with room for all. CAMP Rehoboth is the only LGBTQ+ Health, Wellness and Arts Community Center in Delaware and serves all people regardless of their race, religion, sexual orientation or gender-identity. Learn more by visiting: www.camprehoboth.com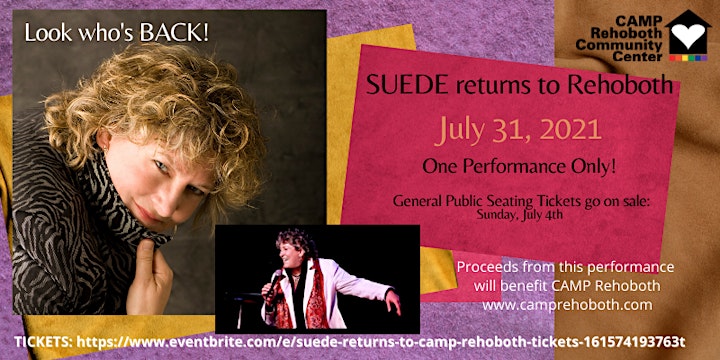 Organizer of SUEDE Returns to CAMP Rehoboth!
CAMP Rehoboth is a 501(c)(3) nonprofit, LGBTQ community service organization.  Celebrating diversity, building a strong sense of community, and "creating a more positive" environment for all people, gay and straight, has been at the heart of the CAMP Rehoboth philosophy for over 29 years. 

Donations to CAMP Rehoboth are tax deductible to the fullest extent of the law.
For more information on CAMP Rehoboth and its events and services, visit www.camprehoboth.com or call the Community Center at 302-227-5620.