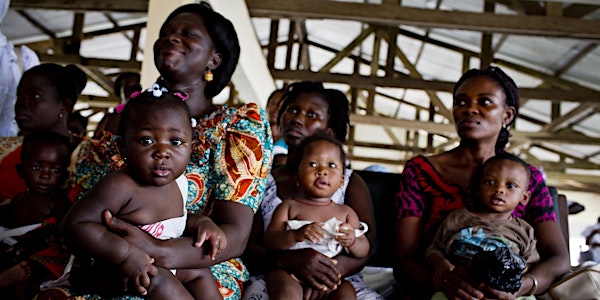 Stronger Systems for Healthier Moms and Kids
Location
City View Room (Elliott School of International Affairs)
1957 E St. NW
Washington, DC 20052
Description
Tackling Health System Constraints in Ghana and Guinea
In the past ten years, USAID's maternal and child survival efforts have helped save the lives of more than 5 million children and 200,000 women in 25 priority countries.

Despite this progress, more than 15,000 children and 830 women still die every day from preventable causes.

WE MUST STRENGTHEN HEALTH SYSTEMS
TO PREVENT CHILD AND MATERNAL DEATHS.

Please join us June 19th from 9:00AM to 12:00PM at the George Washington University's City View Room as we welcome health system specialists from two USAID-supported countries, Ghana and Guinea, to learn how interventions at different levels of the health system are working to address common health system challenges in order to ensure equity, coverage, quality, and efficiency of reproductive, maternal, newborn, child and adolescent health services.
Location details: George Washington University's City View Room is located at 1957 E St. NW (Elliott School of International Affairs). Upon arrival, please take the elevator up to to the 7th floor where the City View Room is located. If you plan to come by metro, the closest station is Farragut West.

Opening remarks:

Dr. Koki Agarwal
Director, USAID's flagship Maternal and Child Survival Program

Keynote address:

Kerry Pelzman
Deputy Assistant Administrator, USAID Bureau for Global Health

Other featured speakers include:

Dr. J. Koku Awoonor-Williams
Director, Policy, Planning, Monitoring and Evaluation, Ghana Health Service

Grace Chee
Health System Strengthening and Equity Team Leader
USAID's flagship Maternal and Child Survival Program

Catherine Connor
Deputy Project Director, USAID's flagship Health Finance and Governance Project

Bob Emrey
Lead Health Systems Specialist, Office of Health Systems
USAID Bureau for Global Health

Dr. Abdoulaye Kaba
National Director, Strategic & Development Office, Guinea Ministry of Health
Julian Schweitzer
Senior Advisor, Cambridge Economic Policy Associates

Dr. Aye Aye Thwin
Senior Advisor, Office of the Assistant Administrator
USAID Bureau for Global Health


Photo credit: Kate Holt/MCSP