STRIVE! WOMEN'S REPLENISHER RETREAT
Actions and Detail Panel
STRIVE! WOMEN'S REPLENISHER RETREAT
Thu, Sep 14, 2017, 4:00 PM – Sun, Sep 17, 2017, 10:00 AM AST
Description

STRIVE! WOMEN'S REPLENISHER WEEKEND
SAN JUAN, PUERTO RICO
SEPTEMBER 14-17, 2017
3 nights & 4 days that will reignite your vision and recharge your power...
This 3-day Strive ReplenisHer Retreat™ + EXPERIENCE + GET AWAY promises to recharge, reignite, and renew a spirit of vibrancy within women visionaries. Retreat with other amazing women who STRIVE to make a difference in this world just like you! We know that your vision is important to you, and that when you're replenished you'll be able to impact the world on purpose more visibly, vibrantly and invaluably!

YOU'LL HAVE:
an invaluable time that focuses on bringing your vision, purpose and passion to the forefront

energizing sessions that will recharge your core, focus and power

opportunities to explore, emerge and evolve with other women - leaders, innovators, trendsetters and influencers

a weekend full of island adventures, support, laughter, and sisterly love

a hostess who believes in you, your vision and our ability to STRIVE & THRIVE TOGETHER.
I invite you to join me in Puerto Rico this September - Let's Revitalize!
Register today for this life-altering experience and memorable weekend.
---
REGISTRATION:
$279 Pre-Registration ends February 28, 2017.
$299 General-Registration ends April 30, 2017
$299 General Registration Payment Plan ($100 Deposit by March 15 & 4 payments of $50 due on the 15th of every month April-July 2017)

INCLUDED IN REGISTRATION:
You'll receive a Welcome Reception, Tropical Rainforest Excursion, Beach Excursion and access to weekend events, including the THRIVE Party, (3) Empowerment Session(s), Complimentary Yoga, Signature Retreat T-Shirt, plus more.
NOT INCLUDED IN REGISTRATION RATE:
Hotel Accommodations, Travel, Meals & Drinks, Travel Insurance and additional excursion packages.
Note: No US passports required to travel to Puerto Rico.
---


HOTEL ACCOMMODATIONS:
La Concha Renaissance San Juan Resort and spa is located in vibrant Condado Beach, one of San Juan's premier dining and nightlife districts, with superb beach front access. Meals and Drinks are not-included, as Puerto Rico does not offer full scale all-inclusive hotels. No worries, there will be plenty of ways to eat on a dime and still enjoy the flavors on the island without over-extending your budget.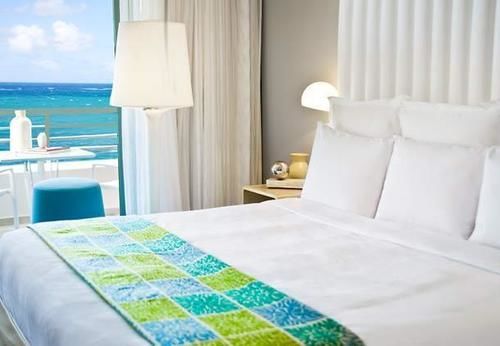 TOTAL FOR 3NTS/4DAYS. INCLUDES RESORT FEE & TAXES, PLUS ROUND-TRIP TRANSPORT TO AIR/HOTEL

ALL OCEAN FRONT ROOMS.
$730.87 SINGLE
$365.44 DOUBLE (PER-PERSON)

RESERVE YOUR ROOM: $50 NON-REFUNDABLE DEPOSIT DUE BY MARCH 15, 2017. PAY IN FULL OR WITH PAYMENT PLAN.

PAYMENT PLAN DUE DATES: Pay $50 on or before March 15 and $63 per month due on the 15th of the Month. Final Balance and Payment is due on August 15, 2017. You do not have to wait for due dates to make payments.
PAYMENT PLAN NOTE: The payment schedule(s) noted above must be strictly followed in order to guarantee the rates in effect when your deposit is made.
Failure to follow the established payment schedule may result in changes or increases to your rate. Payment of deposit confirms your acceptance of this policy.
All rates are effective today and subject to change until a deposit is received

You'll be required to complete a ROOM RESERVATION FORM prior to securing your hotel room. Please be prepared to make a deposit on your room in order to confirm your reservation. Your price will include your accommodations, Resort fees and room taxes.

CANCELLATION POLICY:
$50 Non-Refundable fee on all booking.
45 days or more, prior to scheduled group arrival date, no PENALTY will be assessed (except $50 Non-Refundable Fee).
44 days prior to/up to group arrival date: There will be a 100% Penalty (TOTAL COST OF ROOM).

JUST $50 DEPOSIT HOLDS YOUR SPACE.
CALL (480) 447-5711 BOOK YOUR HOTEL ROOM TODAY!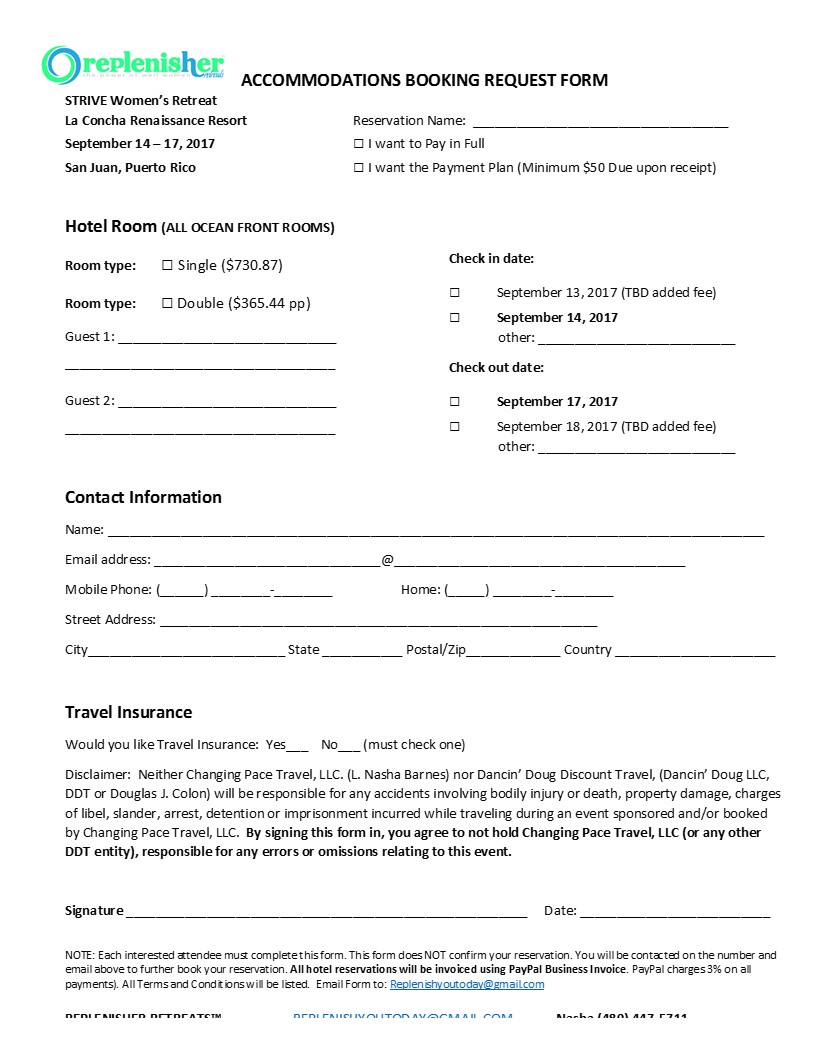 ---
MORE ABOUT THIS WEEKEND
I believe that in order to thrive you must strive. Striving is the key to seizing the dreams and visions you see. I have experienced and have witnessed countless others believe, see and reach the fullness of life through their purpose. I believe you too can reach an unimaginable point of opportunities through your purposeful vision in 2017. Your presence and pursuit are vital, and that's why on this weekend we'll celebrate your perseverance. It's time to Strive & Thrive!
Sessions:
(1) Strive for Presence, not Perfection (Featuring Marcela Andre)
(2) Propel your Performance (Hostess Nasha Barnes)
(3) Strive Strong to the Finish (Featuring LaTanya Orr)
LaTanya Orr is a brand strategist, lifestyle business coach, speaker and author of "Strike A Pose: 7 Red Carpet Strategies Every Entrepreneurial Woman Must Have to Position Her Brand with Style and on Purpose". Her mission is to inspire women entrepreneurs to purposefully walk the runway of the global marketplace with clarity, style and grace. To learn more about her check out her website: www.latanyaorr.com

See you in Puerto Rico. Let's Give Your Life Light.
Register Today.
Date and Time
Location
San Juan
La Concha Renaissance San Juan Resort
1077 Ashford Avenue
San Juan, San Juan 00907
Puerto Rico