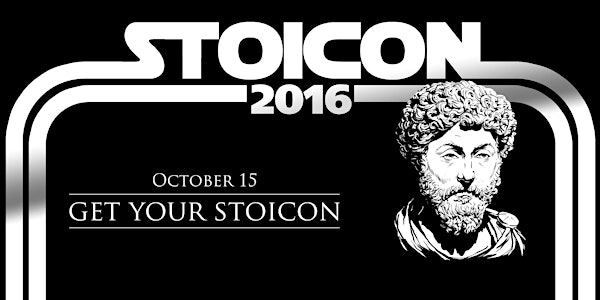 STOICON 2016
When and where
Location
University Settlement at the Houston Street Center 273 Bowery New York, NY 10002
Refund Policy
Contact the organizer to request a refund.
Description
STOICON is an annual meeting of people interested in exploring Stoicism as a philosophy of life. In 2015, the conference — aimed at a general public, not just academics — was held at Queen Mary University and was organized by Jules Evans. It is part of a series of public activities related to Stoicism, centered around the Stoicism Today and Stoic Week initiatives.
The 2016 edition of STOICON is sponsored by the Department of Philosophy of the City University of New York and the K.D. Irani Fund for philosophy.
For more information about STOICON 2016, click here.
For the full program, click here.
---
Date: Saturday, 15 October 2016
Time: 8:30 AM through 5 PM, with optional reception and fundraising dinners afterwards
Where: New York City, University Settlement at Houston Street, 273 Bowery
---
Prices:
Late pricing is in effect. The current price is $90.
Discounted tickets for people over 65 and full-time students: 50% off. For discount, click "Get tickets" above, then "Enter promotional code" and enter the code: STUDENT65
Fundraiser dinners with speakers after the conference: $50 plus price of meal
---
Morning Program: 30-minute lectures
Afternoon Program: 90-minute workshops and keynote
Your ticket includes admission to one of the afternoon workshops. Please choose which workshop you'd like to attend. You'll be prompted to do so during the ticket purchase. You may go to another workshop other than the one you register for only if there is seating available. Please be advised that some workshops are currently full and will be shown as "unavailable".
Reception: (currently at capacity) after the event, until 7:30 PM. The reception will be at University Settlement.
*** Fundraiser Opportunity: Have dinner with one of the speakers! ***
Dinners at local restaurants with many of the speakers start at 7 PM. You can register alongside general admission. There is an additional fee, and the price does not include the cost of the meal itself. 100% of the proceeds will go to keeping STOICON running and affordable both now and in the future. Tickets are limited to 5 people per speaker to allow for small groups and great conversation!
*** Donation ***
You can also donate to STOICON to keep it running and affordable! You'll find a "donate" field when you click "Get tickets" above. You can donate even if you aren't buying tickets.
---
To register:
Click "Get tickets" above

Add your tickets to STOICON and the fundraiser dinner along with any donation you'd like to make in the pop-up window and click "checkout"

Fill out the information as prompted

Your ticket will be e-mailed to you for printing or to show on your EventBrite app on the day of the conference
---
FAQs
What is the refund policy?
We will offer a full refund for STOICON '16 if the request is made at least 48 hours before the event (by 8:30AM EDT 10/13/16). We will offer a full refund for the fundraising dinners if the request is made at least 30 days before the event (by 9/15/16). No refunds will be given after these dates.
Will tickets be sold at the door?
Yes, as long as the event isn't sold out. Tickets at the door will be $90 or $45 for full-time students and people over 65. Only cash is accepted.
When do online ticket sales close?
Oneline tcket sales for STOICON close 11:30 PM EDT on 10/14/16 (the day before the event). Sales for the fundraiser dinners close 6PM EDT on the day of the event so you can register last-minute if needed (although space is very limited, so this is not advised). You can make a donation through the day after the event using the "buy tickets" link above.
Can I bring my child?
If your child is 13 years of age or older, they can be registered using the full-time student discount code STUDENT65. We will not admit children under 13, though.
The fundraiser dinner I want to attend is sold out. What should I do?
You can occassionally check back on this page to see if there have been any cancellations. Cancellations are unlikely, though. Sorry.
When buying a ticket for STOICON, it says the "yes" repsonse for the reception is unavailable? OR: When buying a ticket, the workshop I want to attend is unavailable. What should I do?

If the option is unavailable, that means the event is at capacity. If there is room, you may be able to attend, but due to the venue's strict space capacities, we cannot guarantee entry if you didn't pre-register. If you did pre-register, you are indeed guaranteed entry. If you didn't pre-register and still want to attend something, check in with a volunteer on the day of the event,and they'll let you know if there's room. In the case of the reception, this is more likely to be the case around 7PM. If there is room, you can enter. If there's not, we appreciate your understanding.
I forgot something in my registration. Can I change it?
Yes. If what you forgot was to buy a ticket for a fundraiser dinner, STOICON, or to make a donation, just click "buy tickets" above and proceed as you did before. If you'd like to change part of your registration or choose a different workshop, contact us and we can make the change for you.
I want to book a hotel. Where should I stay?
Here are some suggestions.