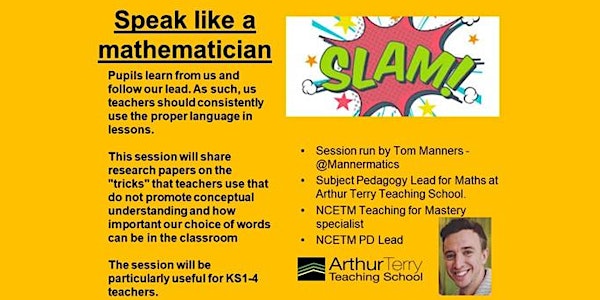 "Speak like a mathematician" - the importance of the words we use in the maths classroom
Description
From: Tom Manners - @Mannermatics
(Please be aware that emails from Eventbrite with the links etc may appear in your junk mail folders!)
This next session (7th May - change of date due to the Bank holiday) will explore the importance of the language we use in the classroom. I came across some fascinating research and links when planning this session, and am looking forward to sharing them with you.
Given its content, I would suggest this is particularly useful for KS1-4 teachers.
You will receive an email on the morning of the event telling you how to dial in so please don't worry. Please check your junk mail folders for emails from Eventbrite.

IF YOU SIGN UP AFTER 9AM ON THE DAY OF THE EVENT, PLEASE LOOK OUT FOR THE EMAIL CONFIRMATION FROM EVENTBRITE - THE LINK TO THE EVENT WILL BE ON THAT EMAIL
Next week (15th May) I will be looking at bar modelling in KS3 classrooms - feel free to sign up to that too!
https://www.eventbrite.com/e/bar-modelling-an-introduction-for-secondary-teachers-alongside-some-cuisenaire-rods-tickets-104458714828
If you missed my first session on introduction to algebra tiles as well as looking at collecting like terms, expanding brackets and factorising, then watch it here - https://youtu.be/qa9ug4qvsXY
My second session on algebra tiles/ representation, with a particular look at integers, can be found here - https://youtu.be/ZVOhNhCmKRo
And if you missed my session on "Teaching for Mastery? How about teaching for understanding! then you can watch that here - https://www.youtube.com/watch?v=5ChXhR2RzRg&t=1353s
Feedback is welcomed so do get in touch. Future sessions are being planned on:
- variation (KS1-4)
- mathematical thinking – questions to challenge understanding (KS1-4)
- bar modelling (KS2-4)
- worked examples and their role/ importance in the maths classroom (KS1-4)
- AFL in the maths classroom (KS2-4)