Location
Fresh Wata Studios
3905 West Diablo Drive
Las Vegas, NV 89118
Description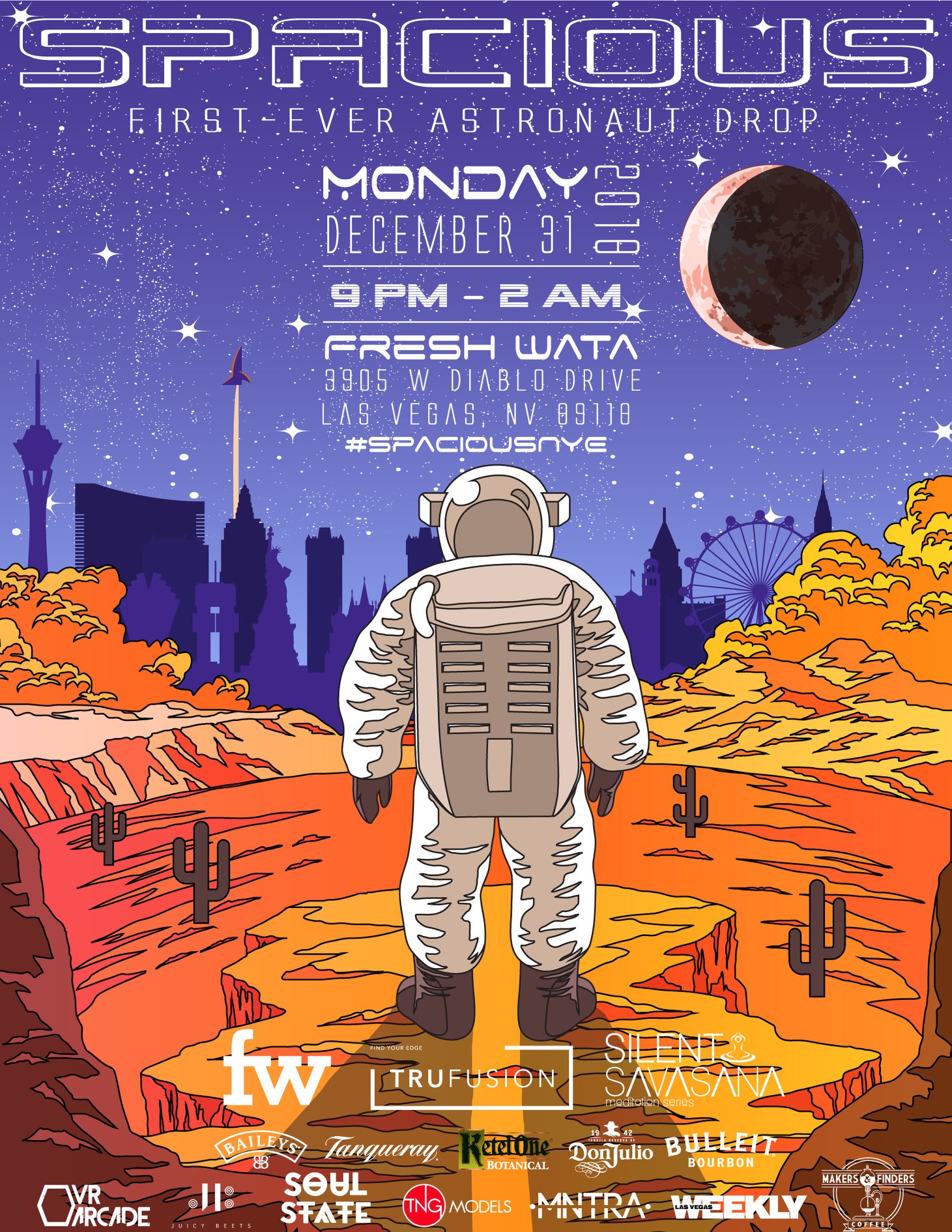 This New Year's Eve, create space for what inspires you!
SPACIOUS
A Mindful New Year's Eve Celebration
We invite you to witness history in the making at the stroke of midnight for the first-ever Astronaut Drop at under a beautiful desert sky. Prepare to be transported to 2019 within an uplifting, immersive experience designed to inspire ambitions for wellness and success in the New Year. Ring in 2019 with us at SPACIOUS, a mindful New Year's Eve Celebration produced by Fresh Wata!
Get ready to PARTY & EXPLORE:
Indoor + Outdoor Sensorial Atmospheres Hosted Off-Strip at FW Studios
'60 Space Man Drop at Midnight
19 Inspiring Experiences
Hangover-free Cocktails by NASA's Nutritional Biochemist, Alex Ott
Anti-Gravitational Performances
Intention Rocket
Strip-Side View of Midnight Fireworks
40' Clarity Dome by Silent Savasana & Featuring Josiah Geometry Samadhi
2-Hour Open Bar for All Guests
9 – 360° Multi-Sensory Environments
VR Arcade & Lounges
Mission Control Countdown by Jay R Beatbox
Outdoor Bottle Service
80' Video Mapping Installation
Complimentary Midnight Toast
Galactic Grub from VegeNation, Makers & Finders Coffee, Juicy Beets, Dragon Grille, Doughp and Masterpiece Cuisine
Climate Positive Action
Twilight Zone Takeover with Soul State

&

MNTRA

featuring

Dance Spirit

,

FlashGang

,

Tino BadBeat

,

Lance Le Rok

,

Hoochies

,

Oscar Molina

,

GMBT

, Cute Jesus and DJ

Dr. Recommended
Full Support Exhibit
Crescent Rocker
Balance Shifters
Moon Maid Dancers
Door to the Future
Gifts for the first 200 cosmonauts from TruFusion

Reiki Massages

AND MUCH MORE!

The experiential activations, entertainment, artful installations, vendors and engaging moments all geared toward welcoming the New Year focused on the future you are motivated to create. FW Studios is set to be the landing spot for local communities of conscious creators + cultured residents to gather off-strip and enter 2019 with higher vibrations and a grounded mindset.

21+ Event

Visit SpaciousNYE.com to see more of what to expect at this New Year's Eve celebration.

As a community and with this ticket purchase, you are taking measurable action against climate change!
You have the power to offset your carbon footprint by 200% at SPACIOUS. It's as if the event never happened…

Ticket purchase,

registration

and event entry constitutes your agreement to our privacy policy and its terms, conditions, and notices.