live DJ silent disco galactic get down
About this event
theDrop presents
SPACE JAM
live DJ silent disco galactic get down
saturday, august 21st
5pm - 8pm
sutro heights park, san francisco
the lineup :::
.:. 4:45pm - 5pm
headset pickup //arrive + grab ur gear
.:. 5pm - 5:15pm
warm up* // awaken ur body + deepen ur breath
.:. 5:15pm - 5:45pm
stereoFUNK* // hip hop inspired choreography
.:. 5:45pm - 7:45pm
GET DOWN // freestyle dance party with live DJ ((to b announced))
.:. 7:45pm - 8pm
stretch+release* // slow things down + close our time 2gether
*all guided movement led by devi + accompanied by live DJ wolf cub
a few FYIs :::
.:. all silent disco equipment will b carefully sanitized before + after the event
.:. scroll down to access details about where in the park we'll b dancing + hanging out. feel free to reach out to devi via text if u can't find us! 706 836 9916
.:. there r limited headsets available ... reserve ur spot now!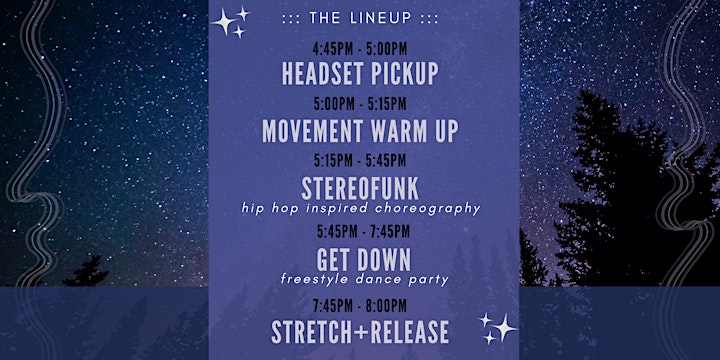 check out the map below to see
where to park + where to pick up ur headset
⬇️ ⬇️ ⬇️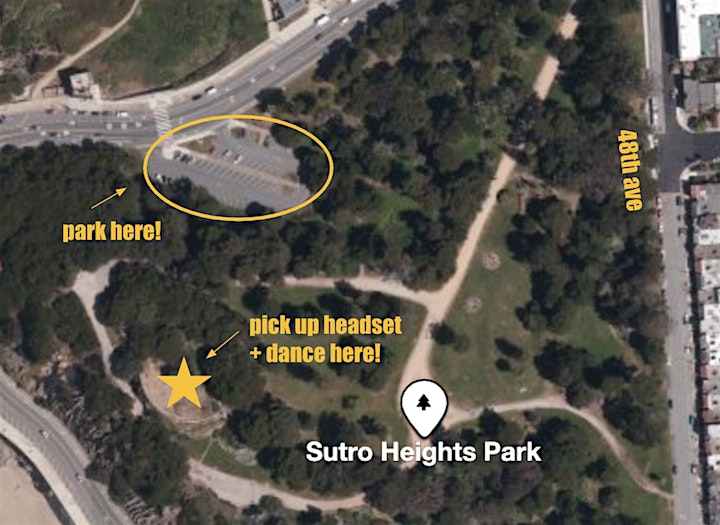 directions :::
if ur coming from the parking lot, u'll walk up the hill + see a white archway // chapel-looking structure directly in front of u.  turn right on the path + walk until u see a big wall + some steps on ur left.  climb the steps + that's where we'll b!
((the view is AWESOME))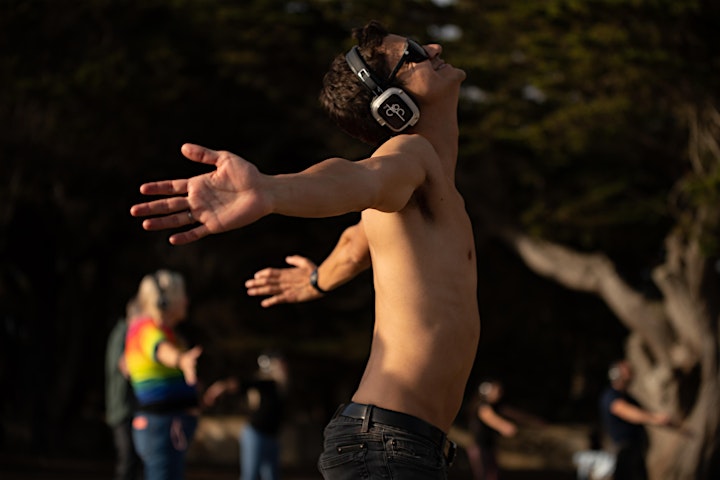 can't wait to see u + dance 2gether!
we were put on this planet to create experiences that fuse
music, movement, connection
+ maybe just a little bit of magic
our experiences r an
ecstatic escape
but it's not about tuning out.
it's about
tuning in.
​tuning in to ur body.
tuning in to that beat that makes u bounce.
tuning in to the amazing beings sharing the dance floor with u.
fully receiving the here + now.
2gether.
our experiences r offered virtually + outdoors
((utilizing silent disco gear))
we can't wait to get groovy with u!