Event Information
Location
Westin Peachtree Plaza
210 Peachtree Street NW
Atlanta, GA 30303
Description
ABOUT THE SUMMIT
Join us for an engaging 1.5 day Soil Summit including presentations and break out discussion about the benefits and challenges of raw manure use relative to the safety of fresh fruit and vegetable production. Key goals for the summit include identifying barriers to using/producing compost while identifying management strategies, resources, and additional support necessary to support growers in minimizing food safety risks on the farm, especially when using raw manure. Additionally, produce growers, educators, and researchers will gain a better understanding of current FDA research and risk assessment efforts and the final FSMA Produce Safety Rule standards included in Subpart F - Biological Soil Amendments of Animal Origin and Human Waste. Come prepared to share your knowledge, thoughts, and innovative ideas!

REGISTRATION
**Please note: NO substitutions, transfers, or refunds will be issued within one week of the training start date**
The fee for the training is $120 for all participants.
Registration will be limited to the first 100 registrants.
For general registration questions, contact Sarah McCoy at sarahmccoy@ufl.edu or 863-956-8632.
For questions related to Summit content, contact Kristin Woods at woodskl@auburn.edu or 251-753-1164.
Registration includes the training materials, lunch on day two, and refreshments.
Prefer to register by mail? Click here for the mail-in registration form: http://www.crec.ifas.ufl.edu/extension/events/PDF/SoutheasternSoilSummit2018.pdf
LODGING

Book online by clicking here, or call VIP Meetings at 877-717-1655 and mention "SE Soil Summit" for $169 rate before January 17th.
TRANSPORTATION
If driving:
Click HERE to go to GoogleMaps directions, or
Click HERE to go to the Westin Peachtree Plaza Parking and Directions page
If flying, it is recommended to use Hartsfield-Jackson Atlanta International Airport located in Atlanta, Georgia, USA.
Transportation suggestions from Hartsfield-Jackson ATL Airport to the Westin Peachtree Plaza include:
SPONSORS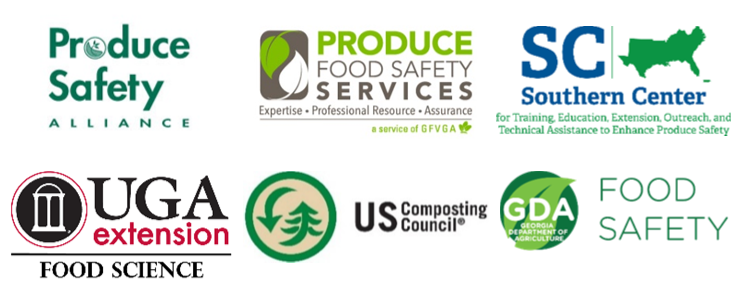 YOU MAY ALSO BE INTERESTED IN...
COMPOST2018--Spend Three More Days on Healthy Soils!
COMPOST2018, the USCC's national conference and the largest compost and organics recycling industry event in the US, will land in Atlanta, GA Jan. 22-25, 2018, kicking off the evening after the Southeast Soils Summit! Come to Atlanta and spend a week on healthy soil!
Participants of COMPOST2018 can mix with 1,000 compost manufacturers, collectors of food scraps and green waste, equipment providers, academics, scientists and compostable products manufacturers.
Hear Scott Jenkins, the general manager of the new Mercedes-Benz Stadium, and Chair of the Green Sports Alliance, is the opening speaker; and a star-studded closing will be shared by Laura Turner Seydel, chair of the Captain Planet Foundation and Liza Milagro,

Sr. Sustainability Leader at Hartsfield-Jackson Atlanta International Airport.

Attend sessions on business, including financing, growth and public/private partnerships; organics collection in cities, at events and in restaurants and food scrap generators; new technologies for compost; and compost use in green infrastructure!

Visit the Trade Show of more than 100 vendors of technologies, products from commercial composting systems, heavy equipment serving facility operators to compostable products and services as varied as consulting, collection and business management.
Southeast Soils Summit attendees receive a 20% discount on conference registration by using the code SESS2018 when registering at compostconference.com!
Don't Miss It!
Interested attendees can subscribe to the information list on the Council's conference site, at http://compostconference.com, by clicking Contact Us.
Date and time
Location
Westin Peachtree Plaza
210 Peachtree Street NW
Atlanta, GA 30303