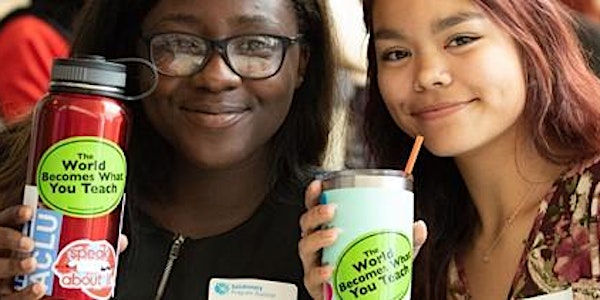 Solutionary Micro-Credential Program
Enroll in our self-paced Solutionary Micro-credential Program to get cutting-edge, learning content you won't find anywhere else.
About this event
How the Program Works
The Solutionary Micro-credential Program (SMP) includes three modules: CONCEPT, PROCESS, and APPLICATION. Each module takes approximately 10 hours to complete. You will proceed through the course independently (starting on the first Tuesday of October, January, April or July) but will have opportunities to connect with others taking the course and to have coaching conversations by Zoom with your facilitator. The program is designed to be completed within three months.
*Use of the Solutionary Framework is best suited for students in grades 4 and up.
Upcoming program start dates in 2023: January 3, April 4, July 5
Schedule and Structure
Module 1: Solutionary Concept
Learn about solutionary thinking and why it's so important to educate students to be solutionaries.
You'll…
Understand what solutionaries are and why they matter, and discover your ability to educate the solutionary generation
Reflect upon the impact of systemic racism and learn ways to overcome racial bias
Explore the impact of personal choices and the need for systems change
Experience a powerful activity to use with your students as well as for your own decision-making
Module 2: Solutionary Process
Go through the process yourself and learn to think and act like a solutionary.
You'll…
Experience and practice the Solutionary Process as if you're one of your students
Engage with and solve a problem you care about personally
Deepen your critical, systems, strategic, and creative thinking
Become a solutionary yourself!
Module 3: Solutionary Application
Produce your plan to bring solutionary learning to your classroom. Receive support and mentorship along the way. You'll…
Create your plan to bring new and comprehensive ideas, tools, and approaches to your curriculum
Receive support and feedback from your facilitator to make your plan work
Prepare to coach students in this process
Become a solutionary teacher!
Meet the SMP Facilitators
Betsy Farrell-Messenger has worked in the field of education for more than 20 years. She has been a New York State certified classroom teacher, middle school advisor, K-8 STEM instructor, environmental educator, and humane educator for a farm animal sanctuary co-developing Camp Kindness. She has a master's degree in education (pre-K through 9th grade) and earned her Graduate Certificate in Humane Education through the Institute for Humane Education (IHE). Creative, supportive, and passionate about helping teachers bring solutionary learning to students, Betsy will guide and support you through each module.
Julie Meltzer has been a teacher, teacher educator, consultant, educational researcher and, most recently, a curriculum director in Maine where she was recognized as Curriculum Leader of the Year in 2019. Julie now serves as the Director of K-12 and Teacher Education for the Institute of Humane Education where she oversees the Solutionary Micro-credential program. Julie has been associated with the Institute for Humane Education for many years as a curriculum advisor, a board member, and a fan! Known for her thoughtful questions and skill as a teacher and principal coach, Julie will support you in your quest to prepare your students to become solutionaries.
Enrollment Information
The Solutionary Micro-credential Program (SMP) will provide you with the knowledge and support you need to deeply engage your students in work that is meaningful to them; improves their research, thinking, and literacy skills; fosters their compassion; and contributes to a healthier and more humane society.
NOTE: We ask that you contact your school or institution to find out if they will support this professional development opportunity. Doing so will enable us to maintain the free and low-cost options for the people and schools that most need them. Thank you!
That said, we are committed to ensuring that all teachers and districts that wish to participate in the SMP are able to do so. If you need financial assistance, please email Julie Meltzer at julie@humaneeducation.org to inquire about a scholarship.
Pricing for Solutionary Micro-credential Program (SMP)
Pricing (includes all three modules)
$295 per person (individual)
$250 per person (2-4 people from same organization/school/district enrolling together)
$200 per person (5 or more from same organization/school/district enrolling together)
You can empower your students to become the changemakers we need. Enroll soon to give them hope for the future and a way forward to make a positive impact.
NOTE: Once you have completed all three modules, you can obtain 3 CEUs from our partner, Antioch University, by completing a form and paying an additional $20 fee. Let your facilitator know if you are interested in this option.
Purchase Order as method of payment
If you need to pay for registration using a Purchase Order, please email kim@humaneeducation.org before registering, and she will email you a special registration link.
Refund Policy
While we do not offer refunds, you can change your start date. Please email microcredential@humaneeducation.org to let your instructor know if you need to do this.
Important
Please check your spam folder regularly, and make sure that emails from Institute for Humane Education (IHE) will get through your school's firewall/filter.
Be sure that the following email addresses are "white-listed" and removed from the "black list" by your school's IT department: info@humaneeducation.org, betsy@humaneeducation.org, microcred@humaneeducation.org and julie@humaneeducation.org.
You can empower your students to become the changemakers we need. Please enroll soon to give them hope for the future and a way forward to make a positive impact.