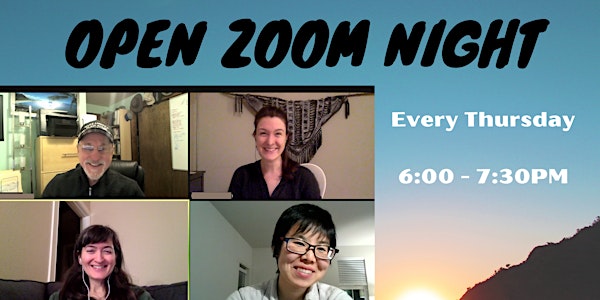 Social Entrepreneurs - PDX Speed Networking Meetup
Social Entrepreneurs Meetup - PDX Speed Networking Event - Moving to Zoom
About this event
Thursday for Social Entrepreneurs: Now on Zoom
If you are a social entrepreneur or just someone interested in the subject and wanting to meet others with like minds, we always have a vibrant and diverse set of folks come to our Meetups. Some are in business, some are working to start one, some are in nonprofit or government, and some are students or recently moving into the area.
Thousands have met and have made long-term relationships through this meetup.
WHAT YOU NEED TO PREPARE FOR: PLEASE READ!
Everyone has something they need and something to offer. So instead of doing a sales pitch, come with what you want to ask from the world and what you can offer others.
Keep it brief and enjoy an engaging conversation about what you need and what you can offer.
If we have nine or more attendees, we will use Breakout Rooms, so everyone needs to understand how this works.
Each round there will be three people in each room, each participant gets five minutes to chat within a group of three. In fifteen minutes, we change rooms so everyone meets two more new people each round. We generally do four to six rounds.
****The limit is 21 people. Come early. If you don't get in by 6:05, you may not be able to join if we have nine or more people at 6:05pm.
Each participant sitting online at 6:05pm will be assigned a participant number.
Each breakout room will have a letter; A, B, C, D, E....
Each participant will need to refer to the table that will show you what room you need to move to each 15 minutes round. The table will be on the screen at the start of the event and you will see it between each round.
The breakout rooms will close every 15 minutes. You will get a 30 second warning to wrap up. It is your duty to move to the right room. Do not stay behind or move in the wrong order as it will completely block the other participants trying to move where you should not be.
Please verify that you are in the right room at the start of each round so everyone gets the most out of the event. You can also ask the host for help at any time.
Please do not RSVP if you are not coming as we limit the seats.
You will receive the Zoom link after you RSVP.
You use simply use the provided link to join the meeting. Your browser can connect to Zoom without downloading the App to your PC or phone.
To join without downloading and installing the App; just click on the Link we provide and your browser will ask you to download the App. You don't have to it. You will see a link on the page that says "Join from your browser." There you will be asked for your name and the meeting ID which is the long number at the end of the link we provided.
Please make sure you provide your full name. We won't accept unidentified people into the event.
We will ask for your email and LinkedIn address so we can record your attendance and notify you of future events.
Looking forward to meeting you on Thursday!