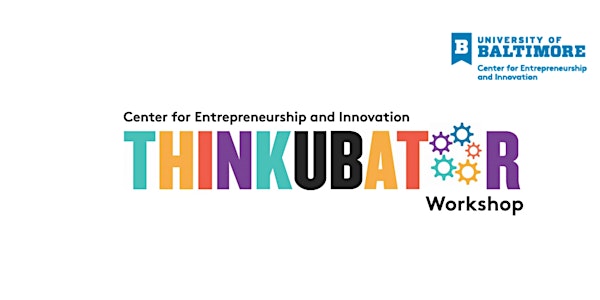 So You Want to Pitch: How to Plan to, Prepare for, and Pitch Your Business
Join The University of Baltimore's Center for Entrepreneurship and Innovation for a ThinkUBator Workshop lead by Takia Ross
By The Center for Entrepreneurship and Innovation
Date and time
Thursday, April 20 · 12 - 1pm EDT
Location
Merrick School of Business room BC-104 1420 North Charles Street Baltimore, MD 21202
About this event
Hybrid Event 👨‍💻🏫
Event Description
So You Want to Pitch: How to Plan to, Prepare for, and Pitch Your Business
About the Presenter
Takia Ross is a professional make-up artist, owner of Accessmatized; home of Pretty Mobile Baltimore, DMV's First Mobile Make-Up Studio and creator of KiKi Thunda Cosmetics. Takia's artistry has been featured in over 50 publications and seen on national networks like NBC and BET. She has had the opportunity to work on major campaigns for Nike, Visa, and Experian and, most recently, Takia joined the team of The Shelly Bell Show on SiriusXM where the mission is to have real and raw conversations about entrepreneurship is shared with millions. However, what Takia is most proud of is her commitment to ensuring that Black women in business have access to the capital, connections, and community they need to meet success. After winning over $100,000 in cash and prizes she decided to share how she did it by writing and publishing So YouWant to Pitch; a workbook that helps business owners plan, prepare, and pitch for funding. This commitment has landed her in Forbes, sitting on panels, facilitating workshops at local Colleges/Universities, and has afforded her the opportunity to sit on the Hopkins Local Advisory board where she is able to give insight on the John's Hopkins initiative to purchase from local small businesses and hire within the communities in which it resides. She has been named one of Baltimore's 25 Women to Watch, a RealLIST Community Connector, and one of DMV's Top 100 MBE's.
The Center for Entrepreneurship and Innovation
About the Workshops
The CEI sponsors programming throughout the year focused on entrepreneurial learning and growth. Our weekly thinkUBator Workshop series has one goal: to provide CEI member companies with the knowledge and resources they need — access to seed capital, finding potential partners, hiring employees, marketing do's and don'ts, etc. — to transform their big ideas into a big deal, as quickly as possible.
About the Center
The University of Baltimore Center for Entrepreneurship & Innovation directs support and assistance to UB students and alumni interested in building or growing an enterprise. We do this through support, culture, events, education and research, and connecting with the business community. Meet with one of our counselors to discuss launching or growing your business. Visit us at www.ubalt.edu/cei for more information.
In-person Option:
(BC 104)
Zoom Option:
Meeting ID: 953 5256 8213
Password: Prepare