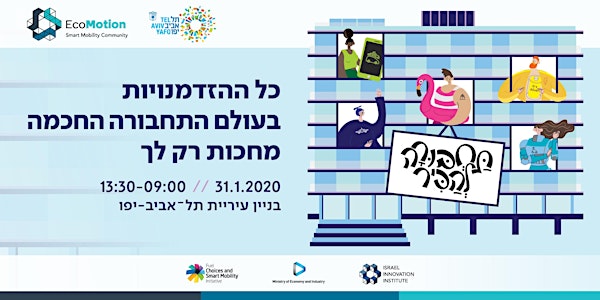 Smart Mobility Fair
THE SMART MOBILITY REVOLUTION IS HERE! Are you ready to join?
When and where
Location
Tel-Aviv-Yafo City Hall 69 Shlomo Ibn Gabirol Street Tel Aviv-Yafo, Tel Aviv District Israel
About this event
If you love technology, are passionate about coding, are interested in the Smart Mobility revolution or are looking to take your skills to the next level- DON'T miss this opportunity!
Join us and learn from more than 30 top companies and startups about their technologies, products, open positions and future goals.
- Experts from the leading companies will present to you their technologies with over 40 lectures on the hottest topics.
- The event will feature over 200 open positions - meet employers from all of the companies, get information about open positions, and apply!
<< Link to the open positions>>
<<Agenda & additional information >>
<< Attendance is FREE- RSVP today>>
Autonomous & Connected (Floor 12)
10:00 AM – 10:20 AM  
Autonomous Vehicles Perception -  From Research to Product, Bat El  Shlomo, Engineering Group Leader, AD Perception and Prediction, General Motors 
  10:20 AM – 10:40 AM  
Where AI Meets Automotive, Antoine  Basseville, Director of the Alliance Innovation Lab TLV, Renault–Nissan–Mitsubishi Alliance
10:40 AM – 11:00 AM  
Data in Motion, Tomer  Raanan, VP R&D,  Otonomo  
  11:00 AM – 11:20 AM  
Mapping Revolution for ADAS and AV, Tal  Babaioff, VP Mapping and Localization, GM REM, Mobileye  
  11:20 AM – 11:40 AM  
Don't Hack and Drive- Vehicle and Aircraft Cyber Attacks Explained, Alon Jackson, Head of R&D Group, Argus  
  11:40 AM – 12:00 PM  
V2X Security 101,  Avichay  Karpel, CTO,  Cymotive  
  12:00 PM – 12:20 PM  
Pushing the Boundaries- Simulation vs The  Real  World, Danny  Atsmon, Founder & CEO,  Cognata  
  12:20 PM – 12:40 PM  
Changing the Privacy Paradigm with Edge AI, Yaki Azoulay, Pre-Sale Manager, Anagog
Mobility Services  (Floor 12)  
10:00 AM – 10:20 AM  
Optimizing Public Transportation, Guy Sher, CEO, VIA Mobility Israel 
  10:20 AM – 10:40 AM  
Data Driven Micromobility as Part of the Future of Cities, Shani Hasson, Operations Manager, Lime
  10:40 AM – 11:00 AM  
Riding with Data Into the Future, Dana Turbowicz, Operations Associate, Bird
  11:00 AM – 11:20 AM  
Camera Vision for Traffic Enforcement, Hila Frieman-Kareev, Co-Founder & CEO, Safer Place
  11:20 AM – 11:40 AM  
Reaching  Profitability with Multi-Modal Mobility, Shirly Kalush, COO, GoTo  
11:40 AM – 12:00 PM  
Smart Roads Infrastructure,  Avi  Haskelovich, CTO,  RoadSense  
  12:00 PM – 12:20 PM  
Accessible Transporation for Visually Impaired and Physically Disabled People, Yishai Hatzir, Director of Development and Operations, Step-Hear 
12:20 PM – 12:40 PM
Mobility as a Service for Hightech Zones, Yair Barzilay, CEO, We.Ride
Electrification & Energy (Floor 11)
10:00 AM – 10:20 AM  
Electric Motors- Made in Israel, Opher Doron, CEO, E.V.R MOTORS
10:20 AM – 10:40 AM  
Driving the World to Electric Mobility, Eyal Blum, VP Business Development, Driivz
  10:40 AM – 11:00 AM  
How  Batteries  Became  the  Hottest  Thing  Right  Now, Gilad Fisher, Business Development,  Addionics  
  11:00 AM – 11:20 AM  
Charging EV in 5 Minutes, Avraham Edelstein, Lead System Engineer,  StoreDot
11:20 AM – 11:40 AM  
Optimizing Electric Vehicles for Real Road Challenges, Dan Hermann, Head of Automotive Speciality Studies, Afeka, Academic College of Engineering
11:40 AM – 12:00 PM  
The Innovative TrueDrive Electric Powertrain- Making Electric Vehicles That are Both Powerful AND Affordable, Dan Shoshani, VP Marketing & Product Management, IRP Systems
12:00 PM – 12:20 PM  
Lithium Batteries on Fire- It Won't Happen to Me, Niles Fleischer, Ph.D., CEO, Algolion
Drones & Aviation (Floor 8)
10:00 AM – 10:20 AM  
Breakthrough Logistical Capabilities That Disrupt the World, Ilan Yuval, Co-Founder & COO, Gadfin
10:20 AM – 10:40 AM  
What is Needed to Pave the Way for Highways in the Sky for Flying Cars? Sagi Dagan, VP, Head of Growth Division, Israel Innovation Authority
  10:40 AM – 11:00 AM  
Obsoleting the Endurance Problem: How MESH Multi-UAS Communication is Changing the Paradigm of Drone Operation, Guy Cherni, CMO & Co-Founder, Atlas Dynamics
11:00 AM – 11:20 AM  
How Are Autonomous Deliveries Taking Off, Assaf Shechner, VP Products, Sightec
11:20 AM – 11:40 AM  
Drones Operator- The Job Opportunity, Itai Lev, Head of Aerial Division, BWR
11:40 AM – 12:00 PM 
Drones and Computer Vision for Construction Quality Control, Ori Aphek, Founder & CTO, SiteAware
Maritime  (Floor 6) 
10:00 AM – 10:20 AM  
Revolution in  the Maritime Sector-  Trends & Opportunities, Nir  Gartzman, Co-Founder,  theDOCK 
 10:20 AM – 10:40 AM  
Creating "Contopia" in The Sea Freight World, Amit Aflalo, Founder, Loginno
  10:40 AM – 11:00 AM  
Freightools by FAST, Adam  Yaron, Founder & CEO, FAST 
  11:00 AM – 11:20 AM  
How AI Assists Captains at Sea,  Dor  Raviv, Co-Founder & CTO, Orca AI 
  11:20 AM – 11:40 AM  
Wave- Digitizing Trade , Gadi  Ruschin, Founder & CEO, Wave BL 
11:40 AM – 12:00 PM  
Smart Ports-  The Next Threat, Carmit  Yadin, Founder & CEO , ArcusTeam  
12:00 PM – 12:20 PM  
Taking More Cargo in a Safer Way on Vessels, Uri  Yoselevich, Founder & CEO,  DockTech  
All About Me (Floor -1)
10:00 AM – 10:20 AM  
Smart Mobility 101, Daniel Zucker, Head of Local Market Implementation, Fuel Choices & Smart Mobility Initiative
10:20 AM – 10:40 AM  
How to Prepare for the 2020 Employment Market , Shaked  Horgin, Head of Business Development, JOBIT 
10:40 AM – 11:00 AM  
Recruitment  from  an  Organizational  Perspective,  Shanny  Ernst, TA Team Manager, GM 
11:00 AM – 11:20 AM  
Checklist- Are You Ready to Work in a Startup? Yael Descalo, Routing Data Team Leader, Via
 11:20 AM – 11:40 AM  
From Idea to Startup- Becoming an Entrepreneur, Adam Feldman, Co-Founder & CEO, Crispify
11:40 AM – 12:00 PM  
5 Steps to Your DREAM JOB, Tal Trosman, CEO, Dialog
12:00 PM – 12:20 PM  
Women in Mobility, Orlie Dahan, Executive Director, EcoMotion