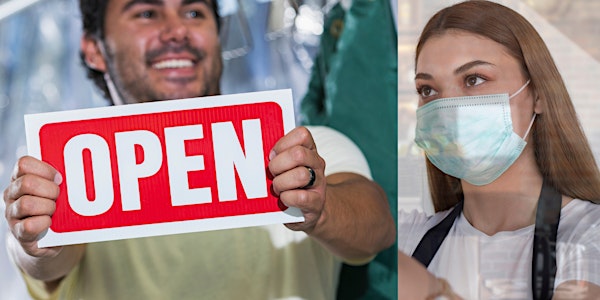 Small Business Requirements and Resources (SBRR) COVID-19 Impact Webinar
This two hour webinar provides an important overview of some of the state responses, resources and other impacts affecting small businesses.
About this event
The COVID-19 pandemic has brought us into unprecedented times, and State and federal leaders have had to react for the health of our people and economy. This webinar provides a quick overview of some of the state responses, resources, and other impacts affecting small businesses.
Learn:
General workplace safety and health requirements, including employee and customer face masks.
Food establishment safety and reopening guidelines.
Workers' compensation insurance impacts and premium reporting.
Paid Sick Leave, and Family and Medical Leave.
Dept. of Revenue tax returns and outstanding balances.
Unemployment impacts – pandemic unemployment benefits, job search, return to work, and refusal to work.
US Small Business Administration PPP and EIDL loan updates.
And more...
No cost registration. Limited capacity.
The webinar includes brief presentations state and federal partners. The webinar moderator uses this engagement format:
Each presenter briefly shares their Power Point slides.
After each group of presenters the moderator will take questions from the "open mic" and the Q & A chat room.
Agenda preview subject to change. What you need to know...
Governor's Office of Regulatory Innovation and Assistance/ Small Business Liaison Team - how important is small business?
Employment Security Department - unemployment insurance, paid family and medical leave, federal CARES Act, Lost Wages Assistance, job requirements, emergency rules...
Open-mic Q & A
Department of Health - food safety, re-opening guidelines...
Labor and Industries - requirements, guidance, employer assistance program -delayed payment and resources...
Department of Enterprise Services - contracting and purchasing with the State...
Open-mic Q & A
Department of Revenue - workload impacts, tax return extended due dates, new tax guidance, programs and resources...
SBA Seattle District Office and SBDC - Coronavirus funding options - PPP and EIDL updates, local services...
Open-mic Q&A - dedicated time for more questions from participants.
We invite you to join us!
Visit: www.business.wa.gov