About this Event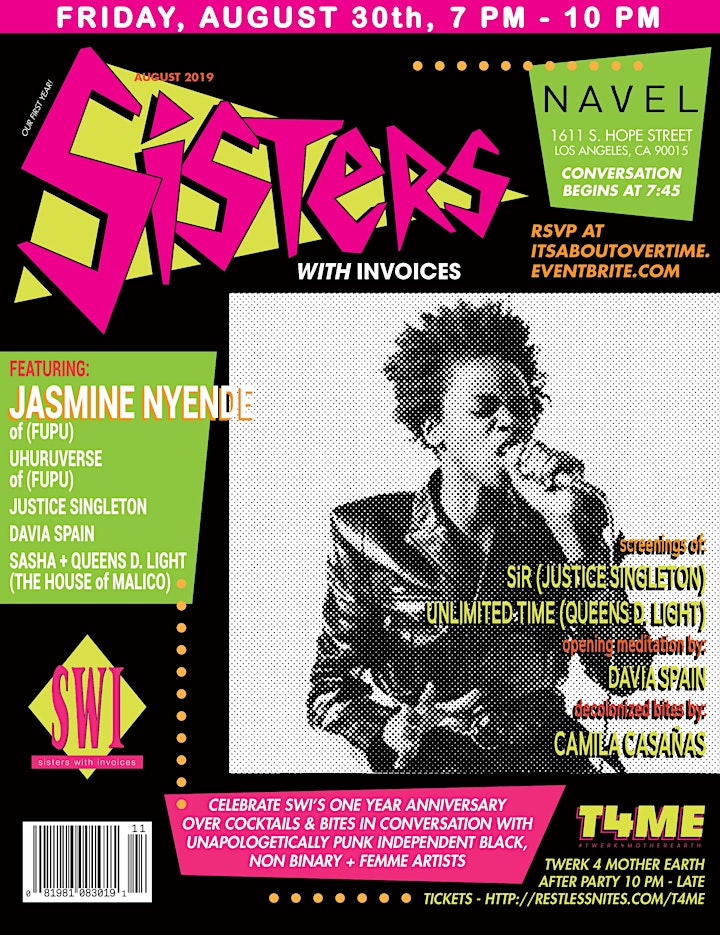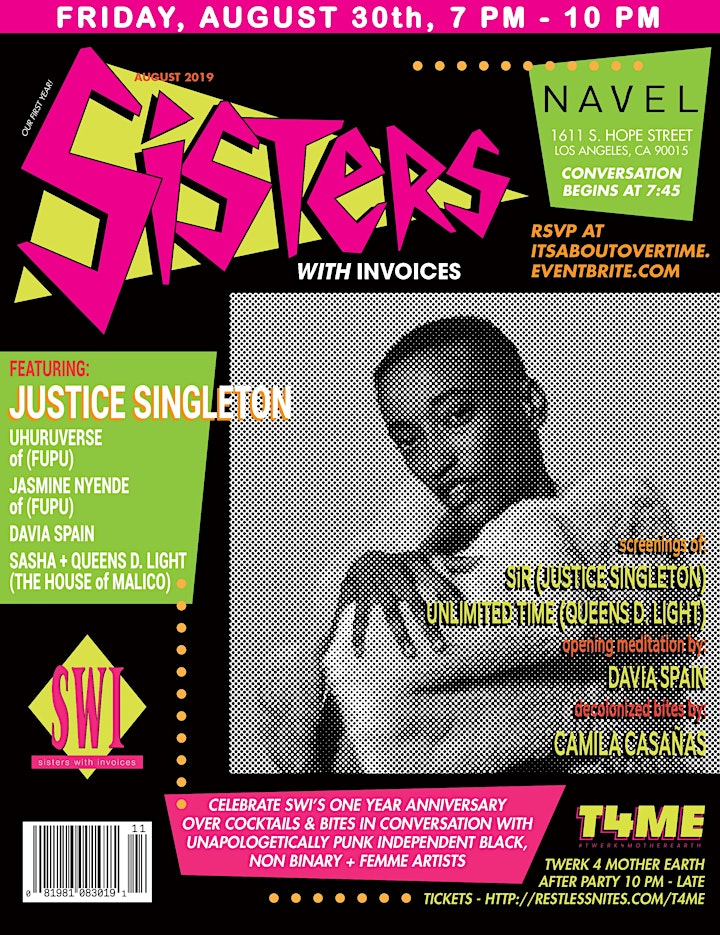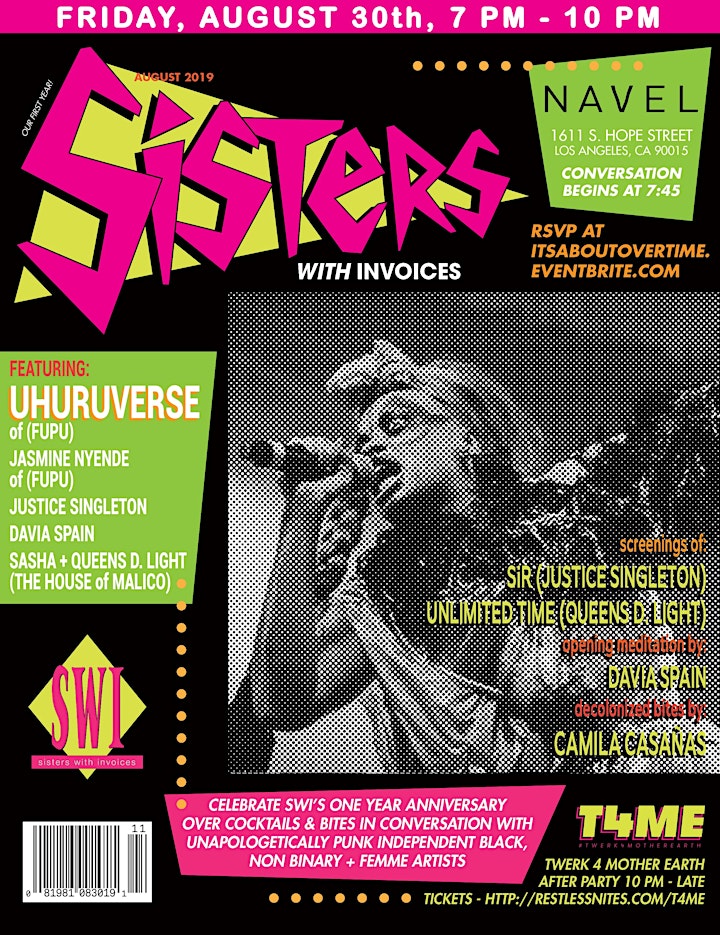 FRIDAY AUGUST 30TH
7pm - 10 pm
1611 South Hope Street
Los Angeles, CA 90015
Parking + visitation instructions
A evening of cocktails, decolonized bites, house music, brown centered media, art and conversation centered around Los Angeles + The Bay Area's unapologetically punk, independent Black non-binary femme musicians + creatives that inspire. This will be recorded for our podcast.
We will explore the lives and minds of these polymath leaders that intertwine the arts, music, activism, film, subculture, underground and digital spaces in their practice.
How do we maintain + generate capital while maintaining our independence in a industry that isn't built for POC, Queer and Trans bodies?
How do we get on the same page as a collective, as peers in order to align for better rights, opportunities, SAFETY and respect ?
Is a media BLACK-OUT ( concept via the Uhuruverse ) something to consider in the near future? Do we need to pull back our gifts collectively to create scarcity - take a step back to take a step forward?
Featured Conversationalists
THE UHURUVERSE ( INSTAGRAM ) (he/they/them) is the founder, electric guitarist + vocalist of Fuck U Pay Us ( FUPU ), performance artist and founder of SNATCHPOWER - a post-apocalyptic, Afro futuristic femme liberationist artist collective.
JASMINE NYENDE ( INSTAGRAM ) is the lead singer of Fuck U Pay Us ( FUPU ). She is a community organizer, founder of Common Threads + multidisciplinary artist. Her practice involves textiles, poetry, sculpture, and video.
( you can support / listen to FUPU - FUCK U PAY US by clicking here )
JUSTICE SINGLETON is a South Central LA based director, writer, comedienne, founder of Justify Writers group & Justice Served productions.
DAVIA SPAIN is a performance artist, filmmaker and educator currently working with music, screenwriting and movement.
THE HOUSE OF MALICO founders Queens D. Light + Sasha Kelley . The House Of Malico is a West Oakland based collective and creative hub offering contemporary art, production services and public programs.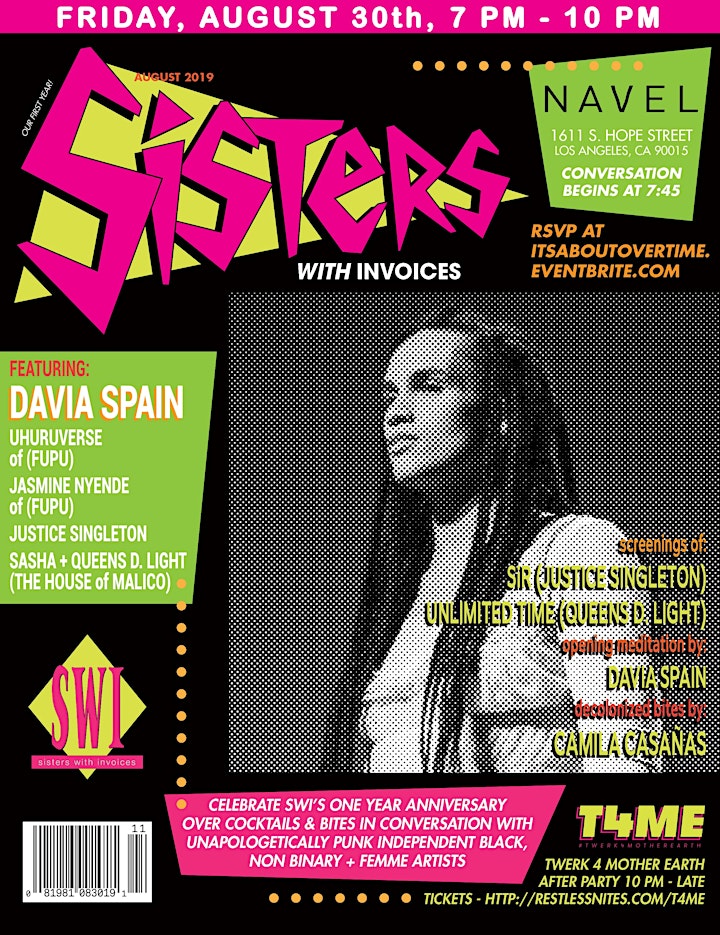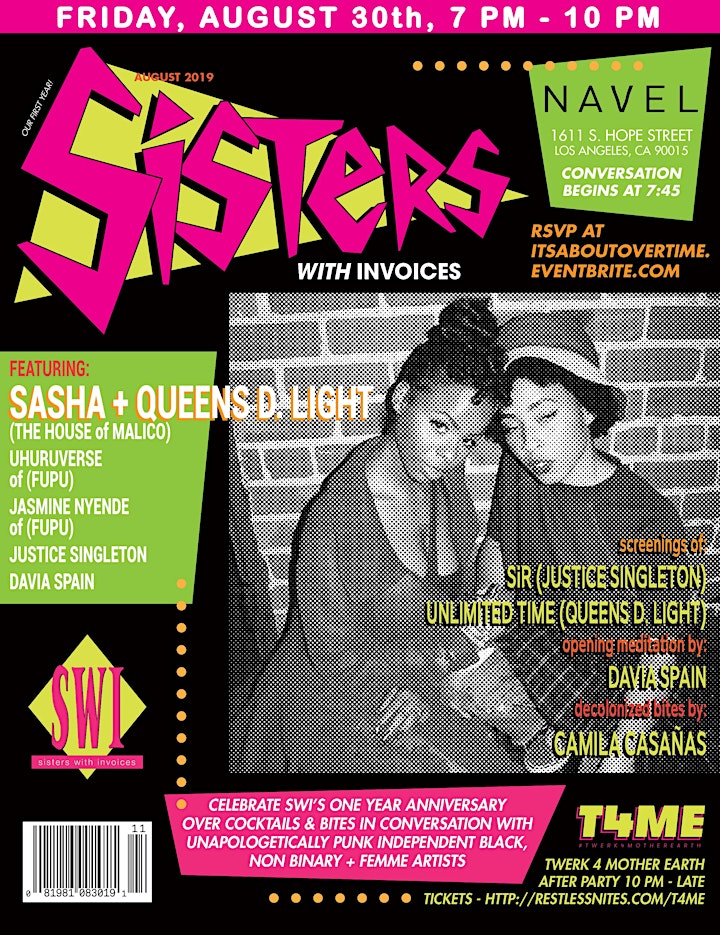 Itenerary
7 - 7:45 PM
Decolonized bites by Chef Camila Casañas
Cocktail hour over conversational indigenous experimental Black house music playlist "MAKE ME RICH" curated by DJ Pas.Tel Shade (they/them) VIA our Black Internet Theory podcast/conversation.
"MAKE ME RICH" is a experimental mix created by PastelShade (they/them) for Sisters With Invoices: Black Internet Theory conversation that delved into the subject of Black Meme Labor, Emotional Response Erasure, algorithmic racism and taking control of media as a form of reparations. PastelShade was drawn to house music as medium, a genre that communicates communal healing and relationship. This mix highlights the space of change and community that's been created through Black Twitter and Black Internet Culture at large. Reparations = Rejoicing + reclaiming the web as a tool that has power to change our image, perspective and transfer data in seconds!" - written by Turay ( they/them) aka Pas.Tel Shade
Interactive photo booth
Guests can enter our viewing room to watch short films created by our conversationalists on loop.
SiR the Series written and created by Kim Alex Hall & directed by Justice Singleton
LOGLINE: MASCULINITY ISN'T LINEAR AND NEITHER IS FRIENDSHIP. THREE CLOSE FRIENDS, A FEMALE TO MALE TRANSGENDER, A MASUCLINE PRESENTING FEMALE AND A BLACK HETEROSEXUAL MALE GIVE US AN INTIMATE VIEW INTO WHAT IT LOOKS LIKE WHEN "SHIT IS REAL"
Un-Limited Time - by Queens D. Light
7:45 - 8 PM
Opening mediation performed by Davia Spain
8 - 9:30 PM
We will listen to the minds of our featured conversationalists then open the floor to conversation where ALL insights, knowledge and experiences will be honored and shared freely by all bodies present.
after party to follow in collaboration with
10 PM - LATE
15% OF NUBIAN WESTHOOD PROCEEDS WILL GO TO PIERRE ( NO SESSO ) + AUTUMN'S LEGAL FUND.
"The upcoming West Oakland party promotes self-love, mindfulness, and carefree fun — for everyone, but especially Black women and queer people — at a time of immense political strife."
Performance by
DJ's
Hood Kusama
Emcees
Mandy Harris Williams @idealblackfemale
TWERK 4 MOTHER EARTH IS BUILDING A COMMUNITY THAT SUPPORTS ARTIST PROMOTING AN INCLUSIVE, CONSENT-BASED CULTURE.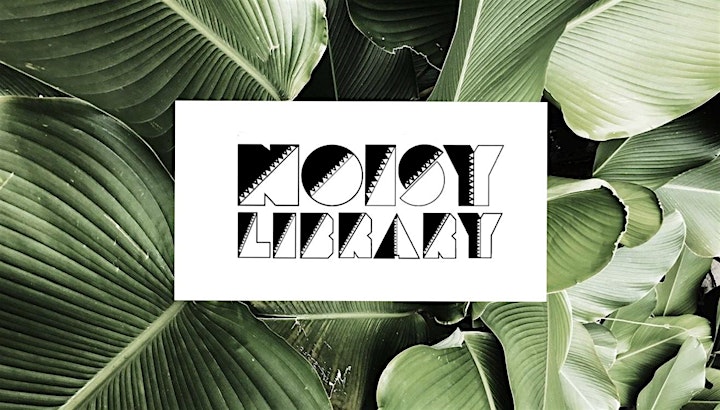 Patties and vegan bites provided by Noisy Library
a Jamaican owned QTPOC catering company <3 #BUYBLACK