Description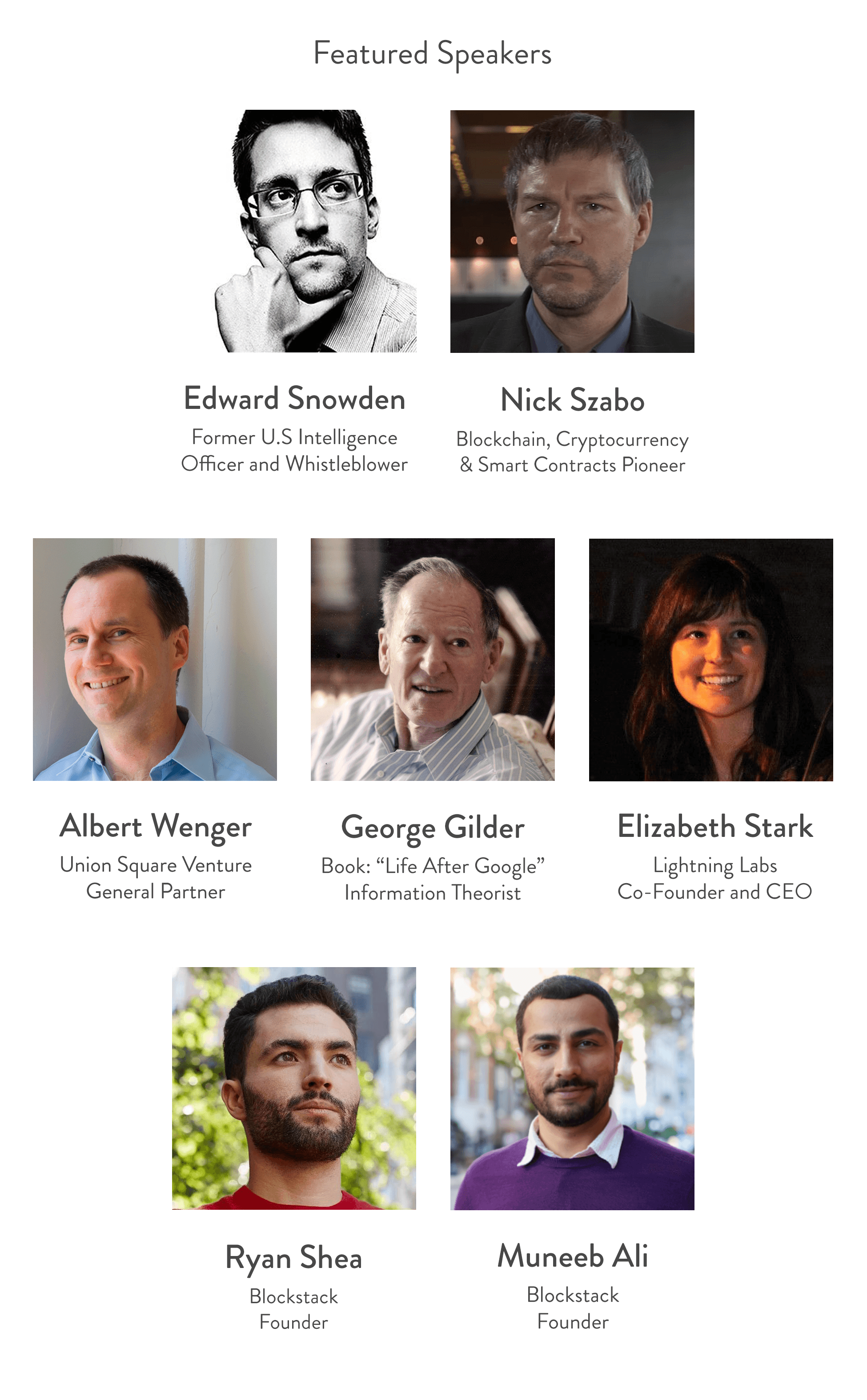 The Blockstack Signature Fund is excited to announce Signature Berlin at the Frank Gehry designed Axica. Signature Berlin is bringing together top experts on data privacy, blockchain, information theory, and the decentralized community at large to imagine, learn about, and create decentralized applications. Check out Signature Berlin video here as well as past Blockstack event videos here.
Blockstack has chosen Berlin, a major hub for digital activism, cryptocurrency, and hacker culture, as the location for its third event. Signature Berlin will meld cutting edge thought leadership with live demonstrations of decentralized apps currently being developed on top of the Blockstack framework. Attendees will not only hear about, but also witness the development of the New Internet. A New internet that will lead to an open, free, and uncensored society of the future.
Featured speakers include Edward Snowden - Former U.S Intelligence Officer and Whistleblower (Live from Moscow via Video Chat), Elizabeth Stark - Lightning Labs Co-Founder and CEO, Nick Szabo - Blockchain, Cryptocurrency & Smart Contracts Pioneer, and Albert Wenger - Union Square Venture General Partner to name a few.
A Blockstack hackathon will take place on Thursday, March 1 in Berlin at Axica - details to be released shortly.
Schedule:

Thursday, March 1, 2018
-Hackathon
Friday, March 2, 2018*
-Speaker Presentations & Panels
-Application Demonstrations
*Ticket price includes breakfast and lunch on March 2, 2018.
Signature Berlin is a must-attend for:
- Developers
- Innovators
- Venture/Angel Investors
- Tech Media
Imagine.
What was once considered impossible is now being rewritten. Innovation without boundaries is about to happen because of a technological breakthrough in consensus algorithms which allows you to take back your rights to ownership, privacy, and safety and to experience the internet as it was truly meant to be. Because of what Blockstack can already do — it's now your imagination that will drive what comes next.
Learn.
Engage with the foremost minds leading the decentralized application revolution and learn how the modern world will benefit from the elegant implementation of peer networks and consensus algorithms on a global scale.
Create.
Join our community of visionaries, developers, tech advocates, enterprise partners, and global customers to build for tomorrow. Now has arrived, at Signature Berlin.
Berlin attendees should bring their ideas and questions about decentralized application development so that all can learn and benefit from the growing volume of expertise in this burgeoning community.
Berlin attendees will have the opportunity to:
Learn about the decentralized internet enabled by Blockstack.

Partner with Signature Bounties to build fully decentralized applications using Blockstack.

Meet some of the most talented and influential developers working with blockchain technology today.
About Blockstack
Blockstack is a movement to build a new internet - a movement of hackers, designers, and entrepreneurs from around the world deeply committed to the future of the internet as a bastion of innovation, freedom, and economic inclusion. Blockstack pushes power to the edges with decentralized applications, allowing users to be in control of their data, identities, and software. For more information on Blockstack Signature Fund, view this video.
Please do not register for this event unless you read, understand, and agree to our Code of Conduct.
Speaker Requsts or Suggestions:
Please contact Shannon Voight at shannon@blockstack.com. Thank you!
Disclaimer:
Disclaimer: Please note that none of the speakers at the event should be viewed as endorsing or offering any investment opportunity sponsored by Blockstack Public Benefit Corp or its affiliates (collectively, "Blockstack"), including without limitation the Blockstack Token, any Simple Agreement for Future Tokens related to the Blockstack Token, or interests in the Blockstack Token Fund. The presentations at the Summit should not be viewed as an offering of any such investment opportunity or a recommendation that any person invest in any investment opportunity.
For more information:
Patrick Stanley
Blockstack, Growth Partner // patrick@blockstack.com
Axica Information:
"The Best Thing I've Ever Done." - Frank Gehry (American Star Architect)
Behind its classical somber facade, Axica view opens up for the visitor to marvel at the space sculpture typical for Gehry's architecture: an amorphous structure with shiny surface hovering above the curved glass dome. The Plenum. The Forum, foyer, conference rooms, the Auditorium and the Gehry Lounge can be found underneath the Plenum. Axica has been dubbed as one of the most interesting event locations in Berlin.

Date and Time
Location
Refund Policy