Description
SHORT PLAY NIGHT
Come down to the resort side of town to see five short plays!
'Short Play Night' is a live theatre show mere feet from the sidewalk of Ocean Ave. It is one of Santa Monica's unique, monthly events. This montly series runs two nights and are different one acts every month. You will see Hollywood Writers, Directors and Actors live work. There are a variety of stories being told from comedy to drama.
Show is as low as $7 in advance and $15 at the Door. The proceeds go directly back to the theatre space in order to put on more productions.
Please arrive at 7:30pm to say 'Hello' before the show starts at 8pm.
Asking For a Friend
Five phone calls about relationships and keeping secrets.

Writer: Harrison Young
Director: Carlin Power
Ed: Zachariah Ziegler
Emily: Savanna Houston
Mike: PJ Evans
Curtis: Shaun Bedgood

May Cause Blindness
A hardened Vietnam War vet is confronted by a young pacifist who demands answers regarding his service.
Writer: Stepy Kamei
Director: Stepy Kamei
Gary : Paul Buxton
Claire: Jocelyn Belle

Creating Adam
A quietly desperate man applies for a job after years of unemployment.
Writer: Brandie June
Director: Graydon Schlichter
Mrs. Blake: Jennifer Knighton
Jonathan: Al Gomez

You could be here now
A desperate real estate salesman is caught between a warring couple: a wealthy attractive trader who's seeking a place he can stash his mistress and the attractive mistress who's seeking a place she can stash equity for putting up with the trader.
Writer: Douglas Stark
Director: Stepy Kamei
Donny: Dayvin Turchiano
Katalina: Naina Michaud
Ed: Mike Suczewski in "You Could Be Here Now"

Parking: Metered parking spaces on Ocean Ave, Main St, and Olympic Ave. Santa Monica Place Structure 8: a close walk with the first 90 minutes free, then $1 for the next hour. If you are feeling a little flush, there is a parking structure under 1725 Ocean Ave for a higher price or $10 valet at Jimmys Famous American Tavern. Many folks like to Uber or Lyft too. Or best of all skip the parking and take the Metro Light Rail! It is just a few blocks away.

www.santamonicatheatre.com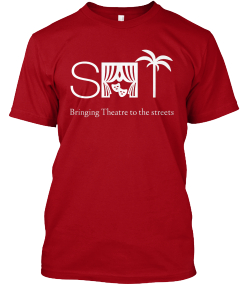 Santa Monica Theatre
$22.99
We partnered with Teespring to create some awesome merchandise for this event. Show your support and look good wearing it. Check it out!