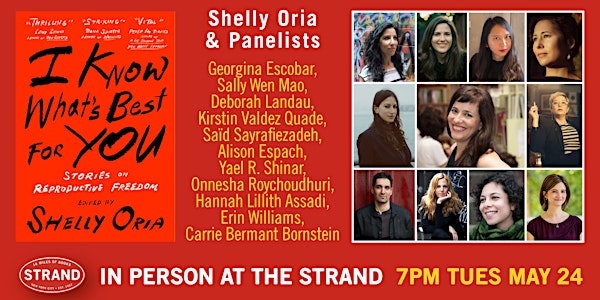 Shelly Oria & Panelists: I Know What's Best for You
Join us for an in-person event with writer and editor Shelly Oria for the release of her new book I Know What's Best for You.
When and where
Location
Strand Book Store 828 Broadway 3rd Floor, Rare Book Room New York, NY 10003
Refund Policy
Contact the organizer to request a refund.
Eventbrite's fee is nonrefundable.
About this event
Join us for an in-person event with writer and editor Shelly Oria for the release of her new book I Know What's Best for You: Stories on Reproductive Freedom. Joining Shelly in conversation is a panel of select contributors from the collection. This event will be hosted in the Strand Book Store's 3rd floor Rare Book Room at 828 Broadway on 12th Street.
The panelist include:
Georgina Escobar
Sally Wen Mao
Deborah Landau
Kirstin Valdez Quade
Saïd Sayrafiezadeh
Alison Espach
Yael R. Shinar
Onnesha Roychoudhuri
Hannah Lillith Assadi
Erin Williams
Carrie Bermant Bornstein
Can't make the event? Purchase a signed copy of I Know What's Best For You here.
STRAND IN-PERSON EVENT COVID-19 POLICY:
In-person events will be presented to a fully vaccinated and masked audience. All patrons over the age of five will be required to show proof* of having completed the COVID-19 vaccination series at least 14 days prior to the date of the event.
*Proof of vaccination will be defined as either an original vaccination card, Excelsior Pass or its equivalent. We will be checking to ensure compliance with the 14 day waiting period post-vaccination.
Registration will be required online. No tickets for entry will be sold at the door.
--------------------------------------------------------------------
Edited by Shelly Oria—author and editor of Indelible in the Hippocampus—this explosive, intersectional collection of essays, fiction, poems, plays, and more, explores the universality of human reproductive experiences, as well as their distinct individuality.
An enlisted sailor must choose between her military career and keeping an unexpected pregnancy. A mother of three decides to become a surrogate, but is unprepared for everything that happens next. A trans man's pregnancy forces them to approach their key relationships in a new way. A woman's choice to live a child-free life is put to the test when her husband's dying wish is for them to become parents. Forced sterilization camps line the borders of America in a dystopian future that may not be far off.
In their own unique and unforgettable way, each storyteller examines our crisis of access to care in ways that are at turns haunting, heartbreaking, and outright funny.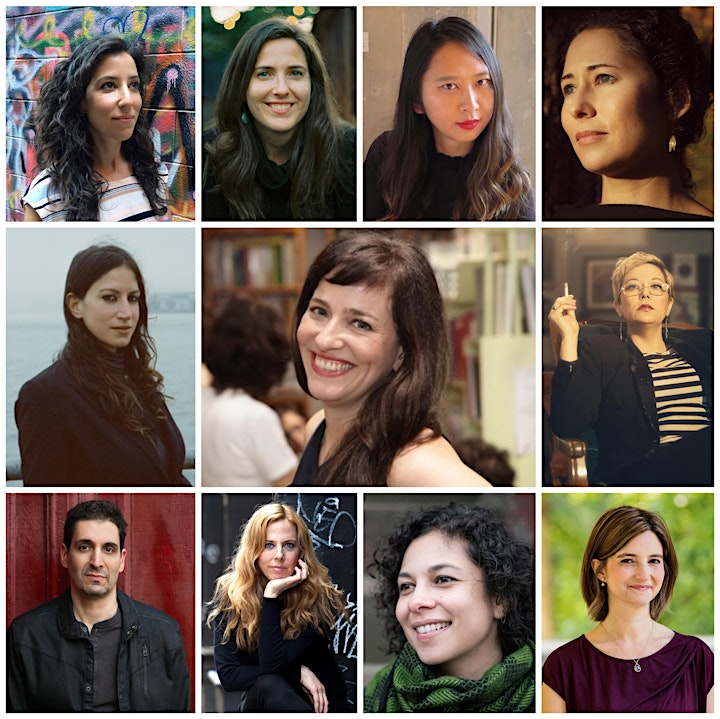 Shelly Oria is the author of New York 1, Tel Aviv 0 (Farrar, Straus and Giroux, 2014) and the editor of Indelible in the Hippocampus, Writings from the MeToo Movement (McSweeney's 2019), as well as the forthcoming I Know What's Best for You: Stories on Reproductive Freedom (McSweeney's 2022). Her fiction has appeared in The Paris Review and on Selected Shorts at Symphony Space, received a number of awards, and been translated to several languages.
Georgina Escobar is a queer Mexican playwright and maker of sci-femme narratives, ultra-human mythos and Frontera-funk stories. She works textually with the impossible to excavate Latin American perspectives & create genre-fiction with heart. She is a MacDowell Fellow, Djerassi Artist and recipient of the National Darrell Ayers Award. Her work has been featured in the Kilroys List, The Texas Review, Los Bárbaros, and New Passport Press. Her plays have been produced across the USA and internationally in Mexico, UK, Italy, Denmark and Sweden. Her work has been performed at INTAR, New York Children's Theatre, Project Y, Clubbed Thumb, Lincoln Center, Bushwick Starr (NY), Two Rivers, Milagro, Aurora Theatre and the Eugene O'Neill Theatre Center.
Sally Wen Mao is the author of Oculus (Graywolf Press) and Mad Honey Symposium (Alice James Books).
Deborah Landau is the author of five books of poetry, including Skeletons (forthcoming '23). She is a professor at NYU, where she directs the Creative Writing Program.
Kirstin Valdez Quade is the author of The Five Wounds, winner of the Center for Fiction's First Novel prize, and the story collection, Night at the Fiestas.
Saïd Sayrafiezadeh is the author of two story collections, most recently, American Estrangement, and Brief Encounters With the Enemy, as well as the memoir, When Skateboards Will Be Free. His writing has appeared in the New Yorker, The Paris Review, and The Best American Short Stories.
Alison Espach is the author of the novels Notes on Your Sudden Disappearance and The Adults, a New York Times Editor's Choice and a Barnes and Noble Discover pick. Her short story series In-Depth Market Research Interviews with Dead People is an Audible Original and her work has appeared in McSweeney's, Vogue, Joyland, and other places. She teaches creative writing at Providence College in Rhode Island.
Yael R. Shinar is a physician and poet.
Onnesha Roychoudhuri is a writer, storyteller, and educator. A former fellow at the Center for Fiction, her work has appeared in publications such as Rolling Stone, Kenyon Review, n+1, Virginia Quarterly Review, The Boston Review, McSweeney's, The Rumpus, The Nation, The American Prospect, Salon, and Mother Jones. Onnesha has read and performed on stages for The Moth, Tedx, Lincoln Center, and more. She is the author of The Marginalized Majority: Claiming Our Power in a Post-Truth America, a Kirkus Best Book of the Year. Learn more about her work at onnesha.com.
Hannah Lillith Assadi teaches fiction at the Columbia University School of the Arts. Her first novel, Sonora, received the Rosenthal Family Foundation Award in Literature from the American Academy of Arts and Letters and was a finalist for the PEN/ Robert W. Bingham Prize for Debut Fiction. In 2018, she was named a National Book Foundation 5 under 35 honoree. Her second novel The Stars Are Not Yet Bells was recently published by Riverhead Books. She lives with her family in Brooklyn, NY.
Erin Williams is the author and illustrator of six books, including Commute: An Illustrated Memoir of Female Shame and the Big Activity Book series. She has over a decade of experience in healthcare disparities research. In addition to co-authoring six peer-reviewed studies, her work has appeared in MoMA Magazine, The Believer, and Synapsis, among others publications.
Carrie Bermant Bornstein is CEO of Mayyim Hayyim Living Waters Community Mikveh and Education Center. She runs the Mental Health in the Jewish Community facebook group and in 2017 blogged about her experience serving as a gestational carrier at www.theresnoiinuterus.wordpress.com. She is an alum of Skidmore College, received her MSW from Boston University, and lives in the Boston area with her husband, Jamie, and their three children.