w/ DJ Matt Bailer 80s Rooftop Tea Dance
About this event
Proof of Vaccination REQUIRED
DC9 will require proof of vaccination for entry. Physical card or digital photo will be accepted. Proof of vaccination must match name on photo ID and will be checked at the door.
You can find more information HERE.
Things change quickly and we are all in the same boat trying to navigate and do our best to keep our concerts and communities safe. We appreciate your patience and understanding with our staff as we navigate this together. Thank you for your cooperation & continued support!
This is an ever changing situation and we reserve the right to change these policies at any time.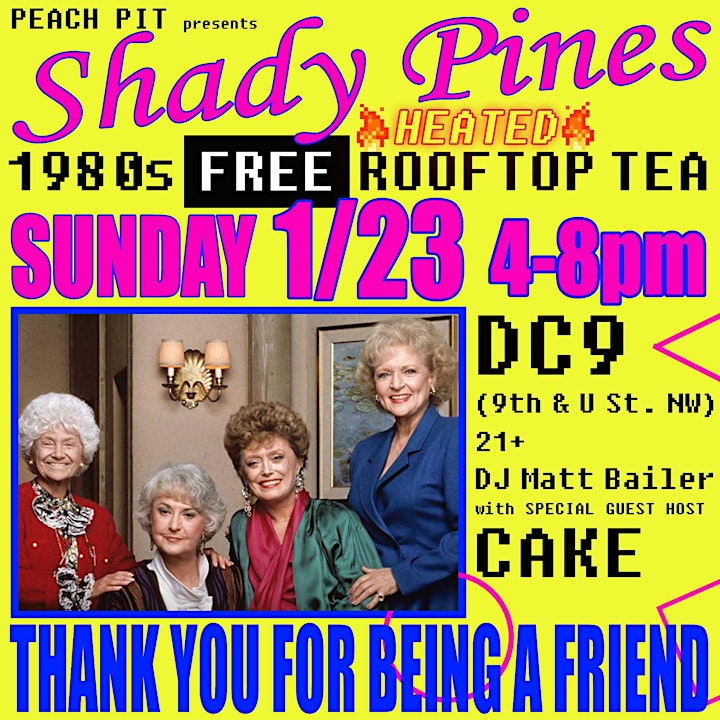 SHADY PINES
FACEBOOK | INSTAGRAM | TWITTER
DJ Matt Bailer (Peach Pit, Mixtape, La Boum Brunch, Pitchers) will be providing the soundtrack for the afternoon, taking the Delorean farther back than his usual Peach Pit 90s fare and digging up unforgettable hits and a few forgotten gems from the days of Ms. Pac-Man, Rubik's Cubes, and Cabbage Patch Kids.
So strap on those leg warmers, parachute pants, jelly shoes & shoulder pads and pull up to the bumper for a total eclipse of the heart.
CLICK HERE <bit.ly/3hWNpg3> to stream a mix of 80s tunes from our last event...
...and don't forget to SHARE THIS EVENT and INVITE YOUR FRIENDS to help spread the word!
___
Don't you wanna dance? Say you wanna dance! Don't you wanna dance?