Description
SimpleMC: A New Fine Dead Fuel Moisture Estimation Tool
A free one hour webinar from the Southern Fire Exchange
Thursday, September 22, 2016 1:00 - 2:00 PM ET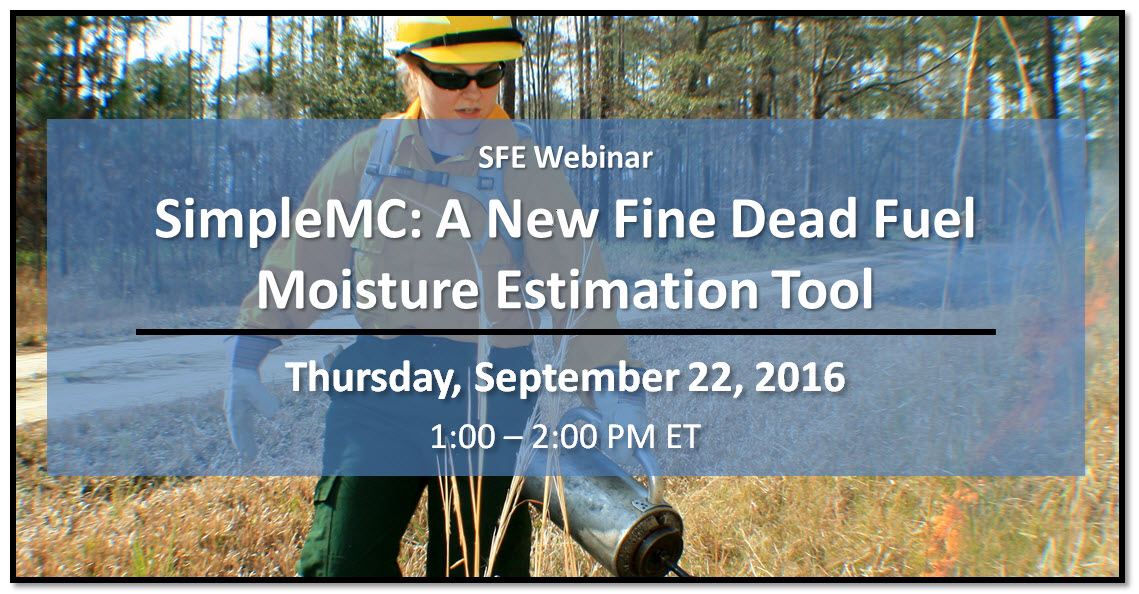 Presenter
Jim Brenner, Florida Forest Service
Matt Jolly, PhD, USDA Forest Service Missoula Fire Science Lab
Webinar Summary
Today's commonly used fuel moisture field guides were developed decades ago without the aid of recent technology and extensive field verification. As such, these guides often poorly predict actual fine dead fuel moisture in many areas, particularly those of the humid Southeastern states. SimpleMC is a new fine dead fuel moisture model developed specifically for the Southeastern US that is a highly simplified version of a complex, physically-based fuel moisture model. This new model represents a paradigm shift in fine fuel moisture estimation and it will soon be integrated into computer-based and paper fire behavior field references. To aid in adoption by fire managers, SimpleMC has been adapted to create a simple, web-based mobile interface for fuel moisture calculations in the field. This webinar will describe the development of SimpleMC and demonstrate the web app.
Click here to check out our other upcoming Southern Fire Exchange fire science webinars.
---
Event Registration
Pre-registration for the webinar is required. Once registered, participants will receive an Eventbrite Ticket email containing the webinar link. On the day of the webinar, click the link to join the meeting.
---
Webinar Requirements
If you have not previously used Adobe Connect, ensure that your computer and network connections are configured to provide you with the best possible experience by running a test. A reliable internet connection and speakers / headphones are required to participate. Webinar audio will be broadcast directly to your computer via the Adobe Connect interface. Participants do not need a microphone or video camera. Click here to test your browser and computer configuration / connection. See the Adobe Connect Quick Start Guide (.pdf) for more information.
---
Webinar Recording
If you can't make the webinar, look for the recording to be posted on the Southern Fire Exchange YouTube Webinar Archive.
---
Contact Us
If you have questions about this webinar, contact the Southern Fire Exchange (contactus@southernfireexchange.org).