Event Information
Refund policy
Contact the organizer to request a refund.
Eventbrite's fee is nonrefundable.
2020 Virtual RAAC Training Institute: 4 Part Series on Severe Autism*
About this event
*Severe. Profound. Significantly Impacted. These are just some of the terms used to describe people with autism who require the most intensive supports. There is no consensus on how to best describe this segment of the spectrum because it is a complex issue involving multiple factors. The intention of this training series is NOT to debate the language, but to address systemic barriers and yield true forward progress.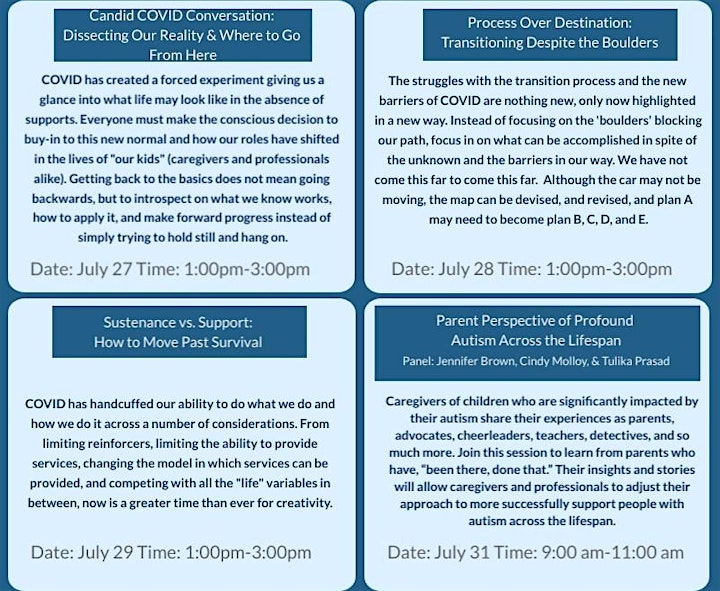 General Information
Join us for this four part series focused on co-occurring autism and mental health to learn practical strategies to apply today!
Join us live to engage in discussion and enhance your ability to apply the skills and strategies. Or receive access to a recorded session. Details on how to join live or access recorded sessions will be sent by email to those registered.
Register for single session(s) or access to all four at a reduced rate!
Professionals=$20 per session or $50 for all four
Caregivers and People with a Disability= $5 per session or $20 for all four. Scholarship available if needed, please inquire.
Registrants from RAAC Member Organizations SAVE 50%! Use Promo Code "RAACMembers" to unlock your savings of 50% off! Are you wondering if your agency is RAAC Member? RAAC Member organizations pay annual membership dues promoting the work of the Regional Autism Advisory Council and training like these. Contact Anne Tapia, RAAC Coordinator, to find out more.
Ready to commit to all four sessions? Click on anyone of the dates to access the package of four.
Certificates of Attendance will be provided to those who request through the evaluation at the end of the live session or upon completion of recorded session.
CEUs are pending and may require LIVE participation or individual work if accessing recorded sessions. Please inquire if interested.
To pay by check or purchase order, during the checkout process please click on "Change Payment Method" to choose the "Pay by Invoice" (POs) or "Pay by Check" options.
Request an invoice or send POs to anne.tapia@cchmc.org.
Checks should be mailed to: Anne Tapia Regional Autism Advisory Council Coordinator CCHMC, 3333 Burnet Ave., MLC 4002, Cincinnati, Ohio 45229
Refunds must be requested at least 24 hours prior to live event date. Recorded sessions cannot be refunded once information on how to access has been sent. Request a refund through the Eventbrite page or contact anne.tapia@cchmc.org as soon as your plans change. Please notify us if you can no longer attend live and only want recorded access.
Contact: anne.tapia@cchmc.org with questions.
Candid COVID Conversation: Dissecting Our Reality and Where to Go From Here
Date: July 27th, 2020 1:00pm-3:00pm
Description: COVID has created a forced experiment giving us a glance into what life may look like in the absence of supports. Everyone must make the conscious decision to buy-in to this new normal and how our roles have shifted in the lives of "our kids" (caregivers and professionals alike). Getting back to the basics does not mean going backwards, but to introspect on what we know works, how to apply it, and make forward progress instead of simply trying to hold still and hang on.
Objectives:
Professionals:
Identifying skills that have generalized and areas to for further development
Introspection into Behavior Support Plans, visuals and supports, what can be truly replicated in a home environment?
Differentiating survival from competence, from fluency and identification of priority- what can the data I get now do for my future programming
Caregiver Considerations Addressed:
How reliant is my child on me for survival?
How have priorities changed in light of my circumstance?
What tools are in my toolkit? How do I access tools, even if I never have before?
How do I know which tool to use?
Building and Reviewing the tool kit: changing behavior, isolating the 'million dollar prize', identifying and dissecting the challenges
Where is my silver lining?
Tips and tricks for success
Process Over Destination: Transitioning Despite the Boulders
Date: July 28th, 2020 1:00pm-3:00pm
Description: The struggles with the transition process and the new barriers of COVID are nothing new, only now highlighted in a new way. Instead of focusing on the 'boulders' blocking our path, focus in on what can be accomplished in spite of the unknown and the barriers in our way. We have not come this far to come this far. Although the car may not be moving, the map can be devised, and revised, and plan B may need to become plan B, C, D, and E. Objectives:
Professionals:
Refine the professional focus to tap into the existing resources.
Covid-19 may prevent tours and traditional assessments, but the years of knowledge and experience contained within our instructional plans, teaching strategies, pairing procedures, and brains must be codified and transferred.
Develop strategies to effectively assess and plan for an engaging meaningful life beyond transition age.
Enhance planning by setting clear identified achievable outcomes.
Caregivers:
Have my priorities for my child changed?
Do I have small moments where I can sit and think on my child's future goals?
I may not know where we are going or how are we going to get there, but do I have a vision for what that future should hold?
Do I have a life plan?
Sustenance vs. Support: How to Move Past Survival
Date: July 29th, 2020 1:00pm-3:00pm
Description: COVID has handcuffed our ability to do what we do and how we do it across a number of considerations. From limiting reinforcers, limiting the ability to provide services, changing the model in which services can be provided, and competing with all the "life" variables in between, now is a greater time than ever for creativity.
Caregivers: See the value in getting a break and moment to breathe, taking that breath, and then expecting more not only for you but for your family even when it seems impossible. Find the trust in your practitioners, and the ability to dig deep and communicate your realities so that your practitioners can make meaningful change for you
Professionals: Remember to do what we do how we know to do it- in-vivo feedback, accountability of instruction, basic tenets of data collection- forcing ourselves to write it down, revise it, and write it down again. You are superheroes. Your goal is, and forever will be, to achieve what others believe to be the impossible.
Objectives:
Professionals:
Enhance professional service provision focus beyond respite to skill acquisition
Fine tune data collection, analysis and revision for meaningful future planning, regardless of barriers
Re-evaluate the way in which services are provided by focusing on the outcome of a fulfilling and purposeful life.
Caregivers:
Understand the value of taking a break, even in the most chaotic time, so that you may more clearly articulate the vision
Refine your voice and trust in the team
Parent Perspectives of Profound Autism Across the Lifespan
Date: July 31st, 2020 9:00am-11:00am
Description: Caregivers of children who are significantly impacted by their autism share their experiences as parents, advocates, cheerleaders, teachers, detectives, and so much more. Join this session to learn from parents who have, "been there, done that." Their insights and stories will allow caregivers and professionals to adjust their approach to more successfully support people with autism across the lifespan.
Objectives:
Gain insight into and empathy for the unique experience of caregivers with a son or daughter who is significantly impacted by their autism.
Appreciate the challenges, risks, and hopes that caregivers experience at various developmental stages across the lifespan for people with profound autism.
Develop tools to navigate barriers when supporting a person who is significantly impacted with autism.
Challenge existing assumptions and misconceptions to gain a deeper level of perspective and more fully support the person with autism.
Parent Panelist Bios
Jennifer Brown is a volunteer for the Autism Society Greater Cincinnati and is a past president of that organization. Additionally, she volunteers for several other organizations including the Regional Autism Advisory Council and the Common Threads Network. She has a PhD from the University of Cincinnati in Communication Disorders and is a speech-language pathologist with more than twenty-five years of experience in the field of Autism Spectrum Disorders. She retired as the Outreach Coordinator at the Kelly O'Leary Center for Autism Spectrum Disorders at Cincinnati Children's Hospital. Jennifer is the parent of an adult son with autism and is the author of the book "Snapshots of Richard – Living with Autism."
Cindy Molloy is mother to a 27-year-old daughter with severe autism. Dr. Molloy retired from her position running the Autism Research Registry at Cincinnati Children's Hospital in 2010 to focus on improving quality of life for adults with DD in our community, especially with regard to finding a home. She was a founding member of the Regional Autism Advisory Council and has served on several other boards and committees, including the Hamilton County Board of DD Services, Home Think Tank, IMPACT Autism and the Advisory Committee for the creation of IMPACT Innovation at the University of Cincinnati, the day program her daughter attends. She currently coordinates the IMPACT Innovation family group and runs the website connect2IMPACT.net.
Tulika Prasad is mom to a handsome 11 yr old son Vedant. He was diagnosed with Autism when he was 3. Tulika was a software engineer, working for companies like IBM and Great American Insurance when she realized that taking care of her son's growing needs and challenges were now going to be the focus of her life. She left her job and found her passion and purpose. She is now her son's friend, warrior and advocate. Tulika is an AutismSpeaks Advocacy Ambassador, a member of advocacy committee for Autism Society of Ohio, runs a Facebook group for parents of special needs kids in the sycamore schools, and volunteers for various advocacy and awareness efforts around Cincinnati whenever possible. She also spearheaded an Inclusion Committee in her son's school to enhance the school experience for all students with different needs. Tulika writes a blog at www.braindroplets.com and has been featured on Huffington Post, Yahoo, The Mighty , AutismSpeaks , Autism Parenting Magazine and other publications. She hopes to make the world a better place for the brilliance and uniqueness that people like Vedant bring.
Location
Refund policy
Contact the organizer to request a refund.
Eventbrite's fee is nonrefundable.
Organizer of Severe Autism
Mission Statement
The Regional Autism Advisory Council of Southwest Ohio connects organizations, individuals, and family members to enhance the autism community by collaborating and sharing knowledge.
Vision
RAAC assists organizations in Southwest Ohio to be best equipped to do their work supporting individuals with autism.