Location
City Of Light
3125 Presidential Parkway
Atlanta, GA 30340
Refund policy
Refunds up to 7 days before event
Description
*Doors open at 8am and event start promptly at 9am.*
A one-day transformative event with energetic speakers, live music, guided meditation, sound healing, and interactive sessions unlike anything else you've experienced!
We are all made of music. Our conversations, interactions, movements, and basic functioning are all based around tempo, dynamics, rhythms, and patterns — i.e. MUSIC. It's the thread that ties us together, the core of our human existence, and the key to understanding ourselves and our lives in an infinitely deeper way.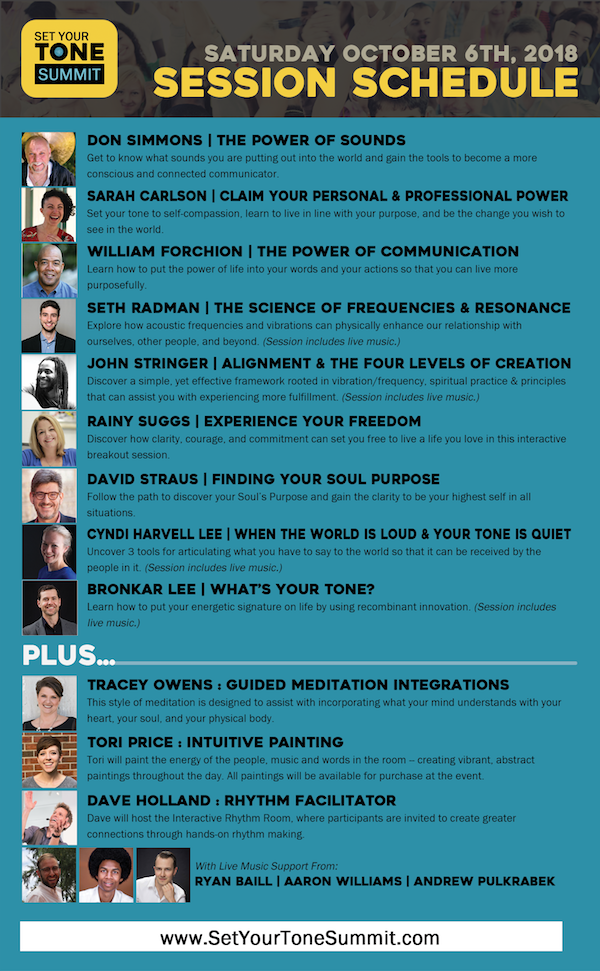 With music and sound as guideposts throughout the day, you'll learn:
How to improve your communication rhythms and create more productive collaborations and synchronistic relationships with others
How to use instruments, sounds and your own voice as tools for healing, energizing, and centering yourself and others
How to decode the science of sound and its direct effects on the body and mind
How to tap in to a deeper sense of self-awareness by recognizing the ways that we as humans are, in fact, instruments
How to SET YOUR TONE to be one that aligns with your purpose, that encourages positivity and light, and that builds stronger bridges of relatability between you and those around you.
Empower yourself with the realization of your own capabilities and strength as a rhythmical being of purpose and possibility.
---
The Summit Speakers:
---
About the Speakers:
BRONKAR LEE
Bronkar Lee's unique background includes touring Europe as a circus ringmaster, appearing on NBC's Tonight Show, and beatboxing with his son in a video that received over 125 million views. His presentations use live music to draw parallels on improving communication, collaboration and creativity.
TRACEY OWENS
Tracey Owens, Empowerment Catalyst and Founder of Remember Your Truth, has her own unique perspective to living a truly empowered and authentic life. She invites us to embark on a Personal Empowerment Journey to reaching our fullest potential.
JOHN STRINGER
John Stringer is a life teacher, speaker, billboard charting singer-songwriter, healer, and author with a passion for music, community, expansion and limitless love and light. He travels extensively sharing his uplifting and healing music and message.
RAINY SUGGS
Rainy Suggs is an Experience Strategist, Facilitator and Producer. She has worked in all areas of the event world: speaking, teaching, producing, enrolling, and online marketing. Her wide range of abilities allows her to create live experiences which are unparalleled and exceptional.
DON SIMMONS
Don Simmons is a sound therapist, shamanic practitioner and Visionary consultant who has produced 11 recordings on sound and meditation. As President of ISTA, he created GB2 (an outreach community) and implemented the first Sacred Sound Ministry, teaching the power of sound as a healing modality.
SETH RADMAN
Seth Radman is an entrepreneur and recent Georgia Tech grad who has started and grown multiple successful startups. His apps have has been featured on the App Store 10+ times in over a hundred countries, including Apple's App of the Day. Seth also plays saxophone with various bands in Atlanta.
WILLIAM FORCHION
William Forchion, thought leader and motivational storyteller, weaves his experience as a circus clown, acrobat, stuntman for film and television and Reiki master into inspirational events. William uses his dynamic #IAmEnough approach to empower and unlock limitless potential.
SARAH CARLSON
Sarah is a Harvard-trained Wall Street attorney turned volunteer, career coach, professor, speaker, and entrepreneur. She helps people identify their professional strengths, interests, values, and vision - and she gives them tools to effectively pursue the work that aligns with who they are.
DAVID STRAUS
David Straus is a leadership coach and speaker for Hollywood studio heads, Silicon Valley executives and c-suite executives across the country. He helps others find their soul purpose to create deeper happiness in life. He is also a Fulbright scholar, mentor, and investor in conscious businesses.
CYNDI HARVELL LEE
Cyndi Harvell Lee is a songwriter, producer, and artist — creating music for TV, commercials, movies, and her own original albums. She's also a graphic designer, video editor, author, and project manager — using her skills to help other creative humans get their positive messages out to the world.
---
FAQs
How can I contact the organizer with any questions?
Please email Cyndi at info@setyourtonesummit.com with questions or concerns.
What's the refund policy?
Refunds are available up to 7 days before the event.
Is it ok if the name on my ticket or registration doesn't match the person who attends?
Sure. If you can't make the event for some unforeseen reason, feel free to pass on your ticket to a friend or family member who you think would enjoy it!
Is there a "dress code" for the event?
No dress code. Dress casually and comfortably. The event is indoors and air conditioned.
Where do I park for the event?
There is a free parking lot onsite, with a lot next door for overflow. Carpool is encouraged if you are coming with friends.
Is there food onsite?
There will be food vendors onsite throughout the day and during the lunch break so you don't have to leave!
Where should I stay if I'm coming from out of town?
There are a couple of good options nearby. The DoubleTree by Hilton Hotel Atlanta - Northlake at 4156 Lavista Rd, Atlanta GA 30084 is 4 miles from the event location, and the Atlanta Marriott Century Center / Emory Area at 2000 Century Blvd NE, Atlanta GA 30345 is 3.5 miles from the event location.