Location
San Francisco
10 unique spaces across downtown San Francisco
San Francisco, CA 94105
Sales Have Ended
Ticket sales have ended
Thanks so much for registering for SERENDIPITY! We will be in touch with more details soon. Registration for the sessions will open in September. Please tell your friends about the event and bring them to share serendipity with you!
Description
We're breaking conference rules yet again.
Join us for SERENDIPITY, a unique, two-day summit where we unite women across ages and industries to learn, connect and get inspired!
That's right ladies, we'll be back for another year of SERENDIPITY. After a successful set of salon-style workshops, conversations, and activity-based networking events, we're keeping our same unconference format. With your 2-day all access pass, you'll get a personalized schedule catered to what you need to grow personally and professionally, and enjoy what the GUILD does best - learn, connect, and inspire in an intimate setting. In addition to four half-day sessions with inspiring hosts, you'll also have breakfast, lunch and coffee meetups with someone hand-picked specifically for you, join us for an activity and a glass of bubbly at our cocktail reception.
Design your own path through the confernece and choose your 4 half-day sessions out of 10 "Salons" hosted in unqiue spaces across town:
Building Something
Leadership
Coaching
Story Power
Social Responsibility
Founders Meet Funders
Emerging Tech
Unplug
Women's Health
Investing
Space is limited. Each salon has a max. capacity of 50 attendees.
Listen to GUILD founder Anne Cocquyt in conversation with Terri Mead and Jacqueline Steenhuis on the "Piloting Your Life" Bubbly Bonus Podcast (Episode 62) to hear what to expect from 2 days filled with inspiration, learnings, growth and fun.
We just launched a podcast series with speakers who share in 5-10min interviews what you can expect to learn from them.
Speakers: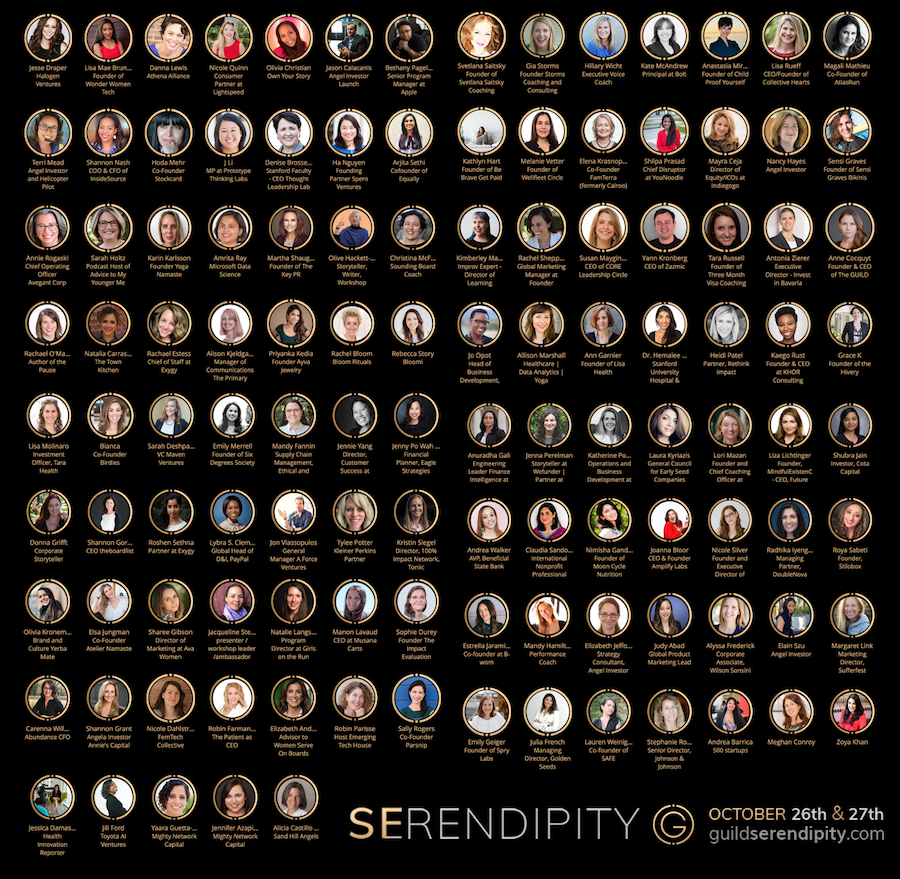 BUILDING SOMETHING
In this salon, we're focusing on what it takes to turn an idea into a thriving product. We'll build skills in prototyping, design sprints, your product roadmap and how to scale once you hit product market fit. With roundtable conversations, advice from experienced product leaders, investors and founders, and personal meetings to fine-tune your plans, you'll leave this salon with a solidified checklist for getting your product to launch or IPO. This salon is the perfect place to get inspiration flowing.

STORY POWER
The StoryPOWER house will harness the power of a narrative, weaving the idea of telling a story into all aspects of your personal and professional life. With an uninterrupted view of the Bay Bridge from the DocuSign building and the bustling view of Union Square from T3 Advisors, we'll cover everything from crafting a personal narrative to positioning yourself as a thought leader. You'll leave this house feeling confident in the weight of your words, and ready to share your story with colleagues and leadership
SOCIAL RESPONSIBILITY
Come to the Social Responsibility house to discover your higher purpose in work and life. The sessions in this house will spark conversations with some of the city's leading social entrepreneurs and give you the tools to weave meaningful impact into your career and company culture. You'll leave this house with deeper roots in the Bay Area's vibrant social impact community and courageous energy to change the world through your career and everyday life.
Hosted by ATLAS GO, a global community of sweaty change makers
FOUNDERS MEET FUNDERS
Anyone who's gone searching for funding knows that investors are looking for the right person to invest in, more than the right company. We are so excited to be working with WSGR for the Founder Meet Funders house. We'll be hosting pitch workshops with Donna Griffit and discussions about Alternative Funding Options. At one of most prestigious law firms in Silicon Valley, we'll be hosting the exclusive Founders Lounge where attendees who applied get 1:1 speed-pitching opportunities and for everybody else we'll have breakout sessions hosted by VCs, angels and internatonal investing experts.
WOMEN'S HEALTH
We're devoting an entire house to women's health. Even better, we're breaking that house down into topics specific to a women's health cycle. We're welcoming the ladies and men with careers in FemTech to share the latest technologies and research from fertility to pregnancy, from breastfeeding to menopause and anything in between. You'll walk away not only with a list of valuable apps, websites, contacts, insights and aha moments but with a plan to take care of your, your children's and your family health.
COACHING
In the Coaching salon, we're bringing in two amazing coaches to advise you in your career and leadership. These experts will offer guidance towards the goals that you've set for yourself...and maybe even a few you haven't considered! Leave this house with a different outlook on every area of your life, a potential coach to use as a resource after Serendipity, and new connections with other women in the salon at our open networking hours!
EMERGING TECH
This salon focuses on on giving you the knowledge about the latest and greatest developments in the emerging tech landscape. Anything from blockchain to VR advances and conversations about building and prototyping exciting new technology will be discussed in a safe place where every question is welcome!
Each session will be live-streamed and recorded. The speakers will have an opportunity to be part of a photoshoot for the new "VOGUE" for the women in STEM: unboxd!
INVESTING
We're Striking Gold in this house, and learning to take what you have and make it stretch to fund your latest endeavor. Or, maybe you're thinking about sitting on the other side of the table and bankrolling new products--we've got sessions for you too. You'll walk away from this house with a toolkit to conquer investment models and accredited investors learn how to angel invest.
UNPLUG
No matter your industry or place in your career, allowing time for yourself to decompress and step away from work. That's precisely why we've created the Unplug salon, meant for sessions that will discuss every area of your life (that isn't your work) to help you feel more energized, focused, and passionate every single day. You'll leave this house with a better understanding how to harness your inner heroine, a plan to start meditating, knowledge about your skin and many contacts to re-connect at a yoga studio or go for a run on the beach.
LEADERSHIP
In the leadership house, we're looking at the steps to take to become a great leader, we'll hear from great leaders about equality in the workplace and learn how we can be the change we want to see. You'll learn what it takes to join a board and the inner game of leadership. There will also be a chance to experience a non-sweaty zumba session. Walking away from this house will leave you with great contacts and the personal and professional skillset to take on your next leadership role.
Visit guildserendipity.com to find out more about SERENDIPITY 2018.
SPEAKERS:
Judy Abad, Founders Meet Funders, Global Product Marketing Lead at WhatsApp Inc.
Andrea Barrica, Women's Health, CEO/co-founder of O.school

Marlene Beggelman, M.D, Women's Health,

Founder, Enhanced Medical Decisions, Inc.

Alexa Binns, Founders Meet Funders, Associate, Maven Ventures
Joanna Bloor, Emerging Tech, Introduction Expert, The Amplify Lab
Denise Brosseau, Story POWER, CEO Thoughtleadership Lab
Lisa Mae Brunson, Social Responsibility, Founder of Wonder Women Tech
Jason Calacanis, Investing, Angel Investor
Natalia Carrasco, Social Responsibility, Director of Strategy
Mayra Ceja, Founders Meet Funders, formerly Equity/ICOs at Indiegogo, Partner at Republic Crypto
Olivia Christian, Story POWER, Host/Executive Producer The Game Last Night and Own Your Story
Lybra Clemons, Leadership, G

lobal Head of Diversity and Inclusion for PayPal

Anne Cocquyt, Founder CEO, The GUILD & Executive Director Women In Product
Nicole Dahlstrom, Women's Health, Founder, Femtech Collective, Co-House Women's Health House
Jessica Damassa, Women's Health, WTF Health Show
Sara Deshpande, Founders Meet Funders, Maven Ventures
Elizabeth Andrew DiGaetano, Advisor to Women Serve on Boards
Jesse Draper, Founders Meet Funders, Halogen Venutures, Valley Girls Show
Sophie Durey, Social Responsibility, Founder, The Impact Evaluation Factory
Madeline Duva, Founders Meet Funders, CEO
Rachael Estess, Social Responsibility, Chief of Staff at Exygy
Mandy Fannin, Social Responsibility, Moringa Supply Chain Manager, Kuli Kuli Inc.
Alyssa Frederick, Founders Meet Funders, WSGR, Associate
Robin Farmanfarmaian, Leadership, P

rofessional Speaker, Entrepreneur, and Angel Investor

Julia French, Founders Meet Funders, Managing Director, Golden Seeds
Rachel Gadiel, Women's Health, Founder of Bloom Rituals
Anuradha Gali, Emerging Tech, Engineering Leader Finance Intelligence
Nimisha Gandhi, Women's Health, Founder of Moon Cycle Nutrition, Cohost of the Women's Health House
Ann Garnier, Women's Health, Founder of Lisa Health
Bianca Gates, Start Something, Co-Founder Birdies
Emily Geiger, Women's Health, Founder, Spry Labs
Sharee Gibson, Women's Health, Global Director of Marketing at Ava
Shannon Gordon, Leadership, CEO of theBoardlist
Shannon Grant, Leadership, Angel Investor
Sensi Graves, Unplug, Founder of Sensi Graves Bikinis and Professional Kiteboarder
Donna Griffit, Founders Meet Funders, Corporate Storyteller, Pitch Coach
Olive Hackett-Shaughnessy, Social Responsibility, Storyteller, Writer, Workshop Leader
Kathlyn Hart, Investing, Founder
Nancy Hayes, Investing, Angel Investor
Dr. Alicia Castillo Holley, Founders Meet Funders, Angel Investor
Matthew Holt, Women's Health, Investor and Adviso SMACK Health
Anke Huiskes, Women's Health, Sales at Willow Pump
Radhika Iyengar-Emens, Emerging Tech, Managing Partner, DoubleNova Group
Shubhra Jain, Women's Health, Investor, Cota Capital
Estrella Jaramillo, Women's Health, Co-Founder at B-wom
Elizabeth Jeffords, Leadership, Tara Health Foundation
Elsa Jungman, Unplug, Co-Founder Atelier Namaste
Karin Karlsson, Unplug, Co-Founder Atelier Namaste
Priyanka Kedia, Building Something, Founder of Ayva Jewelry
Zoya Khan, Women's Health, Associate at SMACK.health
Alison Kjeldgaard, Social Responsibility, Manager of Communications at The Primary School
Karin Klassen, Unplug, Co-Foudner Atelier Namaste
Grace Kraaijvanger, Building Something, Founder, The Hivery
Elena Krasnoperova, Founders Meet Funders, Co-Founder and CEO
Yann Kronberg, Building Something, CEO
Olivia Kronemeyer, Social Responsibility, Multidimensional Cebadora: Brand + Culture, Guayaki Yerba Mate
Laura Kyriazis, Women's Health, General Council for Early Seed Companies
Natalie Langsdorf, Social Responsibility, Program Director, Girls on the Run of the Bay Area
Jennifer Lannon, Women's Health, Co-Founder of Freeze Health
Manon Lavaud, Social Responsibility, CEO, Musana Carts
Danna Lewis, Leadership, COO of The Athena Alliance, Advisor, Conscious Leadership Advocate
J Li, Founders Meet Funders, Managing Partner at Prototype Thinking Labs
Liza Lichtinger, Emerging Tech, Founder, MindfulExistenC - CEO, Future Design Station
Margaret Link, Social Responsibility, Marketing Director, Sufferfest
Allison Marshall, Women's Health, Co-Host, VP, HBA
Magali Mathieu, Social Responsibility, Co-founder AtlasGo
Susan Mayginnes, Leadership, CEO, CORE Leadership Circle
Lori Mazan, Leadership, Founder and Chief Coaching Officer at Sounding Board
Kate McAndrew, Investing, Principal at Bolt
Christina McFadden, Leadership, Leadership Coach
Terri Mead, Investing, Angel Investor
Hoda Mehr, Investing, CEO and Co-founder, Stock Card, Inc.
Emily Merrell, Emerging Tech, Founder of Six Degrees Society
Anastasia Miron, Emerging Tech, Founder of Child Proof Yourself
Lisa Molinaro, Women's Health, Investment Officer, Tara Health Foundation
Shannon Nash, Leadership, Business Executive| COO & CFO | Board Officer & Adviser
Ha Nguyen, Product Partner, Spero Ventures
Rachael O'Meara, Unplug, Author of Pause
Jo Opot, Social Responsibility, Head of Business Development, West Coast, Acumen
Bethany Pagels-Minor, Founders Meet Funders, Senior Program Manager
Robin Parisse, Emerging Tech, Co-Founder She Speaks Tech
Heidi Patel, Social Responsibility, Partner, Rethink Impact
Dr. Hemalee Patel, Women's Health, Stanford University Hospital & Clinics
Jenna Perelman, Social Responsibility, Storyteller at Wefunder, Partner at Detroit Opportunity Zone Fund
Jenny Po Wah Yu, Social Responsibility, Financial Planner, Eagle Strategies LLC/New York Life
Tylee Potter, Leadership, Kleiner Perkins Partner
Katherine Powers, Social Responsibility, Operations and Business Development at Wefunder \| Partner at Puerto Rico Opportunity Fund
Shilpa Prasad, Founders Meet Funders, Chief Disruptor
Nicole Quinn, Investing, Consumer Partner
Amrita Ray, Emerging Tech, Speaker
Stephanie Robertson, Women's Health,

Senior Director, Scientific Innovation, Consumer at Johnson & Johnson Innovation



Sally Rogers, Start Something, Co-Founder of Parsnip
Lisa Rueff, Unplug, CEO/Founder of Collective Hearts, Chief Heart Warrior
Tara Russell, Unplug, Founder
Kaego Rust, Social Responsibility, Founder & CEO of KHOR Consulting, full-service business planning
Roya Sabeti, Leadership, Founder, Stilobox
Svetlana Saitsky, Coaching, Founder/President Coaching Practice
Claudia Sandoval, Social Responsibility, Development Coordinator, Pachamama Alliance
Arjita Sethi, Social Responsibility, Co-Founder of Equally
Roshen Sethna, Social Responsibility, Partner at Exygy
Martha Shaughnessy, Story POWER, Founder of theKeyPR
Rachel Sheppard, Founders Meet Funders, Global Marketing Manager
Kristin Siegel, Social Responsibility, Director, 100% Impact Network, Toniic
Nicole Silver, Social Responsibility, Founder and Executive Director of G.R.O.W.
Jacqueline Steenhuis, Emerging Tech, Transformational Leadership Coach
Jacqueline Steenhuis, Coaching, presenter / workshop leader /ambassador
Gia Storms, Coaching, Facilitator, coach
Rebecca Story, Women's Health, Founder & CEO at the Bloomi
Nitasha Syed, Emerging Tech, Founder of Unboxd
Christine Tao, Leadership, Co-Founder & CEO
Melanie Vetter, Unplug, Founder, Transformative Writing Coach at Wellfleet Circle
Andrea Walker, Social Responsibility, AVP, Creative Media Evangelista at Beneficial State Bank
LaurenWeininger, Women's Health, Cofounder, SAFE
Hillary Wicht, Leadership, Owner of HillaryWicht.com, Executive Voice Coach
Carenna Willmont, Investing, Founder, Abundance CFO
Jennie Yang, Women's Health, Strategic and operational consulting leader
Antonia Zierer, Founders Meet Funders, Executive Director - Invest in Bavaria

---