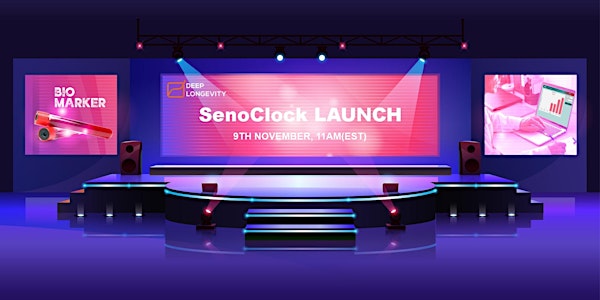 SenoClock Launch - SaaS based Aging Clocks
SenoClock is Deep Longevity's SaaS portal that hosts all its aging clocks. Be the first to witness SenoClock in action.
About this event
Attention doctors, hospitals, insurance providers, and everyone who wants to live longer or help others live longer!
Join us as we embark on the journey to disrupt the wellness industry, speed up health insurance underwriting, and extend human life.
Be the first to experience SenoClock in action and see how quick and easy human wellness can become.
Meet the best of longevity scientists, researchers, visionaries, and thought leaders. Learn more about different ways you can implement SenoClock and leverage the technology to help your patients and clients extend their life.
Interact with the leadership, raise questions, and share concerns to clear your doubts or reservations.
What to expect?
- Meet the speakers
- SenoClock intro
- Product demo
- Live Q&A
About SenoClock
SenoClock is Deep Longevity's new SaaS portal that hosts all its patented aging clocks. It enables doctors and hospitals to calculate a patient's biological age using different physical, chemical, and psychological aging clocks. SenoClock reports an accurate measurement of their current wellness and the future trajectory of their health, possible optimization, and personalized recommendation to achieve the same.
It's the first virtual platform to offer multiple aging clocks to hospitals and insurance providers. The platform is designed to be - easy, instant, agile, and extensively scalable.
For anyone who wants to effectively avoid the effect of aging and age-related diseases, this platform can be a lifesaver (or life-extender, to be more precise).
SenoClock provides a way to measure, manage, and optimize human wellness that is both easy and accurate.
Register now and before 8th November to learn more about SenoClock and its aging clocks. Interact with the scientists behind the product + get a glimpse of future updates.
Let's meet up at the launch.
Note: We have been advised to change our brand name prior to launch and hence we will be launching with Senoclock.