Description
Self Care Project: Support & strategies to enhance your mind, body & soul
What if you could tap into your own personal inner peace and purpose, learn from some of the most renown experts in health and wellness, and connect with other like-minded women in a safe, nurturing environment?
You can.
The Self Care Project was created to provide you the tools to create a more abundant, fulfilling life while managing those real-life day-to-day challenges. Join Dr. Suzanne Gilberg Lenz and other world renown experts and influencers in women's health and wellness as we provide you an intimate space to connect and learn practical applications to support our daily lives and promote the growth and health of our minds, bodies and spirit.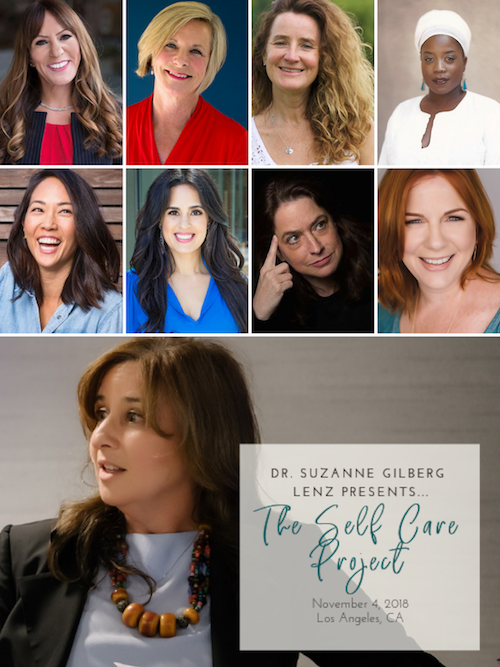 Your host, Dr Suzanne Gilberg-lenz, OB/Gyn, Integrative MD & TV Personality
Co-hosted by Jackie MacDougall (PS Jackie), founder, Forty Thrive
Scheduled to appear:
Jami Goldman Marseilles, Author, world record holder, motivational speaker and double amputee
Diann Wingert, Certified Coach and Licensed Therapist
Katherine Nilbrink, Anti- Diet Nutritionist and Body Love Expert
Haize Hawke, Doula, Midwife, Life Coach
Diane Mizota, Producer, Host, Actor, Access Hollywood Style Expert
Dr. Shannon Chavez, Licensed Clinical Psychologist & Certified Sex Therapist
Wendy Miller, Board Certified Sexologist, Former Head of Programming, Playboy TV
Jackie Morgan MacDougall, Founder, Forty Thrive
Plus,
Sound bath with El Larson
Yoga with Rebecca Benenati
Lunch, treats and so many self care surprises!
------------
CONNECT Spend a day with experts and like-minded women, coming together for a common purpose
PRACTICAL APPLICATIONS Learn simple strategies that can bring more peace and satisfaction to you and everyone around you
GROW Feel your soul, nourish your body and expand your mind with dynamic speakers and hands-on workshops
After one day connecting and collaborating, you'll be ready to step into your life with a renewed sense of passion and purpose
What You Can Expect To Learn:
• Why self care is so important to your overall well being and is NOT a luxury
• How to make self care a priority in your life in a way that's aligned with your personal goals
• How to create a stronger, more connected relationship with yourself and those around you
• How to avoid common triggers that prevent us from living the life we know we deserve
• How to eat, sleep and move in ways that enhance your daily routine
• How to express sensuality/sexuality in a way that brings joy to your life
WHAT MAKES OUR EVENT DIFFERENT?
We provide a supportive, nurturing, upscale environment to disconnect from daily stressors and reconnect with your mind, body and spirit. We give you actionable strategies you can implement immediately to improve your life We focus on valuable content that will provide clarity and community We know your life is full and your time is valuable.
If you're a woman in or approaching midlife, this event is an exclusive opportunity to experience an upscale, open-minded event that will help you connect to your true purpose and feel your most fulfilled and empowered self. Our event is not only an escape from the every day, but an investment in yourself. Be prepared to dig deep and fully embrace the education and inspiration our experts and attendees will provide. Open your heart and mind, get ready to make lasting connections and make the decision to join us.