About this Event
Tickets Only $10 until July 12th , $15 Day of Show!!
MHYSA (Halcyon Veil, NON; Philadelphia)
"Jane is a prolific artist. Whether releasing music as one-half of the blistering performance and sound art duo SCRAAATCH (the duo's other half, chukwumaa, aka lawd knows, produced three songs on fantasii) or exhibiting their solo work—a recent exhibition, Lavendra, explored the cultural legacy of black divas from the 1990s like Brandy, Aaliyah, and Whitney Houston—Jane seems most interested in constructing expansive utopian worlds where black femmes exist in all their complexities. Through Jane's work as Mhysa, whom they describe as "a Queer Black Diva and underground popstar for the cyber resistance," Jane seamlessly weaves together the various threads of their artistic practice, from twisted sonics to diva worship to Afrofuturist potentialities." - Pitchfork
LEDEF (House of KENZO, Halcyon Veil; San Antonio)
"One of the founding members of San Antonio's art collective House of Kenzo, Ledef specializes in modernist queer expression and innovative sonic and visual displays."
Vockah Redu (Houston via New Orleans)
"Magnolia Housing Projects have long been demolished, a light post still stands at the corner where youth like Vockah Redu (Javocca Davis) gathered to rap and create beats. The light post marks one of the birthplaces of Bounce music, a genre of rap specific to New Orleans that has invigorated crowds throughout the South. Vockah Redu and the Cru animate the stage with their dynamic revival of dance, music, and art from the street corner to the club. More than your typical hip-hop act, this theatrical performance sets the stage for a sweaty hands down booty up good time, transforming any party, bar, or dance floor in your neighborhood."
Hyperfemme (Houston)
An upcoming Houston DJ unlike any other - Mystic Stylez Debut
JAWWAAD (Beat on the Muse Productions) (Houston)
"A homegrown Houstonian who recently returned after living in Harlem, JAWWAAD's undeniable skills have placed him in good company and allowed him to tour throughout the world. He has a long list of collaborations, recordings and performances including appearing on the marquee with Jay-Z at the Hove Festival in Norway and performing with The Roots. He has worked closely with Grammy-nominated trumpet player Christian Scott and plays trumpet with the jazz group The Young Mothers. He recently performed at the Bonnaroo Music and Arts Festival and is a member of Red Bull's Bass Camp. JAWWAAD has also been tapped by Red Bull to develop a local marketing campaign."
DATA-MOSH
The debut of a new collection from Houston designer Raquel Elysia Costilla, fresh off her appearance at Brownsville Fashion Week.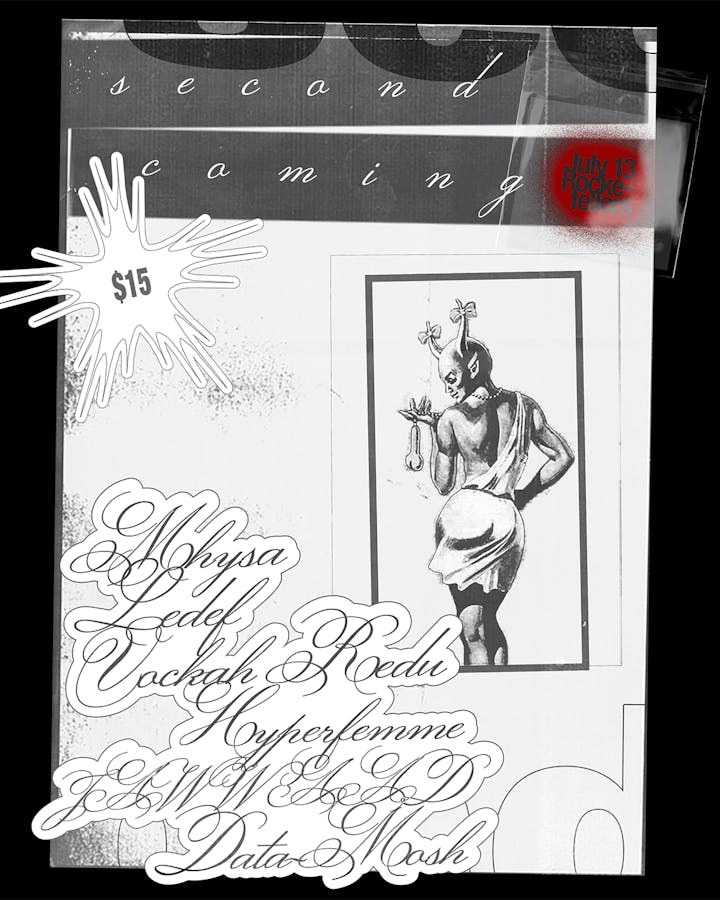 Performers
Date and Time
Location
Refund Policy