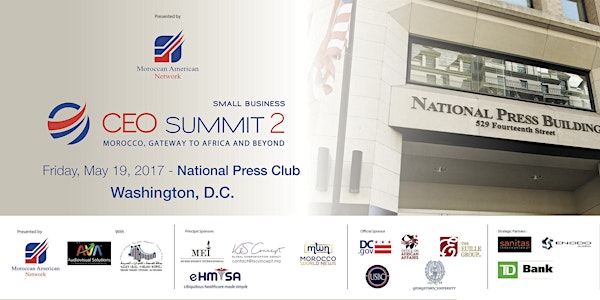 Second CEO Small Business Summit
When and where
Location
The National Press Club 529 14th Street Northwest Washington, DC 20045
Refund Policy
Contact the organizer to request a refund.
Description
This year the CEO Summit will focus on small business which is often overlooked as a sector, yet it is driver of economic growth in the economy of every country. The main objective of the CEO SUMMIT 2 is to create international business opportunities and highlight the resources that are available to help small businesses succeed in both the U.S. and Morocco.
The Moroccan American Network is bringing prominent members of the local and international business communities, academics, experts, U.S and foreign government officials, and others together to explore small business opportunities between the U.S. and Morocco as the gateway to Africa and beyond.
Highlighting Morocco as the Gateway of Africa and the MENA region, the summit will feature keynote speeches, panels, and a special open mic Q&A session with key note speaker Ilyas El Omari and his delegation from Morocco. The Summit offers a unique opportunity for strategic business B2B networking and associated activities. The Summit will focus on innovations in health care, encouraging entrepreneurship, supporting youth initiatives, addressing issues in government contracting, and the US Small Business Administration, and provide valuable information on doing business with the U.S. government and in Morocco.
The conference is being presented by the Moroccan American Network and AV Actions Inc., in cooperation with other strategic partners and sponsors, such as the DC Government's Office of African Affairs, the Black Chamber of Commerce, the Association of Moroccan Professionals in America (AMPA), the Middle East and North African Consultants' Association, Myers Energy International, KS Concept, and Maroc Export.
"The Moroccan American Network is a network of individuals dedicated to creating opportunities for small business," said General Counsel Elisabeth Myers. "The CEO Summit is an excellent opportunity to meet others who face the same challenges and to learn from the know-how of successful business people and experts in the field."
Registration and check-in opens at 12 noon. The program will begin promptly at 1pm. Due to new procedures at the National Press Club, please allow additional time (15 minutes) to go through security.
**All ticket sales are final and non-refundable.**