Description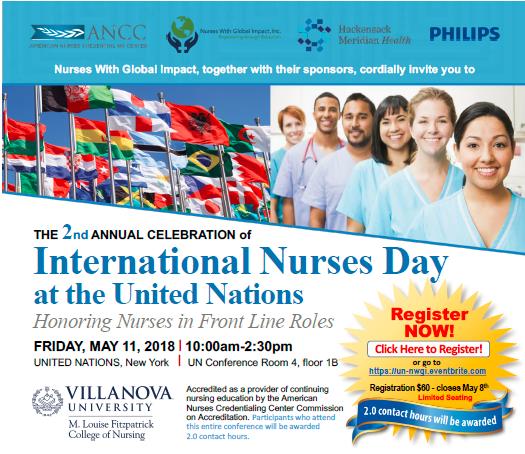 ---
Come Celebrate the Anniversary of Nursing and Meet Others who Make Nursing Unique yet Universal!
10:00 am: Welcome by Deb O'Hara-Rusckowski of Nurses With Global Impact., Inc. (UN Conference Room 4, Floor 1B, Behind Vienna Cafe)

10:15 am: Nurse Honoree Awards - A group of nominated nurses will be honored for their impact on global healthcare

11:00 am: Two Special Presentations: 2017 NWGI Nurse Honorees, Dr. Teresa Tyson and Dr. Paula Hill, will present their collaborative work with our co-sponsors for the uninsured in rural Appalachia with their "Health Wagon;"then, Dr. Sarah Timmapuri, Cardiologist and Chief Clinical Informatics Officer for Hackensack Meridian Health, and CEO of LIG Global Foundation, will give a presentation entitled "EHR's and Nursing Burnout."

12:30 - 2:30pm: Luncheon served in the Delegates Dining Room, 4th floor, with several Informational Exhibit Tables on Global Health Opportunities
---
All attendees must be registered to receive a badge to enter the UN.
As you can imagine, security is tight at the United Nations building. In order to gain entry to the United Nations' building on May 11th please note the following critical information...

The UN is located on 1st Avenue in front of 46th Street

The program begins at 10:00am sharp, so please arrive between 9:00 AM - 9:15 AM to allow yourself to get through security and be seated for the event.
Upon arrival to the UN on 46th Street and 1st Avenue, look for a volunteer outside the security entrance with a sign (it will be the same as the attached flyer) ---go to that person and they will check you in to the event and give you your name badge.
You will then procced through security.
You MUST HAVE A GOVERNMENT ISSUED PHOTO ID (Driver's License or Passport) or you will not be allowed entrance to the building.
Also-the name on your ID MUST MATCH EXACTLY the name on our attendee list or you will not be allowed to enter the building. For example if you are called "Muffy Campbell" but your license says "Margaret Campbell" you need to be listed as "Margaret Campbell" on our registration roster to get through security. The UN Security will NOT make exceptions.
Once you have successfully made it through security, volunteers will direct you accordingly to Conference Room 4 on floor 1B behind the Vienna Café. Following the presentations, all will be directed to the Delegates Dining Room on the 4th floor where the luncheon will take place.
Diclosures: Villanova University M. Louise Fitzpatrick College of Nursing is accredited as a provider of continuing nursing education by the American Nurses Credentialing Center Commission on Accreditation. Participants who attend this entire conference will be awarded 2.0 contact hours.