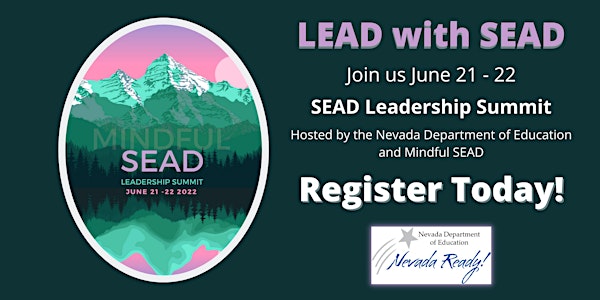 SEAD Summit 2022
Welcome to the SEAD Leadership Summit 2022! Register here to reserve your exclusive spot at this year's virtual leadership conference!
About this event
The SEAD Leadership Summit is two days of high-quality sessions presented by some of the state and nation's top SEL leaders. Included this year is the Co-Founder of CASEL and leading authority on emotional intelligence, Dr. Dan Goleman, and renowned speaker, cultural activist, and author of "Pivot" Ravi Hutheesing.
Sessions are designed to prepare SEL and SEAD approaches for school and district leadership to implement for self and school culture. The immersive interactive platform offers networking with colleagues from around the state.
The Summit will be hosted virtually via an easy-to-use, networking platform that will allow participants to interact with speakers and fellow participants alike, from the comfort of your office or home. The Summit will feature 12 breakout sessions over the two-day event with SEAD/SEL content specialists, coaches, and educational leaders, with a higher ed strand, and two amazing keynotes. Our focus for the Summit includes valuing educators on purpose and nurturing educator success.
In this two-day virtual, immersive experience you will have access to fifteen of the nation's leading SEAD professionals through virtual webinars, roundtable discussions, and online chats covering a range of topics relating to social-emotional learning.
This event is free of charge. Space is limited to 300 participants, so register soon!
This event is brought to you by Mindful SEAD in partnership with the Title IIA Office of the Nevada Department of Education (NDE).
The first 100 participants to register will also receive a box in the mail full of conference materials and resources to nurture your SEAD. CEU credits will also be awarded to participants who attend the whole conference!
You won't want to miss this opportunity for growth and community this summer!