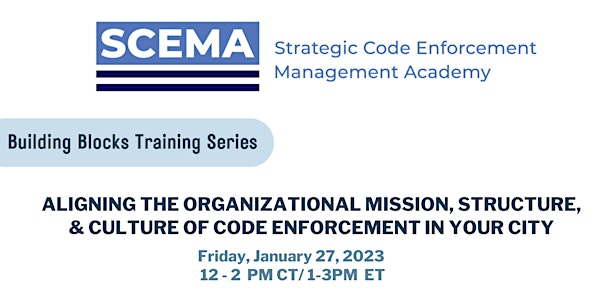 SCEMA BUILDING BLOCKS TRAINING SERIES #1
This training will apply lessons learned to share strategies and and techniques for enhancing and sustaining your code enforcement team
About this event
When local governments recalibrate their code enforcement programs to become more systematic and strategic, they tend to focus first on adopting new or revamping existing programs, strategies and legal tools (the hardware of Strategic Code Enforcement) but often postpone the necessary work of cultivating the development and leadership of their inspectors, staff, and managers (the software of Strategic Code Enforcement). When Eric Booker came to Baltimore in 2004, elevating staff and rebuilding the organizational culture of housing code enforcement became a top priority, his efforts later set the stage for how Baltimore's housing code enforcement division became a national model.
In this first offering of SCEMA's new Building Blocks training series, Deputy Commissioner Booker will seize on lessons learned from Baltimore's code enforcement transformation to share strategies and techniques for cultivating, enhancing, and sustaining the accountability and "Esprit de Corps" of your code enforcement team.
During this hands-on session you will:
1) Compare code enforcement missions and with your peers;
2) Build a compelling case for organizational change;
3) Learn how to realign organizational structures, roles and responsibilities to the new mission;
4) Understand why it's essential to celebrate code enforcement successes and help your team learn from its mistakes; and
5) Prepare for navigating leadership and staff transitions.
About the facilitator:
A Baltimore native, Eric Booker has extensive professional experience working for Fortune 500 companies, including Exxon Mobil and Verizon. He is a strategic planning, leadership development, and operations specialist who has extensive experience in civic engagement, community organizing, and redevelopment. He is also a former military officer, who was discharged with honors from the United States Army.
Mr. Booker is currently the City of Baltimore's Deputy Commissioner for Permits & Code Enforcement. He began working for the Department of Housing & Community Development as a Division Chief in 2004. Following promotion and tenure as Assistant Commissioner, Mr. Booker was again promoted to his current role as Deputy Commissioner. He is responsible for property maintenance inspections and emergency operations for the Department. Mr. Booker earned a master's degree in management and finance from Notre Dame of Maryland University and a bachelor's degree in business administration from Howard University.