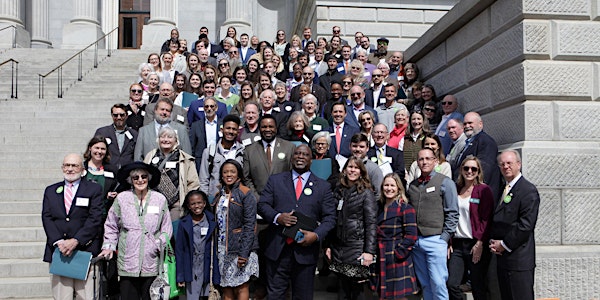 SC Conservation Coalition Lobby Day & Oyster Roast 2022
Join us for a fun day of lobbying and networking with Conservationists from across South Carolina!
When and where
Location
The State House 1100 Gervais Street Columbia, SC 29201
About this event
Join the SC Conservation Coalition, a statewide alliance of over 40 conservation organizations, on Tuesday April 26th for our 19th annual Lobby Day at the State House and Oyster Roast at 701 Whaley Street!  Be a part of making an impact at the State House while networking and celebrating conservation with fellow volunteers, staff, and elected officials. The agenda is below (*This schedule is subject to change based on the legislative calendar.) Please dress comfortably for a day of walking and standing. Most people will be in business casual.
Please note that we understand you may not feel comfortable with in-person events and have created a Virtual Ticket option where you will be emailed materials and instructions on how to contact your legislator. 
All who register for Lobby Day will also be registered for an Issues Training to be held virtually at 12pm on Monday, April 25th, the day before Lobby Day. The purpose of the training is to go over the legislation we'll be educating legislators about and to answer any questions you may have. The training will be recorded so you will be able to watch or listen to it Monday night or the morning of Lobby Day if unable to participate live.
An optional Advocacy 101 training will also be held virtually at 6pm on Thursday, March 17th by Audubon South Carolina for those who are new to Lobby Day and for those who want a refresher on best practices in lobbying your elected officials. Register HERE for Advocacy 101.
19th Annual Conservation Lobby Day & Oyster Roast Schedule: Tuesday, April 26th 2022
10:30 am -- Meet at the Palmetto Club located at 1231 Sumter St, Columbia. Coffee and light breakfast items will be available as we get a last minute update on the issues, connect with other advocates, and receive lobby day materials. Garage parking is available at 1230 Lady St, located in between the backside of the Palmetto Club and First Citizens Bank. The gate should be up, but if not, press the red button. Do not park in reserved spaces. Metered street parking is also available.
12:00 pm -- Group Photo on North State House Steps (Gervais St. side)
12:15 pm -- Lobbying Begins. Enter the State House at the Visitor Entrance on the East Side (Sumter St./left). Representatives will have already convened in the House Chamber at noon.
2:00 pm -- Lobbying continues as Senators convene in the Senate Chamber.
5:30 - 8:00 pm -- Legislative Reception & Oyster Roast at 701 Whaley Street in the Market Building Vegetarian chili will also be served.
*Please note that you are free to leave and eat lunch at whatever time is most convenient for you.
**The schedule is subject to change based on the legislative calendar.**
For questions or concerns throughout the day, please call or text Katie at 803-360-3358.