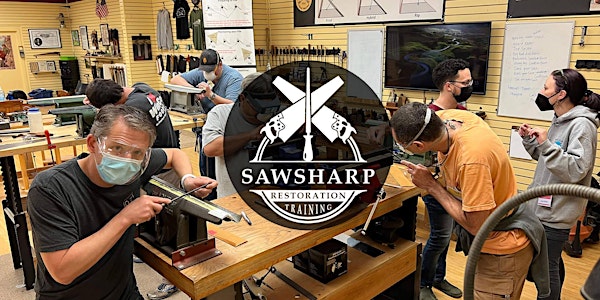 SawSharp 2-Day Weekend Seminar (Basic)
An intensive 2-day saw tune-up and sharpening seminar at the Bad Axe Tool Works workshop in Superior, Wisconsin. Take home your own Bad Axe!
By Mark Harrell, Founder SawSharp, Bad Axe Tool Works
Date and time
June 16 · 8:30pm - June 17 · 4pm CDT
Location
Bad Axe 69 North 28th Street Suite #31 Superior, WI 54880
Refund Policy
Refunds up to 7 days before event
Eventbrite's fee is nonrefundable.
About this event
19 hours 30 minutes

Mobile eTicket
Once a quarter, we gather together up to six highly motivated hand tool enthusiasts for a basic weekend saw tune-up and sharpening seminar at the Bad Axe Tool Works workshop in Superior, Wisconsin. You will go home with the ability to fresh edge on your saws along with the knowledge how to expand your skills even further.
We spend about 1/4 of the time on instruction and theory, and 3/4 of the time with concrete, practical application. No death by PowerPoint. No pontificating on saw geek arcana to muddy the waters, and no gadgets or jigs. Instead, we cover the basics, and with file in hand, slap spring steel into one of our Acme Saw Vises and get on it, with loads of practical application under our oversight.
Throughout the process, you'll absorb how to do the basics well under our oversight. To sum it up, the course is actually just a lot like woodworking: there are those who talk about it, and those who actually do it.
Upon course completion, you'll know how to put a fresh edge on a toothline and how to keep your saws tuned up and running. Our advanced seminar will enable you to We encourage you take the next step and pick up a challenged old saw off eBay and breathe new life into it--pulling that off creates a sense of satisfaction that gives the term 'self-reliance' a far deeper meaning.
Saw Filing Weekend Seminar Schedule & Program of Instruction:
Friday:
0900-1200: Saw filing theory and practical application.
1230-1300: Lunch. Don't go anywhere. Bad Axe caters lunch ($10 per day surcharge). Alternatively, you may bring your own. Just be ready to go at it again at 1300.
1300-1615: Saw filing theory review, & practical application.
1615-1630: Day One review, and release to quarters and dinner. Volunteer mission: pub crawl across the bridge in Duluth's Canal Park District.
Saturday:
0830-1500: 1-on-1 practice & application. Demonstrations & round-robin classes on hammer-smithing, file sizing techniques for crowding a toothline & Henry Disston story.
1500-1530: Course review and Q&A, followed by release.
1530-1600: Stay-behind assistance; door close at 1600.
Curriculum:
Hand and Back Saws for cutting wood in general:
Anatomy and use of hand saws, panel saws and back saws.
Advantages of Western saws over Japanese pull saws.
How to evaluate a vintage saw as to whether it is a potential user or a wall hanger.
How to date a saw (www.disstonianInstitute.com)
How to buy saws without throwing your money away.
Tools of the Trade:
Operate a saw toother on new plates, when and when not to re-tooth a saw plate.
Shape teeth on a saw filer.
Understand the advantage of hammer sets over plier sets.
Hammer-set a toothline.
Mount a saw plate in a saw vise for jointing and repositioning it for filing.
Use a simple array of tools to completely disassemble a backsaw (including removing the back), & reassemble.
Clean and sharpen spring steel with mill bastard files and taper files.
Saw Accessories: bench hooks and saw benches.
Terms of Reference and Tooth Geometry
Types of Cut: Rip, X-Cut & Hybrid .
Nomenclature: heel, toe, spine, toothline, sawback, etch, open/closed handles.
Dot your teeth with a sharpie.
How to look at the toothline without going bug-eyed.
Take your visual cue from the tooth leaning away from you.
Filing facets to keep your rake.
Angles shmangles. Go with high noon for rip, one o'clock for hybrid, and two o'clock for x-cut. Flip, and then go with high noon for rip, eleven o'clock for hybrid, and 10 o'clock for x-cut.
Warm up on a crappy sawplate first.
How to file using proper body English (don't be timid, hesitant, or lacking in self-worth).
Filing pattern: brush, grind, brush.
Backsaw maintenance and pre-sharpening overview
Tooth a saw plate.
Set teeth with a 1870's vintage hammer set.
Joint the tooth line.
Shape the teeth.
Hand-file the teeth overview (and how to look at them without going bug-eyed).
How and when to stone the toothline.
Why and how to flex the sawplate to determine whether a saw is salvageable or not.
Hammer-smith a kinked and/or bowed sawplate (demonstration).
Disassemble a backsaw in its entirety.
How to mount the back of a traditional backsaw.
How to mount the handle.
Fastener removal, cleaning & repair.
Sawplate cleaning methods.
Retension a vintage backsaw (practical exercise).
DIY Horn Repair (discussion).
Build a dynamite saw shipping box.
Sharpening and more sharpening
Safety considerations (use your dust mask and goggles, always).
Learn all about taper files and how to size them appropriate to pitch.
How to use sight, touch, and light reflection to dial in a toothline.
How to hold and push the file with good tips on body English and how to avoid common mistakes.
How to stone the toothline.
Practice, practice, practice, with 1-on-1 assistance.
Build your own Bad Axe, with complete access to all handles, plates, backs and fasteners. Don't worry—we'll help you get it dialed in with a custom fit and look, as if we were the one's building it for you.
About the organizer
Once a quarter, I gather together up to 6 exceptionally cool people for an intensive two-day saw tune-up and sharpening seminar at the Bad Axe Tool Works workshop in Superior, Wisconsin. You will even go home with your own Bad Axe that I help you build to spec. Ready to go for the full Monty? We also offer an exclusive 4-student week-long seminar for those of you who want to go the extra mile.