Saving/Investing for the Future: How To Build Wealth While Working
Saving/Investing for the Future: How To Build Wealth While Working
About this event
About this Event
What does your financial future look like? How will you build wealth – what are your goals? If you are ready to use investing as a personal goal to build wealth and future financial security, this workshop brought to you by financial expert Jeanna Pryor of Pryor Financial Services, LLC, is for you. In this workshop, Jeanna Pryor will share options on how to build wealth while working and share resources on where to go for help.
Please register in advance for this meeting:
https://us02web.zoom.us/meeting/register/tZYtcOqgqzssG9xHOfzPL0PV5Aafjkt64Lhd
After registering, you will receive a confirmation email containing information about joining the meeting.
=================
About Jeanna Pryor:
Jeanna Pryor, Founder and CEO of Pryor Financial Services LLC., is an accredited wealth strategist and financial counselor with the Association for Financial Counseling & Planning Education and was a registered securities representative at Morgan Stanley Wealth Management. Jeanna has a robust portfolio of corporate and military financial expertise.
Jeanna served over 36-years in the U. S. Air Force (Colonel, retired). She was hand-picked to be the Director Resource Management for the White House Communications Agency, Director of the DoD Defense Financial Management and Comptroller School, and Commander of the Air Force Financial School. Additionally, she completed the rigorous Certified Financial Planning curriculum at Georgetown University. Jeanna ran a non-profit financial literacy and empowerment organization and taught Dave Ramsey's, "Financial Peace" classes for three years. She is also the author of "Every Penny Counts – How to Become a Middle-Income Millionaire".
By helping clients find money they may be throwing away unknowingly and unnecessarily, she systematically repositions those funds efficiently for her clients. Jeanna's passion for this industry is what is behind her belief that Pryor Financial Services "creates personalized solutions for your financial success and generational wealth." She thrives in helping individuals and business owners".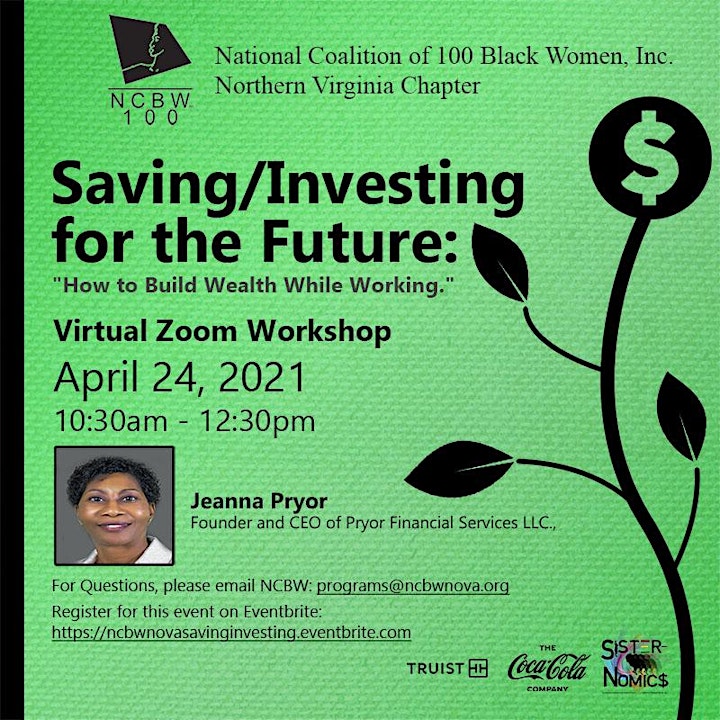 Organizer of Saving/Investing for the Future: How To Build Wealth While Working
About the National Coalition of 100 Black Women - The mission of the National Coalition of 100 Black Women, Incorporated (NCBW), is to advocate on behalf of black women and girls to promote leadership development and gender equity in the areas of health, education, and economic empowerment.
The NCBW was launched on October 24, 1981, with representatives from 14 states and the District of Columbia, and selected Jewell Jackson McCabe as its first National President.  Its mission is to advocate on behalf of women and girls of color through national and local actions and strategic alliances that promote the NCBW agenda on leadership development and gender equity in the areas of health, education, and economic empowerment.  The rapidity by which the organization has grown is attested to by its membership of over 2,500 members and 61 chapters in 25 states.
The Northern Virginia Chapter, chartered with 35 members on January 22, 1984, under the leadership of Dr. Evelyn Reid Syphax, is committed to improving the quality of life of Black women and girls, their families, and their communities. The Chapter is currently involved in several other projects, all of which address the critical concerns of the founding organization to significantly impact the education, economic, political, and health awareness of the lives of Black Women.