SATURDAY - DevOps Culture Simulation (with Lego & Chocolate)
Description
*** Special weekend class.
Designed for busy Agile and DevOps professionals in the Tri-State Area and Beyond
***
Pick from the following two options:
Option 1 (4 hours) - learn about DevOps through the simulation
Option 2 (7 hours, includes lunch) - Option1 + learn how to run this simulation with your teams + get your own Starter Kit.
Option 1: Unique simulation that makes DevOps topic accessible to all!
Organizations today can no longer afford to deliver new products or new features to their respective markets once a year or even once a quarter.
While not everyone can reach the rate of change that Amazon reports, adopting DevOps can help an enterprise significantly shorten their lead time and increase the deployment frequency. All while achieving much
lower change failure rate, higher availability and better security.

The Introduction to DevOps (with Lego and Chocolate) Simulation workshop enables everyone in an organization to gain a solid understanding of foundational principles of the DevOps culture and experience the
benefits of DevOps transformation even before initiating one in their company.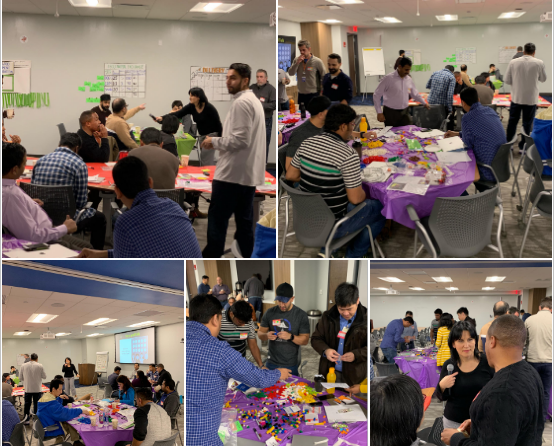 Ideally designed for organizations that are

Evaluating their approach to DevOps transformation

Making their first steps in adopting DevOps practices

Noticing the gaps left by "automation only" approach to DevOps.
This course

Is based on real-life examples from medium to large size organizations

includes the latest findings from the State of DevOps report

delivers key ideas from "The Phoenix Project" by Gene Kim

provides gamified experiential learning in a short and effective format

facilitates a number of debriefings to draw parallels between the issues highlighted in the simulation and some of the similar issues the learners may have in their organizations.
The course is designed for a broad audience, enabling participants to gain the insights into the "Why" and the "What" of the DevOps before jumping into the "How". Through this powerful role-based simulation, participants experience the benefits of cross-training, learn to eliminate silos, adopt systems thinking and practice optimizing the flow of value from business to development and to IT operations.
This unique simulation uses LEGOs, Chocolate, role cards as well as principles of "Training from the Back of the Room" by Sharon Bowman to maximize engagement and enable the shift of the learners' mindset from reluctant sceptics to supporters and advocates of DevOps culture.
What people say about DevOps with Lego and Chocolate Game:
"Lot's of fun, great energy and group dynamic. Tangible illustration of benefits of DevOps-> CI-> CD"
"Game got people to realize (via actions) how much value there is in learning about what people in different groups do"
"Fun, Informative, Interactive - drove home important key real live problems"
-------------------------------------------------------------------------------------------------------------------------------------------------
Option 2: Facilitator Training Option
Are you a coach, a trainer or a change agent on a mission to help your organization embrace DevOps? Are you tired of hitting the wall while trying to explain to people that DevOps is not just Jenkins, AWS and automation?
Come to this training to add one of the best DevOps culture introduction simulations to your toolkit. Unlike some other games in this space, DevOps with Lego and Chocolate Game can be facilitated in under 3 hours. The game simulates dynamics of a large enterprise and scales well to groups from 12 – 50 people.
This training includes all the latest game modifications (2018 version) delivered to you by the game creator!
What will you take home with you:
1) DevOps Simulation Starter Kit
(Contains all the game components you'll need to add to your favorite brand of chocolate and your favorite set of plastic bricks)
2)
A deck of Role cards for up to 21 players
3)
A signed copy of Dana's "Introduction to DevOps with Lego and Chocolate" book
4)

L
atest 2018 version of the simulation introduction slides (Power Point)
5)
A printed handout with the content covered in facilitator training
6) A deck of "Fear in the Workplace" game designed to put a spotlight on 3rd Way of DevOps.
7) Certificate of completion
8) One year of support for your own facilitation of this simulation.



About Introduction to DevOps with LEGO and Chocolate game:
Inspired by "The Phoenix project" as well as Dana's hands-on experience (10 years on the Dev side and 2 years on the Ops side). Developed using principles from Game Design, Gamification and Training from the Back of the Room.
Originally created in 2014, the game has been delivered to over 900 people in 15 countries. Facilitators in other countries helped translate it to Spanish, French, Russian and Chinese. Check it out on YouTube
If you purchased your class on CourseHorse, then our Refund & Cancellation policy applies to your purchase. If you are entitled to a refund, or have any questions, please visit the CourseHorse site and contact their customer service team.
Organizer of SATURDAY - DevOps Culture Simulation (with Lego & Chocolate)
As an Agile/DevOps coach and trainer with over 20 years of diverse experience in IT, I bring unique perspective and stories "from the trenches". I've had an opportunity to work with co-located and distributed teams in US, Canada, Ireland, Japan, UK, India and Russia, and can share with you their distinct challenges, successes and effective practices. 
In the last 4 years, I trained over 2000 people, coached 30 + teams and delivered workshops and lectures at 50 conferences in 15 countries. I am actively involved in Agile community in various roles as a volunteer, reviewer, track chair, program chair and conference chair. I am the founder of Big Apple Scrum Day conference and NYC Liberating Structures meetup in NYC.
I am an educational games designer and author – check out my "Introduction to DevOps with Lego, Chocolate and Scrum" book published by Apress, "Self-selection game" on Leanpub and "Fear in the Workplace" game on The Gamecrafter.
My list of certifications includes:
 Certified Professional Co-Active Coach (CPCC) by Co-Active Training Institute
ICAgile Certified Professional - Agile Coaching (ICP-ACC), 
Scrum Alliance:
Certified Enterprise Coach® (CEC), Certified Scrum Professional® (CSP), Certified Scrum Master® (CSM), Certified Scrum Product Owner® (CSPO)
Certified Trainer, Training from the Back of the Room (TBR-CT), 
Certified LeSS Practitioner, Certified Practitioner Scrum@Scale, 
Kanban Management Professional, Lean Kanban University