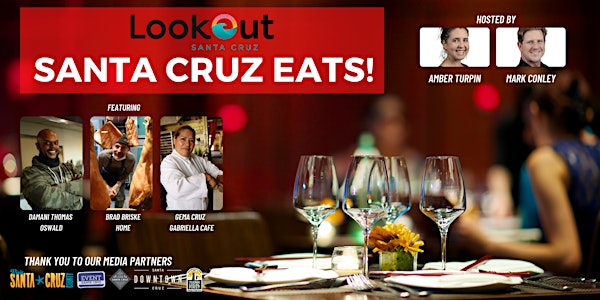 Santa Cruz Eats!
After COVID limbo, Santa Cruzans are ready to step up their dining games. Lookout chows down on how our town's top chefs are gearing up.
About this event
Enough with those carry-out containers! The COVID winter of Santa Cruzans' dining discontent is about to be over.
With a full reopening on the horizon in June, Lookout and Event Santa Cruz have assembled a trio of top chefs to discuss their survival skills amid the pandemic and, more importantly, their plans for serving a population hungry for social interaction, ambiance, and, of course, good food and drink.
Damani Thomas, owner and chef at Oswald; Brad Briske, co-owner and chef of HOME in Soquel; and Gema Cruz, chef at Gabriella Cafe, will join Lookout for a virtual conversation at 6 p.m. on Tuesday, May 4, hosted by Lookout dining contributor Amber Turpin and Deputy Managing Editor Mark Conley.
"Santa Cruz Eats!" is part of Lookout's COVID 2021 series, a special initiative to do deep reporting and community engagement on the pandemic and economic recovery.
Thank you to our media partners: Visit Santa Cruz County, Think Local First, City of Santa Cruz Economic Development Department, and Downtown Association of Santa Cruz.