SAFe® Advanced Scrum Master with SASM Certification
Sales Have Ended
Ticket sales have ended
Thank you for ordering you will receive an email with specific information for your class.
Sales Have Ended
Ticket sales have ended
Thank you for ordering you will receive an email with specific information for your class.
SAFe® Advanced Scrum Master with SASM Certification
About this event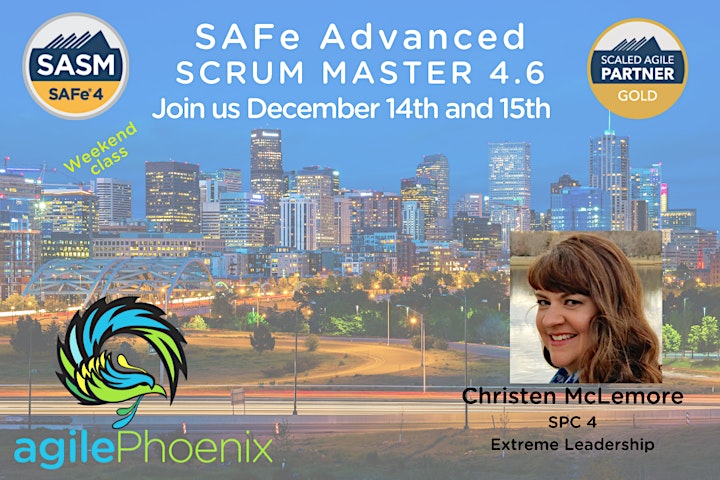 Course Description:
This two-day course prepares current Scrum Masters for their leadership role in facilitating Agile team, program, and enterprise success in a Scaled Agile Framework (SAFe®) implementation. The course covers facilitation of cross-team interactions in support of program execution and relentless improvement. It enhances the Scrum paradigm with an introduction to scalable engineering and DevOps practices; the application of Kanban to facilitate the flow of value; and supporting interactions with architects, product management, and other critical stakeholders in the larger program and enterprise contexts.
The course offers actionable tools for building high-performing teams and explores practical ways of addressing Agile and Scrum anti-patterns in the enterprise.
Your amazing trainer is Christen McLemore!
Christen is a recovering Project Manager and Agile Purist. With decades of practical experience coaching, leading agile transformations and consulting Fortune 100 companies, she took the leap to start her own business. She is dedicated to serving the agile coaching community by promoting Leadership, Love and Belonging!
With her quick wit and loving irreverence, Christen is known for her raw and humorous discussions with people struggling to be brave and successful in today's sometimes callous, alienating workplaces. People appreciate her thoughtful, direct and grounding guidance that almost always ends with a mutual laugh and an f'bomb for good measure.
Christen lives in Denver, Colorado with her rescued Great Pyrenees mix, Ripley (named after Ellen Ripley from Aliens!). You'll likely find the two of them camping, finding new places for inspiration and visiting with friends year round.
Organizer of SAFe® Advanced Scrum Master with SASM Certification
At Agile Phoenix, our passion is in helping ease our client's through the challenges of adopting agile and agile at scale with the Scaled Agile Framework (SAFe). We carefully listen to our clients and work to be especially cognizant of their unique struggles to enterprise lean-agile adoption. Our accredited SAFe instructors provide attendees with meaningful, contextual examples to accelerate learning by using real-world scenarios to demonstrate the successful impacts of SAFe practices in the workplace. Instructors are carefully selected for their EQ (emotional intelligence) in addition to their proven hands-on SAFe transformation experience. We welcome those that attend our classes to ask us the hard, awkward questions. All our instructors are unified with the mission to develop strong SAFe practitioners prepared to support enterprises with the creation of better software and systems to make the world a better place.
In addition to our public SAFe training, we offer private on-site training courses, consulting, and coaching to support enterprise adoption and transformation.
Agile Phoenix became a SAFe Gold Transformation partner in 2019 and is a women-owned and operated small business
To learn more: Email info@agilephoenixenterprises.com or call us (703) 662-5969