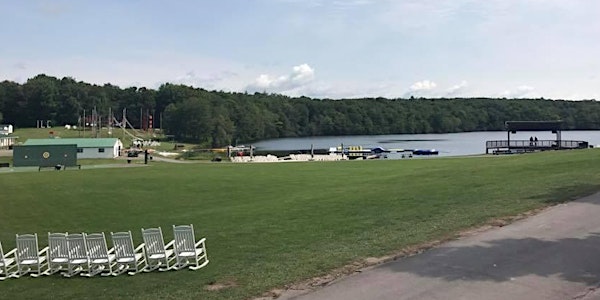 RushCamp! 2017
When and where
Location
Independent Lake Camp 70 Clark Road Thompson, PA 18465
Description
RushCamp! 2017 presented by Overtime Angels
A weekend celebration of the music of Rush, lakeside in the Pocono Mountains
Overtime Angels, Inc., a 501(c)3 charitable organization is pleased to announce that it is time for Rush fans to enjoy a weekend of summer camp! RushCamp! 2017 will be held Labor Day weekend from Friday, September 1st, 2017 at 5pm until Sunday, September 3rd at 12pm. Admission is limited to 250 people.
*** Announced on 8/1 - new ticket options and prices ***
Ticket prices are as follows:
$ 59 "Freedom of Music" – enter/depart on Sat 9/2, no overnight, no meals
$129 "Smaller Bowl" – enter/depart on Sat 9/2, no overnight, three meals
$179 "Larger Bowl" – enter on Sat 9/2, depart Sun 9/3, one overnight, four meals
$199 "New World Plan" – enter on Fri 9/1, depart Sat 9/2, one overnight, four meals
$279 "The Pass" – enter on Fri 9/1, depart Sun 9/3, two overnights, five meals

A portion of admission price will be tax deductible.*
Admission includes:
Up to two nights sleeping accommodations - a bunk in a shared cabin with electricity and attached bathroom with indoor toilets, sinks and showers
Up to five buffet style meals (Fri: Dinner; Sat: Breakfast, Lunch, Dinner; Sun: Breakfast), beverages and snacks
Swimming, boating and yoga (a celebration of Canadian Buddhism)
On Friday, as summer's going fast and nights grow colder, there will be a welcome reception by the camp fire with introductions and entertainment by some very special guests
On Saturday, break your fast on honeydew and get ready for as much Rush music as you can handle. All day and into the evening, some of the finest musicians around will pay tribute to the band that has been such a profound influence on our lives
Access to bid in our huge silent auction with some special Rush inspired items
Fun giveaways and non-stop Rush fun
The fellowship of other devoted and passionate Rush fans just like you!
OTHER SURPRISES
RushCamp! will held at Independent Lake Camp (ILC) – http://independentlake.com. ILC is in the northern tip of the Pocono Mountains near Scranton, Pennsylvania, approximately 2.5 hours from Philadelphia, 3 hours from New York City. The camp is set on 300 pristine acres and includes the beautiful private waterfront on the 100-acre Independent Lake. This is a rain or shine event! ILC has fabulous indoor spaces for us to hold the event in case of severe weather.
We are honored that the following artists & bands will perform...
Friday evening:
David Barrett - http://www.davidbarretttrio.com/ is a Canadian-made composer and performer, specializing in redefining the boundaries of progressive rock and instrumental soundscapes. He has been featured in international magazines including Guitar Player, Premier Guitar, and Vintage Guitar. In 2010, David Barrett founded the David Barrett Trio, an instrumental progressive rock power trio. Their self titled debut album was produced by Richard Chycki, Alex Lifeson, and Alan Parsons. DB3 has also collaborated with acclaimed singer/songwriter Jacob Moon, and Celtic guitar virtuoso Tony McManus. Currently they are working on their third album with Michael Sadler (vocals), and Terry Brown (producer).
Michael Sadler - http://www.michaelsadler.com/ is a Canadian music icon who needs little introduction. His progressive rock band, Saga has been awarded gold and platinum albums worldwide and has sold more than 8 million albums. He has played to tens of thousands of enthusiastic fans, all over the world and has appeared in countless broadcast and print interviews.
On Saturday:
In addition, we will complete the day Saturday with an all acoustic set featuring the following artists:
*** Announced on 7/7 - Our friend Dr. Donna Halper will join us via Skype for breakfast on Saturday morning ***
RushCamp! was born out of RatCon, the largest independent yearly gathering of Rush fans in the United States. Between 2009 and 2015, RatCon was held at private residences and over time the event grew from 20 to 40 to 80 to 100 fantastic fans and friends. Overtime Angels was launched at RatCon 2014 to help individuals in need that might not be able to receive help from large charitable organizations. RushCamp! allows the accessibility of the event to be increased to include even more like-minded, fun rocking Rush fans who also like to give back in a small way.
"As an original attendee of RatCon in 2009 and each epic event since, on behalf of Overtime Angels, I feel fortunate and blessed to be able to offer an upsized event that allows us to raise much needed financial assistance for some people truly in need while we celebrate the music of Rush with some fantastic musicians and wonderful fans and friends." said founder & president Michael Rosenthal. "Rush has always set an example of giving back with generosity and mindfulness and as fans this is one way we can honor all the priceless memories that Geddy, Alex, Neil and their crew have provided all of us."
* A portion of this ticket price will be tax deductible (estimated at least $25 per ticket). Overtime Angels will provide a specific disclosure with Fair Market Value to each purchaser after the event. You should consult your tax advisor regarding value determination for tax purposes.