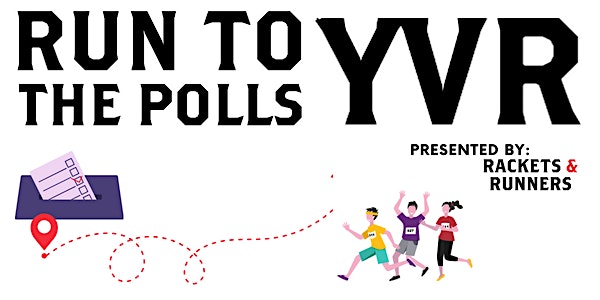 Run to the Polls YVR
The next Vancouver Municipal Election is fast-approaching! As young, active people in the City, we have a lot to gain from casting a ballot
When and where
Location
Rackets & Runners 3880 Oak Street Vancouver, BC V6H 2M5 Canada
About this event
Running is all about community, but we often forget about some of the things we are commonly affected by, beyond our favourite shoe brand releases and sales. As this year's municipal election approaches, we have a chance to choose the decision makers who weigh in on our parks, public transit, sidewalks, and other essential services.
On Sunday, September 25, join the team at Rackets & Runners and your local Youth Election Ambassador for a free 5 or 8km guided route that includes non-partisan education on topics such as:
How do you check to see if you are registered to vote?
What roles are we even voting for at the upcoming municipal election?
What areas can I (and can I not) expect City of Vancouver officials to support change within?
What are some ways that we can hold elected officials accountable beyond voting?
How do I know where my local voting site is?
Where can I learn more about this year's candidates?
In addition to the guided runs, there will be an opportunity to pick up some educational election materials and to win sweet running prizes and gift cards to Rackets & Runners, which is conveniently located just north of King Edward Ave W and Oak St.
Please note that we are particularly interested in reaching eligible voting runners aged 30 and under. We welcome runners of different ages and backgrounds to participate, but the team at CityHive is especially interested in increasing the voter turnout in this underrepresented age group
FAQs
Is this event for me??
Are you 30 or younger? (we can be a bit flexible on this ;) )
Do you live in the City of Vancouver?
Do you enjoy running with other people?
Are you looking for more of a running community here in Vancouver?
Do you enjoy prizes and sweet running discounts?
...if so, then YES!
Is there a safe place to store my personal belongings?
Yes. A member of the Rackets & Runners staff team will be on-site to keep an eye on all items stored at our start/finish location
What are the routes?
The 5km and 8km route options will be emailed to participants one week out from the event. In general, they will be around the Shaughnessy, Kitsilano, and Arbutus Ridge neighbourhoods, and will include several stops and/or learning points of interest to highlight the many parts of your day-to-day running route that are affected by municipal political decisions.
How long will the event be?
In the interest of respecting individuals' time, you will be free to leave at the conclusion of your 5 or 8k run (less than an hour after your start time), where you will be able to pick up a goodie bag and see if you were a raffle prize winner. If you are interested in discussing the election or the Oak Street Run Club in more depth with our event volunteers, you are welcome to hang around to have a conversation and pick up some reading materials.
What pace can I expect the run to be?
We will have run leaders on hand to support different paces ranging between 6:45-5:15/km to ensure that the group is able to stay together while also having the opportunity to run at a comfortable pace. Participants shouldn't expect this to be an intense speed workout or a "PR course" kind of day - the focus of the run is more on being social and educational while also providing a bit of a sweat
Will any candidates be endorsed at this event?
NO. This is a completely non-partisan event, serving solely as a source of essential election information to help Vancouverites get to the polls this fall. We guarantee that you will not be pressured to vote for any particular policy or candidate
Where will the group be meeting, and what time should I arrive by?
About the Organizers
Vancouver Youth Election Ambassador - Geneva Calder
Geneva is a local road runner and city issues enthusiast who has recently taken on the role of "Youth Election Ambassador" with the City of Vancouver and CityHive in advance of the upcoming municipal election. Since moving to Vancouver from Toronto in November 2021, Geneva has jumped into the local running community by joining the Oak Street Runners run club, and racing in the Vancouver Historic 10km, Chilly Chase 15km, Vancouver Half, and BMO Vancouver Marathon. She has spent this summer connecting with other social run clubs in the city, including Mondays Run Club, YVR Social Run Club, Fraser Street Run Club, Turf Living, and East Van Run Crew.
In her role as an Election Ambassador, Geneva's goal is to help educate and inform as many Vancouverites as possible about the upcoming election, helping to get a higher turnout at the polls to ensure that more people (especially young people 30 and under) are represented in the election day outcomes. Leveraging her roots in the local running community, she hopes to empower local runners, in particular, to get out to the ballot box on October 15 so that we as a collective can continue to have a say in how our city is built and molded to meet our needs as healthy and active citizens.
Get in touch with Geneva to discuss anything event, politics, or running-related by sending her an email at geneva.calder@hotmail.com or connecting with her on Instagram @geepc.
Whether it's a shoe, racket, paddle or sports bra, we want you 100% happy and confident in your sports gear. And if for some reason you're not, we'll make it right.
We may be over 40, but we are only old school in our commitment to providing exceptional service. Our staff are fit experts on the latest gear and are passionate about finding you the perfect fit.
We strive to provide the selection, quality, speed and dependability of the big guys. #shoplocal.
We can't wait to fit you!
Vanda, Kevin & Nadia
Rackets & Runners is located at 3880 Oak Street, just north of King Edward Avenue. You can get in touch with the store by phoning 604-733-9211 or by sending an email to info@racketsandrunners.ca.