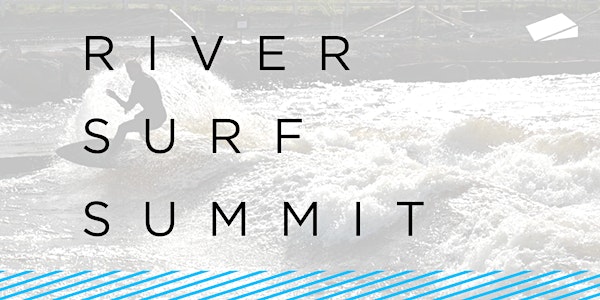 River Surf Summit
Refund Policy
Refunds up to 30 days before event
Description
It's not very often a small group of people get together to change the world. When it happens, an energy radiates through the room and ripples into the lives for years after. The relationships formed here will go beyond physical boundaries and unite us in a mission to spread the love of surfing to millions more. The future is in our hands and it's up to us to shape it.
River Surf Summit - Tickets
Saturday, October 7, 2017
Please only register one ticket type per person.

Wave Building Workshop -$115
8:00am - 1:00pm (Includes the rest of the day - no other registration is required to attend later events)

4 Hour Intensive with lunch included.
Attendees are expected to work through in depth subjects in a short amount of time.

Resources will be provided and further contact with presenters is available to attendees. Attendees will leave with a clear understanding of what makes a site viable for a surf wave, project next steps for their project, how to maximize their chances at success in a minimum amount of time.





Community Building Afternoon - $60
1:00pm - 6:00pm (Includes the evening but no access to the morning -no other registration is required to attend the social)

4 hour Curated Discussion and Presentations
Attend an informal discussion based session with the goal of covering important topics in river surfing today. Presentations include business and Community, River Surfing Assocaitions, Future of the Sport, and Working with Cities and Stakeholders.



Evening Social - $20
6:00pm - 9:00pm (Includes evening only, no access to morning or afternoon)

Surf travelers mingle with Bend locals to share surf stories, ocean and river, and cheers a beer with all the influencers of river surfing in the West.

As part of the summit a Meet & Greet will take place the Friday evening before at the wave as well as a Sunday Funday surf but registration is not required.



If cost is a deterrent please contact us directly.
jacob.kelly@surfanywhere.ca