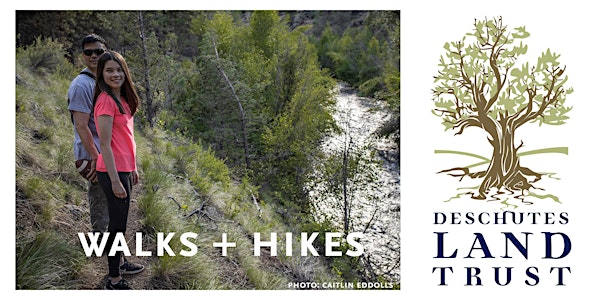 River + Fen Hike, Metolius River Preserve
Join David Miller for a tour of the Metolius River Preserve.
About this event
Join the Deschutes Land Trust and David Miller for a tour of the Metolius River Preserve. We'll hike a portion of the beautiful west side Metolius River Trail from Lower Bridge Campground south towards the Preserve. Enjoy fall colors while you explore the area's mixed pine, cedar, and spruce forest. Then, dig deeper into the Preserve's super cool fen and learn more about this special kind of wetland. Registration is required and opens 1 month prior to the event.
Face masks: Per Oregon Health Authority (OHA) guidelines, face masks are no longer required indoors or outside. Individuals who wish to wear a face mask may do so.
Hike Rating: This is a moderate 3-4 mile hike on established trails.
Route: This hike will start at Lower Bridge Campground and follow the Metolius River Trail along the river and through the forest. Terrain will be uneven at times.
Elevation gain/loss: There is very little elevation gain/loss on this hike.
What to Bring: Snacks/lunch, water, closed toe shoes. Dress for the weather.