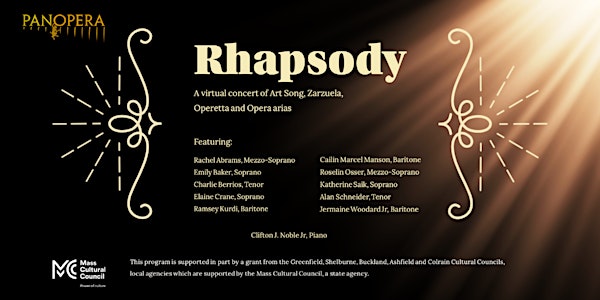 Rhapsody
PANOPERA presents a virtual concert of an exciting and eclectic mix of Art Song, Zarzuela, Operetta and Opera arias. Suggested donation $10
Refund Policy
Contact the organizer to request a refund.
Eventbrite's fee is nonrefundable.
About this event
Ten singers perform some of their favorite pieces accompanied on piano. Classical music fans will be delighted to hear timeless favorites alongside some lesser well-known gems.
Accessing the Concert:
Each performance has its own unique URL. Register for free or with a donation to easily access the performances via this event's page and to recieve an email reminder with a link. Should any unforeseen technical issues arise during the streaming of the event, those who register will be emailed instructions on an alternate method of viewing the performance.
Program:
Clifton J. Noble Jr, Piano
Art is Calling for Me (The Enchantress) Victor Herbert (1859-1924)
Elaine Crane, Soprano
Ah! Si ben mio (Il Trovatore) Giuseppe Verdi (1813-1901)
Charlie Berrios, Tenor
Sorge infausta una procella (Orlando) George Frideric Handel (1685-1759)
Jermaine Woodard Jr, Baritone
Song to the Moon (Rusalka) Antonín Dvořák (1841-1904)
Emily Baker, Soprano
La Calunnia (The Barber of Seville) Gioachino Rossini (1792-1868)
Ramsey Kurdi, Baritone
Embroidery Aria (Peter Grimes) Benjamin Britten (1913-1976)
Katherine Saik, Soprano
La vague et la cloche Henri Duparc (1848-1933)
Cailin Marcel Manson, Baritone
Connais-tu le pays (Mignon) Ambroise Thomas (1811-1896)
Rachel Abrams, Mezzo-Soprano
Violin Aria (The Tales of Hoffmann) Jaques Offenbach (1819-1880)
Roselin Osser, Mezzo-Soprano
The Vagabond (Songs of Travel) Ralph Vaughan Williams (1872-1958)
Alan Schneider, Tenor
Chanson Romanesque (Don Quichotte à Dulcinée) Maurice Ravel (1875-1937)
Ramsey Kurdi, Baritone
To This We've Come (The Consul) Gian Carlo Menotti (1911-2007)
Emily Baker, Soprano
Love, Let the Wind Cry Undine Smith Moore (1904-1989)
Rachel Abrams, Mezzo-Soprano
Darf des Falken schwinge (Zigeunermelodien Op. 55) Antonín Dvořák (1841-1904)
Alan Schneider, Tenor
O ne rydai, mai Paolo (Francesca da Rimini) Sergei Rachmaninoff (1902-1943)
Katherine Saik, Soprano
Ah per sempre io ti perdei (I Puritani) Vincenzo Bellini (1801-1835)
Jermaine Woodard Jr, Baritone
Coeur sans amour (Cendrillon) Jules Massenet (1866-1912)
Roselin Osser, Mezzo-Soprano
Credo in un Dio crudel (Otello) Giuseppe Verdi (1813-1901)
Cailin Marcel Manson, Baritone
O mio babbino caro (Gianni Schicchi) Giacomo Puccini (1858-1924)
Elaine Crane, Soprano
Pajarín, tú que vuelas (La Picara Molinera) Pablo Luna (1879-1942)
Charlie Berrios, Tenor