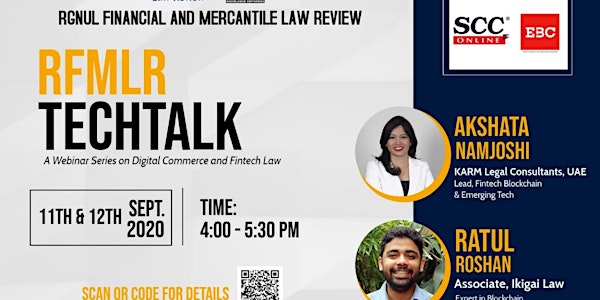 RFMLR TechTalk Series
A Webinar Series on Digital Commerce and Fintech Law organised by the Editorial Board of RGNUL Financial and Mercantile Law Review (RFMLR).
About this event
In order to create awareness and advance the discourse on Fintech Law, the Editorial Board of RFMLR is pleased to announce a Webinar Series on Digital Commerce and Fintech called RFMLR TechTalk Series, wherein legal professionals from this area of practice would discuss topics like open-banking, smart contracts, neo-banking, digital payments, blockchain, cryptocurrency, e-commerce, and so forth.
The details of the webinar series are as follows:
Session 1:
Ms Akshata Namjoshi, Lead (Fintech, Blockchain & Emerging Tech) at KARM Legal Consultants, UAE
Topic: Open Finance and Open Banking
Date: September 11, 2020 (Friday)
Time: 4:00 p.m.
Session 2:
Mr Ratul Roshan, Associate at Ikigai Law
Topic: Smart Contracts and their Enforceability
Date: September 12, 2020 (Saturday)
Time: 4:00 p.m.
SCC Online and Eastern Book Company will be the Knowledge Partners for the event.
The event shall be hosted on Cisco WebEx.