About this Event

Welcome to #ReWRITE
We are excited to host a truly European hackathon event across multiple locations on 19-20 October 2019. The local events will be held across a number of European cities including Stockholm, Munich, Bucharest, Vienna, Istanbul, Milan and Warsaw and are designed to introduce more women to insurtech.
Called #ReWRITE — for Women, Risk, Insurance, Technology, Empowerment — the hackathon aims to provide women of different ages and backgrounds a unique opportunity to learn, network, and create next-gen risk and insurance solutions. Participants will be organized into small teams (2-6 women) to solve for a challenge using emerging technologies such as blockchain, artificial intelligence, and internet of things. Each team will develop a demo and pitch that will be judged by a group of industry leaders.
The local winning teams will each receive a cash prize of 2,500 € and and coverage across Marsh platforms. These winners are automatically part of a European challenge and have the chance to win the regional European Award.
They will be honoured at the industry's largest event, FERMA Forum in Berlin, while the judges will provide special recognition to the best runner-ups.
The #ReWRITE event is part of Marsh's commitment to accelerating the advancement of women in the industry and is supported by Girls in Tech, a global non-profit that works to put an end to gender inequality in high-tech industries and startups.
Note - this event is only for women. Marsh and McLennan employees and their family members are not eligible to participate, but can volunteer.
Learn more about Marsh -
Website - www.marsh.com/us/home.html
LinkedIn - www.linkedin.com/company/marsh/
Twitter - www.twitter.com/MarshGlobal
Ready, Set, Hackathon: Get The Lowdown On All Things Hackathon With Our Two Intro Videos: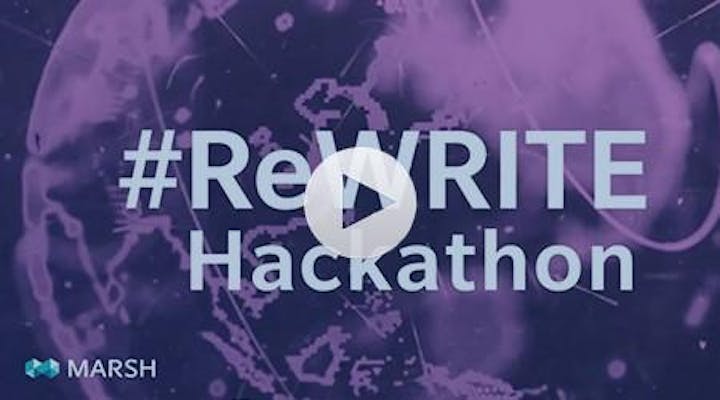 October 19th @ 8am - 9pm local time + Cocktail Reception 9-11pm
October 20th @ 9am - 6pm local time
Locations
Bucharest, Romania: Floreasca Business Park, Corp A, Calea, Floreasca, Nr 169A, Etaj 3, Sector 1, Bucureşti
Istanbul, Turkey: Bahçeşehir Üniversitesi, Galata Kampüsü, Müeyyetzade Mahallesi, Kemeraltı Caddesi, Karaoğlan Sokağı No: 24/a Kat:2 Galata/Karaköy İSTANBUL/TÜRKİYE
Munich, Germany: Müllerstraße 3, 80469 München
Stockholm, Sweden: Klara Norra Kyrkogata 29, 11122 Stockholm
Vienna, Austria: Handelskai 94-96, Millennium Tower, 1200 Vienna
Warsaw, Poland: Al. Jerozolimskie 98, 00-807 Warszawa
Milan, Italy: Viale Bodio 33, 20158 Milano
Food & Drink
Snacks and beverages will be provided throughout the hackathon.
Teams
You can either register a team or join a team (we will help introduce you to other hackers). Teams are made up of 2-6 women.
Theme:
Connected World – Innovation in corporate insurance and risk management
We live in an interconnected world generating vast amounts of data. Disruption from sharing economy, a digital-native generation, on-demand customer mindset and changing work force dynamics are just a few things that come along this data-driven world. Emerging technologies such as blockchain, IoT, AI and cloud computing enable new ways of thinking. In the midst of change, businesses around the globe from large corporations to small companies across industries are dealing with a wide range of traditional and emerging risks and opportunities. Insurance products, risk mitigation strategies must rapidly evolve. Traditional ways of thinking and working have to be reshaped. We are looking forward to #ReWRITE tomorrow jointly with you!
Deliverable:
Be creative, discuss, code, prototype and pitch ideas that fundamentally change our traditional way of thinking and working in the industry. Use our description of the theme as well as the problem statements (provided after registration) as a guidance.

If you have any questions about this Hackathon, please contact Hannah.Kueppers@Marsh.com.
For Marsh Terms and Conditions
For details regarding your local contact person and address, plus the details of the Data Protection Officer, please go to www.marsh.com and select your local country website.