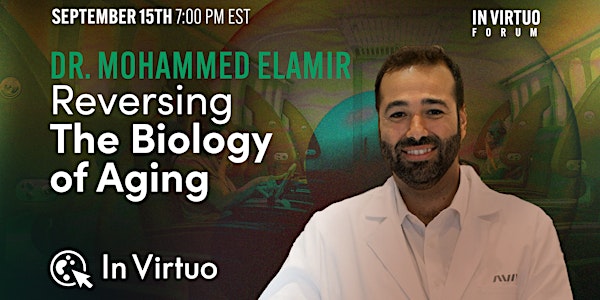 Reversing The Biology of Aging by Mohammed Elamir, MD
We'll have Mohammed Elamir, MD, Physician at Aviv Clinics. He'll present: "Reversing The Biology of Aging"
About this event
Welcome to our 11th InVirtuo Live! Our Virtual Reality Lectures to learn like never before!
On this occasion, we have Mohammed Elamir, MD, Aviv Clinics physician with over 8 years of experience in Internal Medicine. Prior to joining Aviv Clinics he spent five years practicing Internal Medicine at the MM Jersey City Breathing Center while owning and running his own medical spa in Jersey City, New Jersey. He graduated from Rutgers University prior to attending St. Matthew's University School of Medicine.
He completed his Internal Medicine Internship and Residency at RWJ-Barnabas: Jersey City Medical Center Program where he was Chief Resident and a member of the ethics committee. He is a Fellow of The American Board of Internal Medicine. He now heads the AVIV Medical Program in Central Florida.
He'll talk about "Reversing The Biology of Aging" . Using a specific protocol of Hyperbaric Oxygen Therapy to change the biology of the aging process.
See you on Stage!